image
Delivery Time and Warranty: Factors to Consider When Choosing a Prefabricated Booth
>
Delivery Time and Warranty: Factors to Consider When Choosing a Prefabricated Booth
In the world of business, the adage "time is money" rings true more than ever. Every minute counts, every delay can translate into potential revenue lost, and every maintenance issue can become a hurdle in the smooth operation of your business.
When it comes to purchasing a prefabricated booth, particularly for security, these elements become even more crucial to consider. The speed of delivery and the robustness of the warranty are not just factors – they can be the lifeblood of efficient operations, impacting the bottom line in tangible ways.
Consider the scenario where your business urgently requires a security booth. The speed of delivery in this case isn't a mere convenience; it's a necessity. Delays could lead to gaps in security, disruptions in business operations, or even lost opportunities. Each day without the booth is a day when your business may not be fully protected or functional, leading to potential financial losses.
In addition, while every prefabricated booth is built with durability in mind, issues can arise. If the manufacturer does not offer a strong warranty, you may find yourself spending valuable time managing repairs or replacements. This is time that could have been spent on other, more productive aspects of running your business. The lack of a comprehensive warranty essentially translates to unplanned downtime, potential additional expenses, and unwelcome distractions.
In this light, the time element permeates every facet of the decision-making process for a prefabricated booth. How quickly can the booth be delivered? How reliable is the manufacturer? How supportive is their Customer Service team if something goes wrong? These are not just questions; they are factors that directly impact your operational efficiency, and ultimately, your bottom line.
This article aims to delve deeper into the significance of delivery time and warranty while choosing a prefabricated booth. It will offer an overview of the delivery process associated with Guardian Booth's prefabricated booths, expectations related to delivery time, and an explanation of the different warranty options that we provide.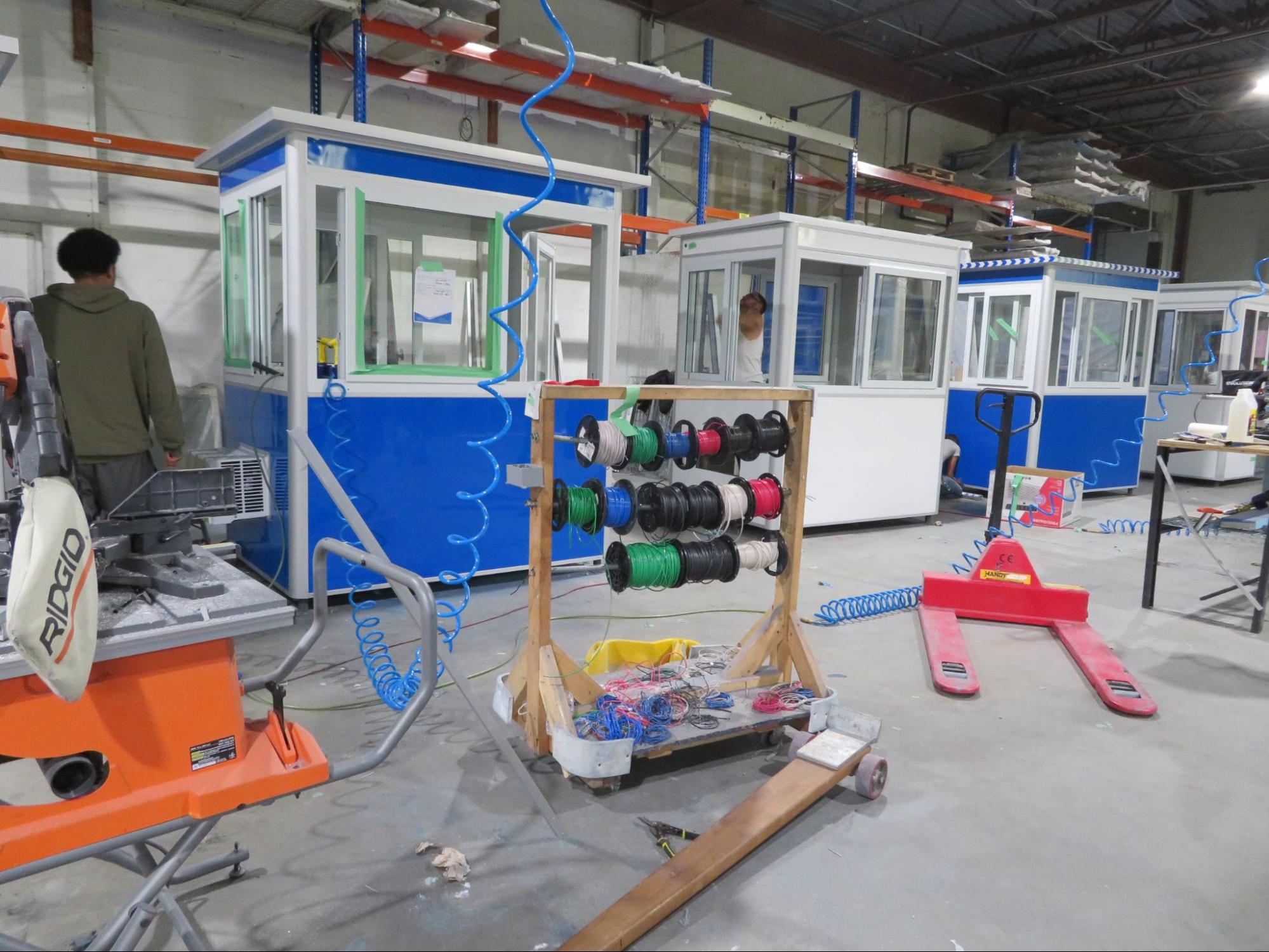 The Importance of Delivery Time: Ensuring Continuity and Compliance
The Customs-Trade Partnership Against Terrorism (CTPAT) is a voluntary, joint government-business initiative in the United States to strengthen international supply chains and improve United States border security. Thus, CTPAT benefits are numerous. With the significant security obligations that come with being a CTPAT participant, the importance of delivery time, particularly when it comes to essential equipment like prefabricated booths, cannot be overstated.
CTPAT warehouses are required to maintain high levels of security, and prefabricated security booths play a critical role in this. They serve as control centers for monitoring warehouse activities, screening incoming and outgoing traffic, and providing a base for security personnel. A delay in the delivery of these booths can result in gaps in security, making the warehouse more vulnerable to threats and potentially compromising the company's standing in the CTPAT program.
Furthermore, warehouses operate in a time-sensitive environment. Warehousing activities often revolve around tight schedules, and even minor disruptions can lead to significant downstream effects, including delayed shipments, customer dissatisfaction, and lost revenue. An efficient delivery time of a prefabricated booth ensures these operations can be set up or resumed promptly, reducing downtime and keeping the workflow smooth and unimpeded.
Fast delivery also means quicker installation and set-up of the security booth, allowing the warehouse to be operational sooner. This is particularly important when opening new warehouses or upgrading existing facilities. In these cases, the delivery time of a prefabricated booth directly impacts how quickly the facility can start operating at full capacity, which in turn affects the business's bottom line.
Efficient Delivery Time: Guardian Booth's Commitment to Timely Service
Guardian Booth understands the importance of timely delivery, and we've structured our processes to ensure efficiency. As a business, we prioritize clear, open dialogue with our customers, ensuring that any potential changes in the delivery timeline are immediately shared. This proactive approach minimizes surprises and allows clients to effectively plan and adjust their operations accordingly. We understand that your business's efficiency and success hinge on reliable delivery, and we are dedicated to meeting this commitment.
Here's what to expect when you order a CTPAT compliant booth from us:
Guardian Booth's production and delivery schedule: Our general production time for standard booths is 2-3 weeks, ensuring you can secure your premises as swiftly as possible. We offer free delivery across the US and make sure that your prefab booth is up and running as quickly as possible.
Impact of customizations on delivery time: For custom units, the production time ranges from 6-8 weeks, depending on the complexity and required certifications. Despite the additional time needed for customization, we ensure that delivery schedules are communicated transparently to avoid any unexpected delays or disappointments.
Rush options and accommodation of urgent requirements: Recognizing that some needs are more urgent than others, we offer a 48-72 hour rush turnaround (for an expediting fee). This ability to cater to urgent requirements sets us apart, further emphasizing dedication to meeting client needs swiftly.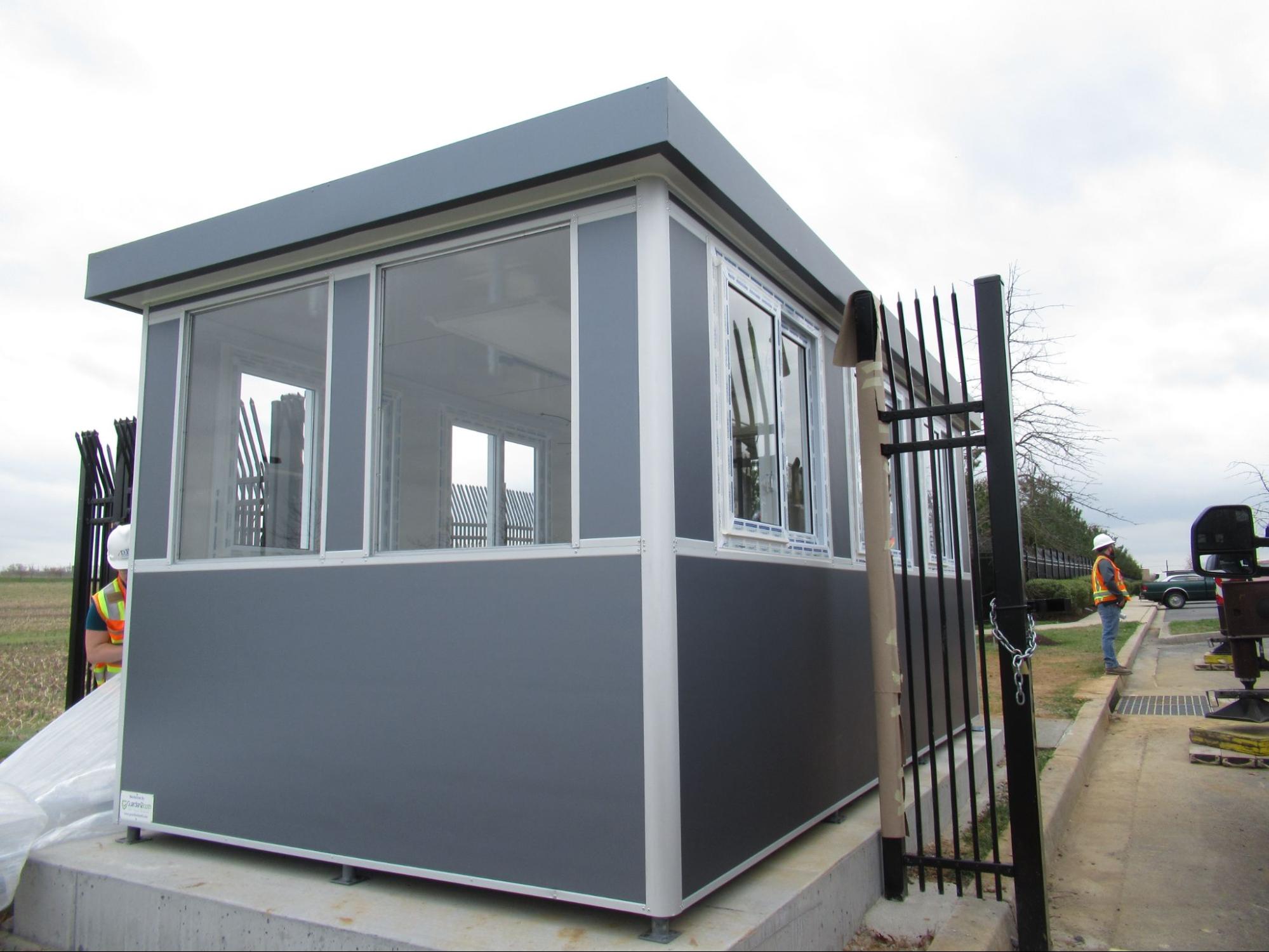 The Importance of Warranties When Choosing a Prefabricated Booth
In the context of choosing a prefabricated booth for a CTPAT compliant warehouse, the warranty holds significant importance. A robust warranty can help businesses protect their investment over the long term, to minimize potential disruptions and ensure thath security protocols are upheld.
A comprehensive warranty from a trusted manufacturer serves as an assurance of the product's quality, durability, and performance. CTPAT compliance necessitates stringent security measures, and any defect or failure in the booth's structure or functionality could potentially lead to security breaches, compromising the warehouse's CTPAT status. Here, a strong warranty acts as a safeguard, providing coverage for repairs or replacements in case of any unforeseen issues, thereby maintaining the integrity of the security protocols in place.
If a prefabricated booth is out of commission due to a malfunction, it can disrupt the overall operation of the warehouse. A reliable warranty ensures any such issues are promptly addressed, minimizing downtime and ensuring operations are resumed quickly.
Finally, warranties also play an instrumental role in managing the total cost of ownership of the prefabricated booth. With a warranty in place, businesses can avoid unexpected costs associated with repairs or replacements. This financial predictability is critical in maintaining the budgetary allocations of the warehouse, keeping the operations cost-effective, and preserving the financial health of the business.
When choosing a prefabricated booth for CTPAT compliance, the warranty provides assurance of the booth's quality, mitigates operational risks, and contributes to long-term financial predictability. As such, it's crucial to consider the comprehensiveness and reliability of the warranty when making the decision to invest in a prefabricated booth.
Assured Peace of Mind with Guardian Booth Warranty Coverage
Guardian Booth excels in this regard, offering robust warranties and support services that go beyond the industry standard.
Guardian Booth's warranty terms: We offer a 1-year warranty for our booths that reflects our confidence in the quality and durability of our booths. The Guardian booth prefab booth warranty covers any manufacturing defects, giving you peace of mind and assuring you of the reliability of your investment.
Lifetime support and parts service: In addition to the warranty, we go above and beyond by offering lifetime support and parts service. While some components may not be covered under the Guardian Booth prefab booth warranty options, our commitment to providing ongoing assistance ensures that you always have access to the help you need.
We understand that time is of the essence in many business operations. That's why we work diligently to balance delivery time and warranty coverage, so you can receive your Guardian Booth promptly without compromising on the level of protection and support you deserve.
At Guardian Booth, we prioritize customer satisfaction and product quality. Our strong warranty terms and commitment to lifetime support underscore our dedication to ensuring your long-term satisfaction with our booths. When you choose Guardian Booth, you can be confident that you're making a reliable and well-supported investment.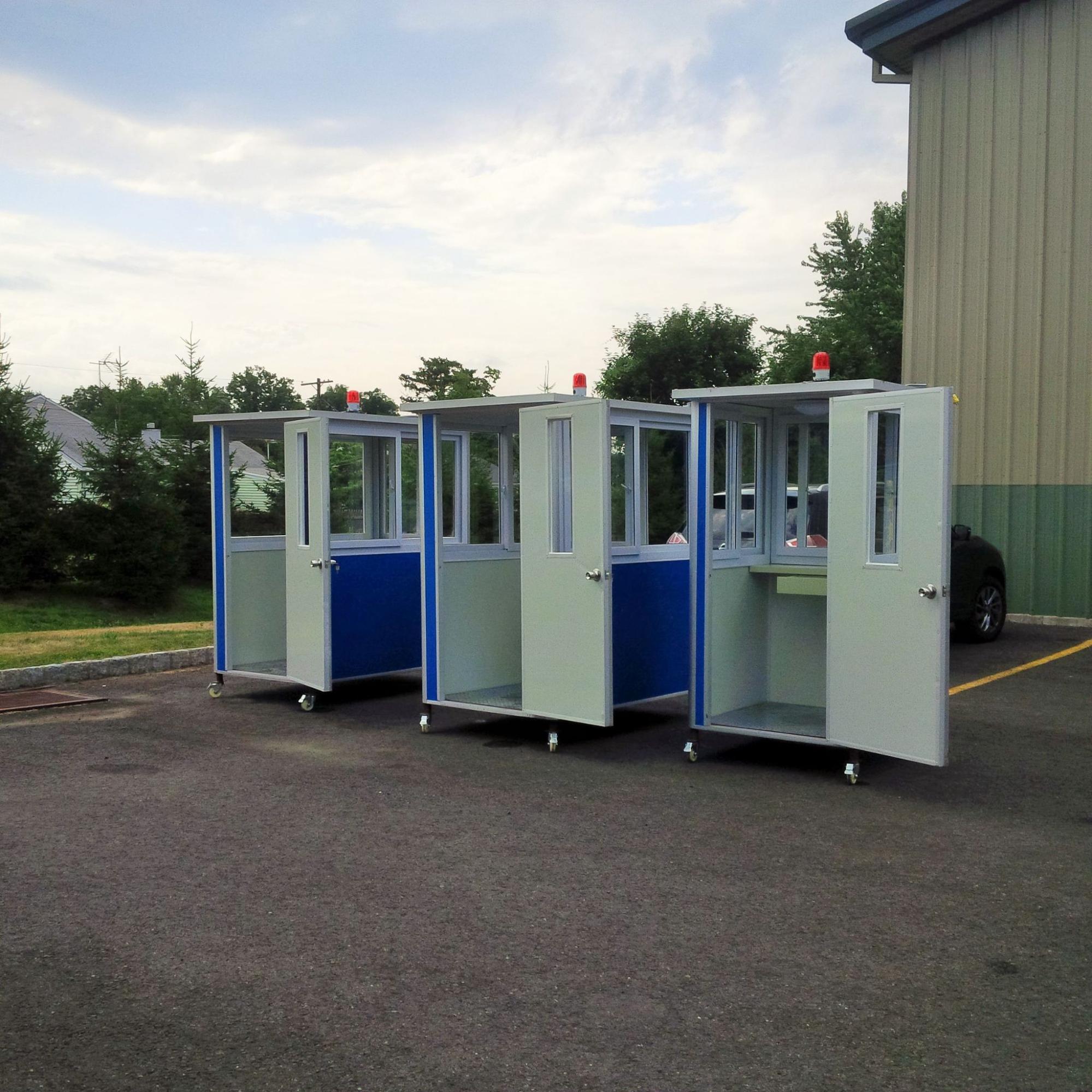 Tips on Evaluating and Prioritizing Delivery Time and Warranty Based on Individual Business Needs
When evaluating and prioritizing delivery time and warranty for prefabricated booths based on your individual business requirements, there are a few key factors to consider.
Assess your project timeline: Evaluate the urgency of your security needs and the timeline for implementing the prefabricated booth. If time is of the essence, prioritize shorter delivery times to minimize disruption to your operations.
Consider the long-term perspective: Evaluate the importance of long-term warranty coverage for your business. If you anticipate using the booth for an extended period, opting for an extended warranty might provide added protection and cost savings in the long run.
Customization requirements: If your project requires extensive customization, it's important to consider the impact on delivery time and warranty. Customization may increase production time but can also allow for tailored solutions that meet your specific security needs.
Furthermore, if your warehouse operates within the framework of the Customs-Trade Partnership Against Terrorism (CTPAT) program, ensure that the chosen prefabricated booth is CTPAT compliant to maintain compliance standards and benefit from program advantages.
Consult with Guardian Booth: Engage in a conversation with the experts at Guardian Booth to discuss your unique requirements. Our experienced team can provide guidance on finding the right balance between delivery time and warranty based on your specific situation, including any specific CTPAT compliance considerations.
By carefully evaluating and prioritizing delivery time and warranty based on your business needs, including CTPAT requirements, you can strike a balance that ensures timely implementation while safeguarding your investment in the long term. Guardian Booth's expertise in CTPAT compliance can further support your warehouse security goals within this framework.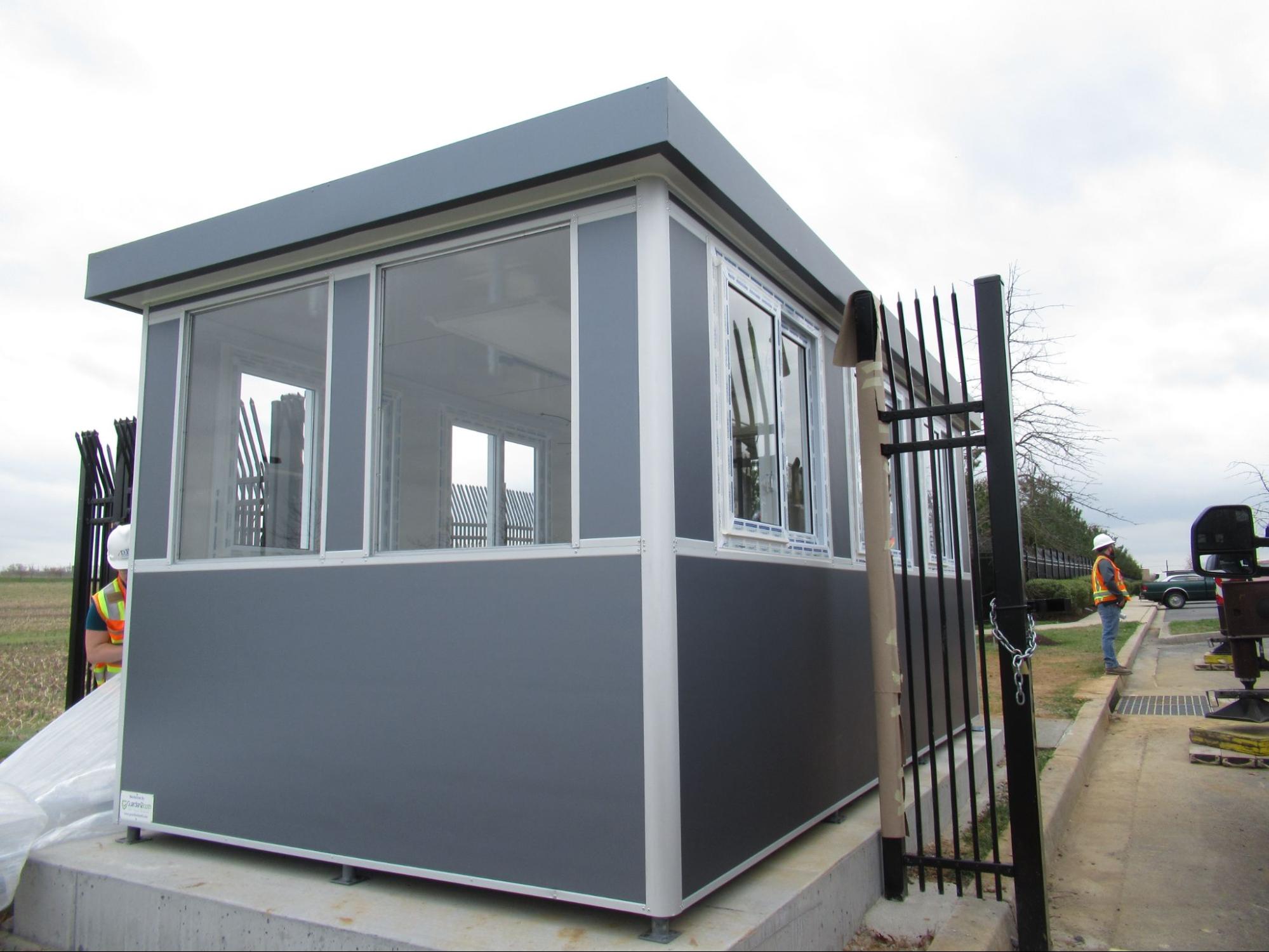 Why Choose Guardian Booth: Factors that Make Guardian Booth a Wise Choice
In addition to our exceptional delivery time and warranty provisions, we offer several other factors that make them a wise choice for your warehouse security needs:
High-quality materials: Guardian Booth utilizes highly durable materials such as wood and steel panels. These materials ensure the longevity and sturdiness of our booths, providing a secure and reliable solution for your warehouse security requirements.
Customization options: Guardian Booth provides CTPAT compliant modular booths, customizable to meet unique warehouse requirements. We offer a range of customization options, allowing you to tailor the booth to your specific requirements. From shape and design to color and structure, Guardian Booth provides flexibility in creating a booth that fits your warehouse perfectly.
Customer service: As a company with a stellar reputation, we take pride in exceptional customer service. Our experienced team is dedicated to supporting you every step of the way, from the initial virtual visit to post-purchase assistance. We prioritize open communication, ensuring that your questions are answered and your needs are met.
CTPAT compliance: For warehouses operating within the framework of the Customs-Trade Partnership Against Terrorism (CTPAT) program, we offer modular booth CTPAT compliant options that meet the program's security requirements. This ensures that your warehouse remains in compliance and eligible for the benefits and advantages associated with CTPAT.
By choosing Guardian Booth, you benefit from Guardian booth prefab booth delivery time, comprehensive warranty provisions, high-quality materials, customization options, exceptional customer service, and our understanding of CTPAT compliance for warehouses. The comprehensive approach to Guardian booth prefab booth options makes us an ideal partner for securing your warehouse effectively while maintaining compliance with industry standards and programs like CTPAT.
When it comes to choosing a prefabricated booth, Guardian Booth excels in providing timely delivery, robust warranty provisions, high-quality materials, customization options, exceptional customer service, and an understanding of CTPAT compliance for warehouses. We are committed to meeting your security needs efficiently and ensuring that your investment is protected.
Contact us today to explore our range of prefabricated booths and take advantage of our reliable service. Our experienced team is ready to guide you through the process and provide a solution tailored to your specific requirements.
Read More!
Recent Blogs