image
What to Look For When Buying a Large Booth for Your Business
>
What to Look For When Buying a Large Booth for Your Business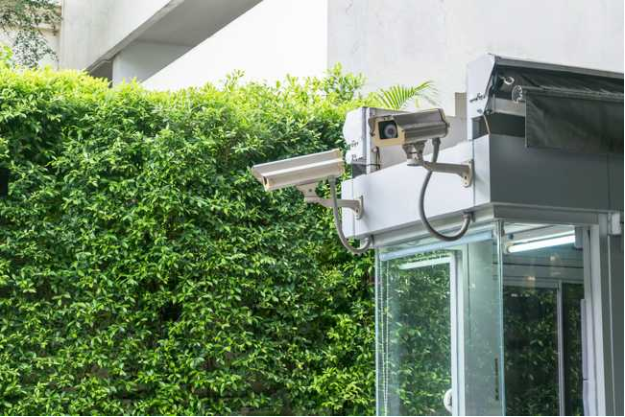 A large booth is an investment—and it's a wise one. You can enjoy considerable positive benefits for your business with a custom-designed booth.
However, it's important to consider booth options carefully. You want to make sure that the booth you requisition is right for your business. Accordingly, there are a few things that you should consider when investing in big booths.
To learn what to look for when buying a large booth for your business, keep reading.
Considering Your Large Booth Business Needs
It's important to consider capabilities when buying a large booth for business. The capabilities of the booth must align with your needs.
For example, you may need a large photo booth. Alternatively, you may need to buy a small booth for security personnel or a big kiosk to attract attention. On the other hand, you may need a big booth for construction sites.
For this reason, it's essential to think about what you want to get out of the structure. For example, can you benefit from using a structure for CCTV surveillance? Alternatively, do you need a booth that minimizes employee contact with customers?
By asking yourself these kinds of questions, you can help the manufacturer create the best booth for your business. You can also help to keep employees safe.
Getting Perspective on Your Booth Needs
In this regard, it's helpful to think of the role of individuals who will use the booth. By answering questions related to their work, you can create a safe work environment for employees.
It's important to work with a manufacturer that can custom design big booths. This kind of manufacture can deliver the specific features and design that you need. For example, you may need a huge booth with custom features designed to fit in an oddly shaped space.
In this instance, it's vital to source your booth from a manufacturer that offers unique booth models. It's also important to work with a manufacturer with skilled engineers who can custom design your large booth.
Furthermore, it's important to work with an experienced manufacturer. An experienced manufacturer understands how to deliver a booth that will serve the needs of your business in the best ways possible.
Assessing Booth Construction
You also need to think about situating the booth. For example, you may need to build a foundation for the structure. Alternatively, you may want an unrestricted booth that you can move as needed.
It's highly beneficial to work with a company that has experience working with both kinds of structures. A manufacturer with experience designing and building both permanent and movable big booths can help to inform your decision-making. More importantly, they can answer any questions that you have about choosing between these two options.
You'll also need to consider booth size. For instance, you may need a small booth for security. Alternatively, you may need a big booth with spacious dimensions for a retail application.
You should also consider the materials used to construct the booth. The materials that you choose can impact the durability of the structure. They can also affect its appearance.
The materials that you choose will vary depending on where you will install the unit. They will also vary based on the conditions that the booth must withstand. For example, if you operate your business in a harsh climate, this fact will affect your choice of booth materials.
Finally, you want to know that you're getting the best large booth price possible. In this regard, it helps to choose a manufacturer that builds its booths in their facility.
Booth prefabrication can help minimize construction costs. Prefabrication also enables manufacturers to create low-maintenance, high-efficiency structures. Resultantly, this kind of construction provides excellent long-term value.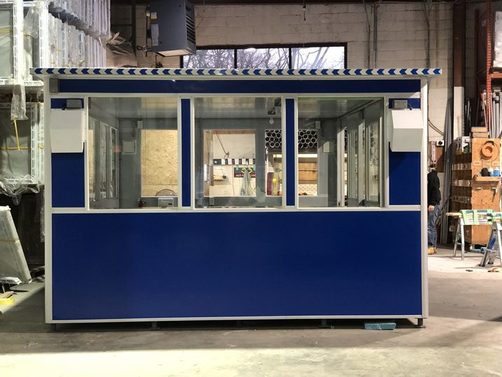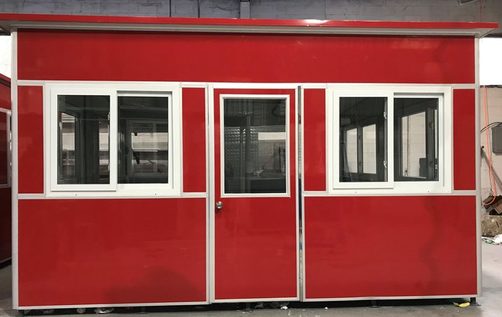 A Booth for Every Business
Finally, you must consider what features and add-ons are appropriate for your business. The right features on prefabricated structures can turn minimally functional structures such as big security booths into an invaluable business asset. Features are important for enhancing the overall functionality of big booths.
An experienced booth manufacturer can help you explore potential specifications. For example, you may want finished flooring. Alternatively, you might want floodlights or tinted glass for your structure.
Also, if employees work shifts in your giant booth, you may want a temperature-controlled environment. An experienced manufacturer can make choosing the right features easier.
Furthermore, a manufacturer that can provide these features can create opportunities for you and your team. For this reason, it's well worth looking into the potential that value-added features of big booths can provide.
Doing research and consulting with an experienced manufacturer will help you to figure out the features that will, or will not, serve your interests. This process will also help you to identify your top concerns. Resultantly, you'll find that it's easier to select the right oversize booth features for your business.
A Feature-Packed Booth Can Boost Retail Performance
Many workers perform administrative work. They use computers and work with papers all day long. However, this isn't the workflow of every operation.
Office work may not serve as the core function of your business. Instead, you may need an extensive booth that supports the daily tasks performed by your staff members. Rather than focusing on administrative work, your company may need to get things done.
Fieldbrook Farm's 8×20 Booth
Fieldbrook Farms of Dunkirk, New York, for example, is one such task-oriented company. They're a $100 million manufacturer of private-label ice cream and frozen desserts. The company produces more than 1,500 varieties of packaged ice cream, desserts, and novelties.
Fieldbrook Farms requisitioned an 8×20 booth for sale with a sink outside the restroom. The booth also features a full bathroom and shower. Additionally, the booth features a two-desk workspace.
The structure also features a driver check-in and rest area for the manufacturing facility. This custom booth is a perfect example of maximizing available features when buying a booth.
Smooth Operating With the Right Booth
Again, it's important to consider the workflow of the individuals who might use big booths. Your staff members may need to make phone calls and check identification. They may also need to use a computer program to look up information.
Additionally, your staff members may need a work area to complete supervisory tasks. By thinking about these kinds of considerations, you can choose the right large or wide booth for your business. You can also buy a large booth that meets the needs of your staff members.
Administrative tasks aren't exciting. Nevertheless, they're an important business function. For this reason, some businesses can benefit from quiet, efficient work areas provided by big booths.
IVXP's 12×24 Gate Booth
Take Indorama Ventures Xylenes & PTA (IVXP) of Decatur, Alabama, for example. The company invested in a 12×24 guard shack for sale at the time. The enterprise is a major chemical and materials manufacturer in the region.
The booth also featured a booth with a restroom for security personnel. As an added benefit, the company used the booth to accommodate a truck driver rest stop during a renovation. The custom-built 12×24 booth effectively served both the company's short-term and long-term needs.
Add Comfort and Convenience All With a Custom Booth
Top manufacturers construct prefabricated booths using exacting standards. It's easier to build a booth to precise specifications in a controlled environment.
However, a controlled environment also helps leading manufacturers create a custom booth quickly and cost-effectively. For this reason, a top-notch booth manufacturer can create the perfect booth to compliment your parking lot, warehouse, or other structure.
Large prebuilt units are available in a range of booth sizes. More importantly, you can requisition a booth that doubles as a workstation for you, your employees—and even an area for your customers if needed.
Magic Car Wash's 14×4 Booth
As an example, consider the booth ordered by Magic Car Wash of Ogden, UT. The company requisitioned an expansive booth that was broad enough to provide outstanding value for all stakeholders.
They arranged for a custom-built 14×14 booth to use as a rest area for customers. Customers use the substantial structure to wait for employees to wash their cars.
Magic Car Wash ordered a booth with a custom color theme. However, it also features heating and air conditioning.
Furthermore, the structure features a slanted roof. In the winter, the construction of the roof prevents snow from melting and freezing on the surface.
The custom-built booth provides value for employees and customers. The company doesn't have to waste valuable manpower shoveling snow from the roof. Furthermore, the booth provides a comfortable environment that helps to boost business year-round.
The company owner considered the available options carefully and chose the features that will maximize the utility of the booth. For this reason, the booth will continue to provide a substantial return-on-investment for years to come.
Build the Perfect Large Booth for Your Application
Now you know more about what to look for when buying a large booth for your business. What you need now is a booth manufacturer that specializes in building big booths.
Guardian Booth is your source for a prefabricated booth or guard shack. Our custom designs create maximum efficiency and comfort.
We're dedicated to designing and building the perfect booth for every client. Our team will work tirelessly to create the ideal solution for your business needs.
Contact Guardian Booth today at 844-99-BOOTH (844-992-6684) or connect with us online to learn more about sourcing the perfect booth for your business at a competitive price.
Read More about Office Booths and Other Oversized Booths
What to Look for in A Prefabricated Warehouse Office
5 Tips to Answer Your Modular Factory Office Design Concerns
Cut Expenses and Purchase A Custom Factory Office Instead of Moving
The Benefits of an In Plant Modular Office
5 Tips to Enhance Modular Factory Office Design
Recent Blogs