image
Why Casino Security Booths Are Preferred in Nevada?
>
Why Casino Security Booths Are Preferred in Nevada?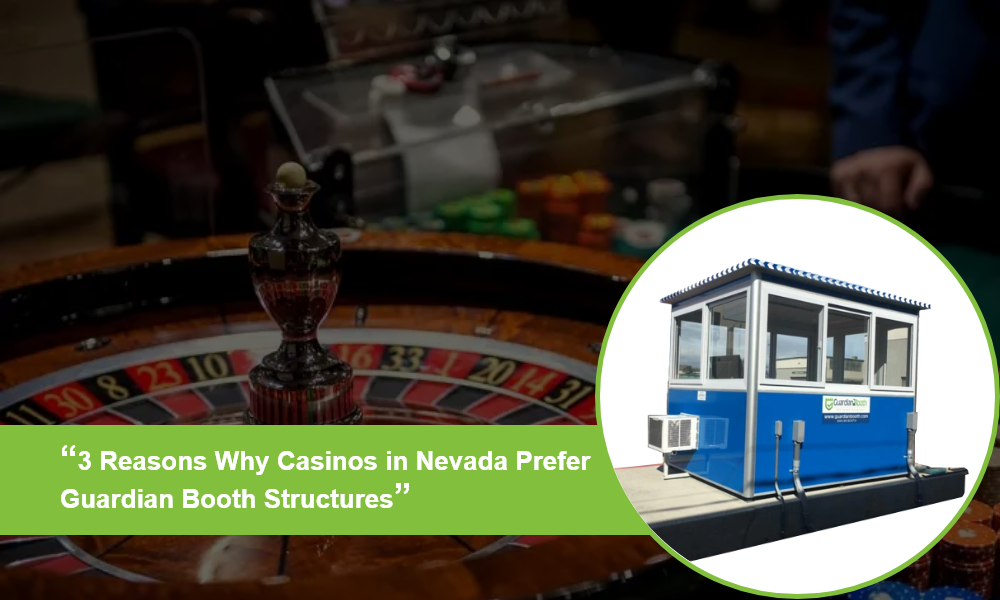 "The Silver State," Nevada has been attracting visitors to their casinos and iconic desert landscapes for many years. The casinos in Las Vegas offer an array of entertainment options to its visitors. There are massive resorts with gambling venues on the property along with other forms of entertainment including concerts, nightclubs, and shows. All these entertainment establishments compete to provide their customers with a memorable and enjoyable experience. If you look around, there are several ticketing booths, attendant booths, refreshment booths, portable office trailers, and other small brand booths across these resorts. If you observe closely, these booths are generally prefabricated structures designed to meet customer demands. There are very few manufacturers specializing in these types of prefabricated structures, and Guardian Booth stands tall among them. We have provided various security booths and prefabricated structures to casinos and different industries. Including parking attendant booths, ticket booths, and portable office trailers. These booths have not only allowed visitors to enjoy the different attractions in that area but also stay safe. What makes casinos invest in security booths? How do our booths make a difference? Read this post to find out more.
3 Reasons Why Casinos in Nevada Need Security Booths and Prefabricated Structures
Like other businesses, casinos in Nevada prefer prefabricated structures over permanent structures. The following are three immediate benefits of investing in prefabricated structures.
Easy to Design and Install: According to the Las Vegas Convention and Visitors Authority, over 50 million visitors have visited these casinos in March 2022 post COVID-19. This was 50% higher than March 2021 . These numbers are set to increase by the end of 2022. With casinos targeting a large customer base, they are striving to serve these customers well and create an experience they won't forget. In this scenario, investing in traditional construction can be quite expensive, time-consuming, and labor-intensive. However, prefabricated structures like our prefabricated security and parking booths are easy to design and install. When compared to traditional structures, which may take a year or two to complete, these prefab ones take only a few months to design and can be quickly installed on site, since they arrive pre-assembled.

Quick Customization: As with any other competitive sector, casinos need to revamp their businesses in order to meet the changing customer and employee demand. Our modular structures allow for casinos to quickly upgrade their structures and build extensions as needed. These structures can be customized in order to keep employees comfortable when working.

Environmentally-friendly: As mentioned before, traditional structures are labor intensive and involve major construction equipment, labor, and manpower. Although these structures may last for years, they are not environmentally friendly. Our prefabricated structures allow for casinos to be environmentally conscious by using less energy, materials, resources, and equipment. These structures are made using aluminum panels, which help reduce construction waste too.

Why Choose Guardian Booth for Security Booths in Casinos?
We believe the following features of our security booths and prefabricated structures make them popular amongst the casino industry.
Advanced Security Features: The guard booths are built to provide 360-degree visibility of the premises. They are fitted with tinted windows and other security features like video surveillance, that assure security to people sitting inside while offering a clear view outside.
Highly Customizable: Whether it's casino security booths, parking attendant booths, portable office trailers, or ticket booths, we can customize them to suit your business's requirements. Add-on features are available such as extra doors, built-in restrooms, extra desk space, and sliding screens. These can be incorporated into your structure per your request.
Comfortable: They can be outfitted with HVAC solutions like baseboard heaters and built-in AC units to boost users' comfort level.
Weatherproof: All our prefabricated casino security booths are built using two layers of durable aluminum and PPGI (pre-painted galvanized iron) panels filled with weather-resistant insulation.
Quick to Install: Our prefabricated security booths, parking booths, and other prefabricated structures are portable, sleek, and easy to install. Allowing you to start using them instantly after installation.
Do you have any specific requirements for your casino security booths or other prefabricated structures? We can help you! Please get in touch with our team today to discuss your requirements. After understanding your application requirements, we design, build, and customize these casino security booths and prefabricated structures just for you.
Recent Blogs