image
Art Studio Sheds: Your Comprehensive Guide to Buying and Utilizing Creative Space
>
Art Studio Sheds: Your Comprehensive Guide to Buying and Utilizing Creative Space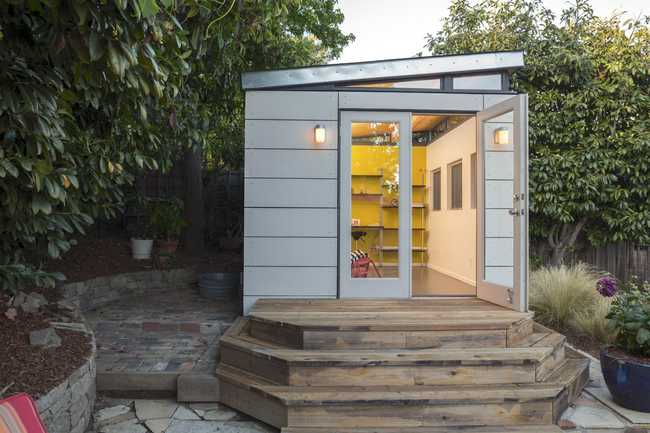 Creating art reduces your stress levels, protects your brain from the destructive side-effects of aging, and makes you a better problem-solver. Creating, whether it be drawing, sculpting, writing, or any other form of creative work, is a powerful mood and health booster.
Yet even the most inspired would-be creators can struggle with carving out time and space for art in their lives. Prefabricated studio sheds can help.
To help you understand this new trend towards the pre fab studio, we've put together a complete guide to backyard studios, so that you can work towards the ideal studio sheds of your dreams.
What Is an Artist Studio Shed?
A backyard studio shed is a small, independent, and dedicated creative workspace located on your property. A studio office shed typically has all the comforts you'd expect in your home or any other workspace, including:
Electricity
Wi-fi
Storage space
Good lighting
Studio shed design for comfortable workspace
Organized space for supplies
Studio sheds can be intensely customized or extremely versatile. Your studio-shed can be set up specifically to accommodate a single creative activity, such as sewing, or, alternatively, your outdoor studio plans can provide flexible space for the combination of numerous different types of creative endeavors. For the creative mind that enjoys constant change of scenery, consider a portable art studio trailer. With a portable artist studio, you can relocate the trailer to surround yourself with various nature-oriented settings that you can use as the springboard for your art.
Types of Studio Sheds
Studio sheds come in three primary forms:
Stick-built
Modular shed kit
Prefab
Stick-built sheds are designed and built from scratch on your property by a contractor. Kit sheds come in pre-made pieces and must be assembled on-site by you or a contractor. Prefab units are  delivered to your home whole, already constructed as prefab office sheds by the manufacturer (though it can be customized by the manufacturer). All types of studio sheds give you room to design both the art studio exterior and interior according to your personality and artistic needs, ranging from the smallest shed or cheap studio shed to impressive luxury sheds.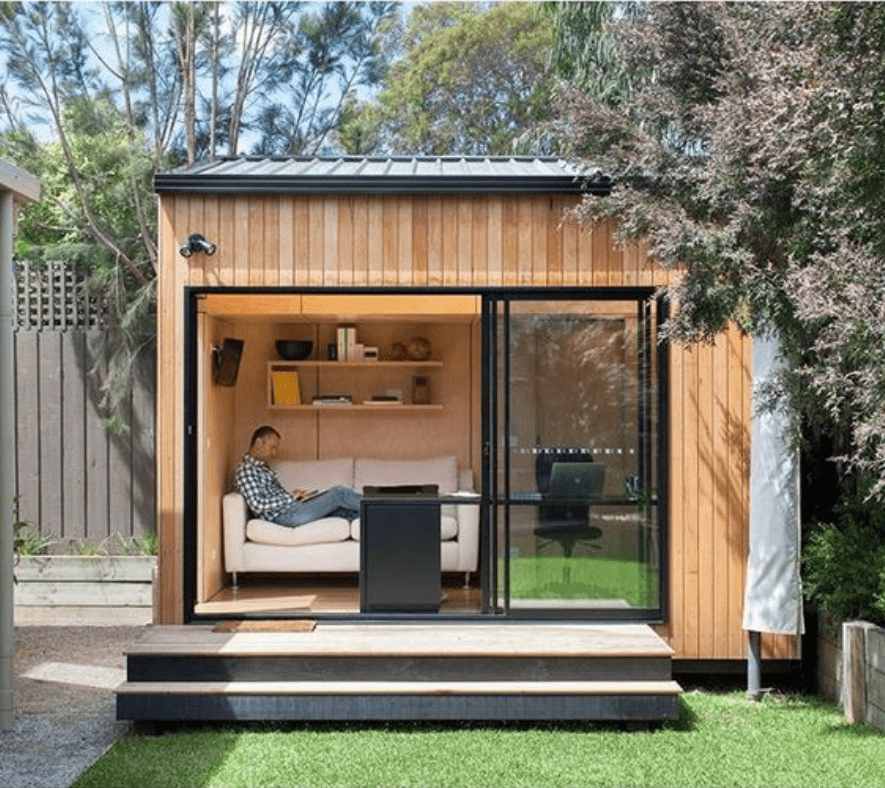 Studio Shed Sizing
Let's discuss shed sizes as they pertain to each type of shed. Stick-built sheds can be any size and shape you desire. Kit studio shed plans and prefabricated studios are slightly less flexible, but come in a wide array of sizes suitable to almost any use or preference. Obviously, the studio shed installation cost will fluctuate depending on the options you choose.
The smallest standard shed size you'll want to consider for a backyard work shed is an 6×8 studio shed or 8×8 studio shed. Though you'll be able to find smaller studio sheds, you want your pre built studio to be large enough to give you comfortable room to work. If you're considering big shed studios, the largest sheds typically run around 336 square feet. Common sizes for shed studios in between include:
8×10
10×12
12×20
12×18
12×24
Who Should Buy a Studio Shed?
Finding studio sheds for sale is easy, but who should consider buying one? Studio sheds are ideal for:
Artists who don't have enough room in their home for their creative work and need sheds to work it
Writers who need quiet space to think, work, and reach a flow state
Creatives with children, pets, or others in the home who interrupt or mess up their art
Creatives with specialized or expensive tools and equipment that need to be secured for safety
Obviously, studio sheds meet some of these needs simply by providing space. But square footage, privacy, and security are only some of the numerous benefits studio sheds offer.
What Can a Studio Shed Do for You?
Many artists are startled to realize just how much value a portable office or studio can offer them. While it's impossible to list all reasons that studios are amazing, here are the top benefits that buyers love about their studios.
No Commuting Necessary with a Portable Backyard Office
It's bad enough that the average American loses over 200 hours and spends $2,600 every year commuting to and from work. No one wants to waste what precious creative time they have commuting between their home and a studio, too. Installing a studio shed means you're next art session is never more than a few steps away, in the comfort of your own prefab backyard office. Can't think of any other option closer to home that could beat a backyard office studio!
Increased Home Value with a Backyard Shed Studio
Adding a studio shed to your property increases your home value. In fact, in many markets, homeowners routinely find that their property value goes up by more than the cost of their art sheds.
Back yard Studios Save You Money
Putting a modular warehouse office in your backyard can save you money. It means that with a modular art studio you don't have to pay rent for your backyard studio, and can cut down on expenses related to travel, utilities, and artistic equipment repair and replacement. If you're not in a major hurry, price out your options till you find a backyard studio for sale.
Sheds and Studios Can Benefit Your Health
Studio sheds allow you the freedom and flexibility to customize your workspace with ergonomic and eco-friendly furniture and tools. Pre fabricated sheds allow you to immerse yourself in creative pursuits whenever the urge strikes without concerns about disturbing anyone else.
A well-designed studio that is always on hand is also almost guaranteed to increase your exposure to healthy sunlight and to routinely lower your stress levels.
An Outside Art Studio Offers Peace, Quiet and Security
The number one benefit of a prefab studio shed, of course, is the peace, quiet, and security it offers. Anyone who has attempted to work on a creative project at home understands that the biggest challenges to productivity and success are other people in the home and interruptions. A prefab music studio gives you the space you need to create music unhindered without worrying about disturbing others.
Creating a separate space for work activities with an art studio backyard location can be the perfect solution.
No Interruptions in Your Outdoor Shed Studio
Working on your creative project in a dedicated space prevents you from being interrupted every time the home phone rings or someone knocks on the front door. It also tells your family or living companions that what you are "not available," giving you freedom and privacy. You can even opt for a prefab studio shed with bathroom so you don't need to leave at all during your working hours.
The Shed Studio Conveys Professionalism 
If you want to be taken seriously as an artist, nothing gets the message across like a private art studio. The setup you choose for your prefabricated shed design plays a significant role in conveying that message. This is particularly true if you meet with other creatives or have prospective buyers or clients over to see your work.
Security of your Backyard Office Shed
Having a separate workspace is essential if your creative work involves equipment or works in progress that cannot or should not be touched by others. Lockable backyard studios keep curious family members and visitors from disturbing your work or getting into or possibly hurt by the tools you've left in place for your next session.
Why Prefabs Beat Stick-Built Every Time
Buyers ready to invest in a backyard studio strongly prefer prefab studio sheds. Let's break down what benefits the pre fab studios offer, so you can feel confident that your decision to buy prefab backyard office structures is truly the best one for your needs.
Convenience of the Prefab Art Studio
Prefabricated studios get you in your finished studio creating faster.
Prefab backyard sheds arrive whole and, in some cases, pre-wired and pre-piped for utilities. They don't need to be constructed on-site, which saves you up to several months of time and lots of money. Many prefabricated backyard office sheds also come with pre-finished or partially pre-finished interiors, which saves you additional time and money.
Cost of Prefab Studio Shed for Sale
For the cost-conscious consumer who is wondering "How much does it cost to build a studio", you should know that prefab studios are constructed in factories by manufacturers positioned to take advantage of economies of scale. A workspace shed costs less to build, experiences fewer delays in the construction process, and avoids the costs of designers and consultants entirely. As a result, prefab backyard work sheds cost an average of 10 to 25 percent less to purchase and install than stick-built or kit units. This difference in shed office cost for your prefab shed design is a benefit you should take advantage of.
Durability of a Pre-made Shed
Manufacturers built prefab units knowing they need to withstand the pressures of travel, sometimes over long distances, as whole units. Accordingly, most prefab units are extremely strong and well-built. This means that your pre fabricated shed will also well-prepared to weather whatever your climate throws at it, from snow and ice to earthquakes.
Flexibility with a Prebuilt Studio
Prefab units tend to be more universally viable than heavily-specific stick-built units. This means that your modular backyard office is easy to reorganize or repurpose if your needs, interests, or projects change over time.
Eco-Friendly with a Pre Fab Shed
Prefab backyard studio sheds are more eco-friendly than stick-built alternatives. The efficiency of their construction means that less waste is created in their manufacture. The durability and tightness of the prefab studio office designs often mean that they are more energy-efficient than other models, as well.
What to Look for in a Studio Shed
Choosing the right studio for your property is critical. Here are a few of the most important things to consider when comparing various backyard office shed ideas and trying to narrow down options for office sheds for sale.
Size of Art Studios
It's important to choose a shed that is big enough for your needs but also small enough to be safely trucked onto your property. Consider how much room you have for the shed both at its final placement site and between the road and that site. You don't want to have to remove fencing or tear up your landscaping any more than necessary to get your shed in place.
Interior of Outbuilding Studio
Choose a shed that features an interior well-equipped to serve as a positive work environment. This includes being:
Well-lit with natural and artificial lighting
Fully equipped with appropriate HVAC systems for your climate
Outfitted with electricity, water, and other utilities as appropriate
Appropriately sized for your intended usage
Exterior of Portable Office Studio
Consider both the style of your home and the impression you want your space to make when buying a shed. Choose a unit that compliments both.
Zoning Requirements for the Studio Shed
Take a look at your local zoning laws and codes before choosing a shed. In some cases, as little as a foot or two in size can mean the difference between falling beneath zoning restrictions and needing extensive permits or inspections.
What Do You Need to Install a Studio Shed?
If you choose a prefab studio shed you need very little to get started. The manufacturer will do most of the work and deliver your shed whole. The only things you need to do are:
Check local zoning laws
Measure to ensure you can get the shed to its destination and remove any obstacles, as needed
Arrange for utility hookups to be extended from your property's main lines to the shed site
How Much Do Studio Sheds Cost?
The actual cost of your pre built studio shed will depend entirely on the make, model, size, and features you select. The art studio cost for one of Guardian Booth's sheds can run the range from $3,000 to more than $30,000. You can choose a price point that fits into your budget, whether you want a cheap backyard studio that is basic but functional, or if you prefer to go all-out with a big shed studio that is large and luxurious.
The cost of building studio shed prefab for smaller sheds will obviously be less expensive than for larger ones. Similarly, wood-exterior sheds will cost less than vinyl-exterior sheds. Finished or "turnkey" sheds that come with wiring, piping, and other fixtures already installed and ready to go will also cost more than simpler options.
In nearly every case, however, sheds prove to be the least expensive option per square foot for adding usable space to your property.
Explore Your Prefab Backyard Art Studio Possibilities
If you think a studio shed might be right for you, there has never been a better time to start exploring your design options. Contact us to check out our full range of prefab outdoor studio options, find out approximate office shed cost, or any other specifics related to buying your outdoor art studio shed! Our studio shed prices are reasonable and we offer expedited delivery if you need your prefab work shed within a short timeframe. We guarantee you'll be pleased with any shed offices for sale you choose from Guardian Booth!
And if there are any other booth needs you have, we can address those at the same time – check out our extensive selection of pre-fabricated booths, ranging in use from ticket booth to security shack to portable offices.
FAQs
What is the average lifespan of a studio shed?
The average lifespan of a studio shed can vary greatly depending on the materials used and how well it's maintained. However, a well-built and well-maintained studio shed can easily last 15-20 years or more.
Can a studio shed withstand extreme weather conditions?
Yes, a properly constructed studio shed can withstand extreme weather conditions. The key is to choose high-quality materials and ensure the shed is properly insulated and sealed. It's also important to consider local weather patterns when choosing a shed.
What kind of foundation is required for a studio shed?
The type of foundation required for a studio shed can depend on the size of the shed and local building codes. However, most studio sheds require a solid, level foundation. This can be a concrete slab, concrete piers, or a wooden frame filled with gravel.
Can I move my studio shed to a new location if I relocate?
Some studio sheds can be moved, but it can be a complex and potentially expensive process. It's often easier and more cost-effective to sell the shed with the property and purchase a new one at your new location.
How secure are studio sheds? Can they be locked?
Yes, studio sheds can be as secure as any other outbuilding. They can be equipped with sturdy doors and windows that can be locked to protect the contents. Some people even install security systems in their sheds.
Can I install electricity and plumbing in my studio shed?
Yes, it's possible to install electricity and plumbing in a studio shed, but it will significantly increase the complexity and cost of the project. You'll also need to ensure that the installations comply with local building codes and regulations.
How much does it typically cost to maintain a studio shed?
The cost of maintaining a studio shed can vary depending on the materials used, the local climate, and how the shed is used. However, you can expect to spend a few hundred dollars a year on things like paint, sealant, and minor repairs.
Can I expand my studio shed in the future?
Expanding a studio shed is possible, but it can be a complex project that requires careful planning and potentially obtaining new building permits. It's often easier and more cost-effective to plan for future needs when initially designing and building the shed.
Recent Blogs