image
10 Benefits of Modular Offices
>
10 Benefits of Modular Offices
If you have a misconception about the quality of a modular office building, you are in for a huge surprise. Marriott International has the tallest modular hotel in the world being built in New York City. Upon completion, this hotel will house 26 stories and 168 prefabricated guest rooms. The company's reasoning for using modular construction is a reduction in construction time, lower waste and noise, and a higher-quality product manufactured with factory precision.
When looking to expand, installing modular offices is an excellent choice. Modular offices provide a professional yet flexible workspace that you can customize to fit your needs. Here are ten benefits you can take advantage of when you add a modular office space to your building.
1. Quick Turnaround
Modular offices and in plant modular office buildings are prefabricated, so there is no need to wait weeks for materials and then wait additional time for construction crews to build your unit. Longer completion time is going into 29% of construction bids due to the lack of available workers.
When you consider that over the past three years only 25% of construction projects were completed within 10% of their original deadline, it is easy to see why modular office buildings are a more time conducive choice. Choosing modular office partitioning provides you with an office in a short lead time for delivery and assembly.
2. Easy Addition When More Space Is Needed
If you have the ground space, we have modular buildings. There is no limit on the number of temporary modular office buildings you can add as long as you have the room. You have the option of bringing in several units, or you can combine modules together to custom build a larger building.
 3. Relocation Options
When you have temporary modular offices on your property, they can be moved to a new location when needed. Whether using a modular office inside a large plant or a stand-alone modular office building, relocation is easy. You can move your unit five feet or 500 miles using your preferred transportation method of rail, ship, crane, or semi-truck and trailer.
4. Purchase or Lease
If you only need your modular office for a short period of time you have options that may reduce your cost. While purchasing a new unit is always an option, you may be able to obtain a used modular warehouse office on a lease.
Another consideration is inquiring about used modular offices for sale or used modular office buildings for sale. If your needs are within an existing warehouse or plant you may find a used modular office available for purchase.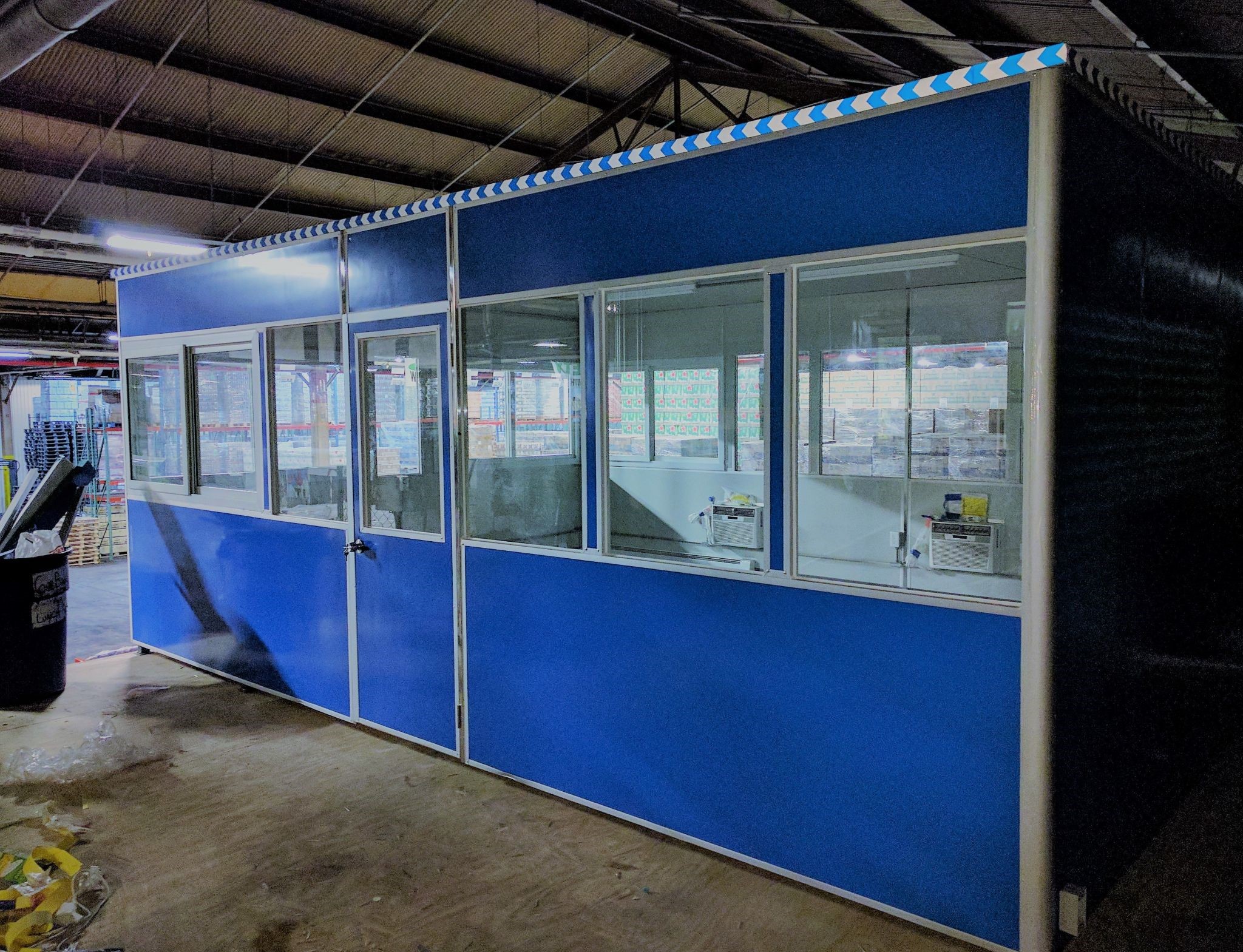 5. A Modular Office Looks Real
When you hear the words modular office, your first thought may be the modular office trailer seen in TV shows and movies. That look is a thing of the past.
When you see a modular office building for sale today it will look like a traditional building. You are able to select the shape of your building, roof design, and the type of siding you want.
In England, Mcdonald's is expanding by using modular units for their restaurants. The building has a slightly different look because of the modular construction, but that is minor compared to the additional profits made by opening new establishments in only four weeks.
6. Long Lifespan
With regular upkeep and maintenance, you can expect your modular office building to last 25-30 years. The lightweight materials that make them easy to relocate still have to meet all local and state permit requirements and building codes. You are purchasing a product that meets rigorous quality standards.
A prime example of modular construction durability is in San Antonio, Texas where the building of the Hilton Palacio del Rio Hotel finished in 1968. This 21-story modular hotel is still in use and believed to be the tallest building of modular construction in the United States. 
7. Supervise Workers in Quiet
The benefits of in-plant modular offices are numerous. You have the ability to work in a professional, private office while still being able to supervise workers in the factory or warehouse. The units are quick to build, less expensive than constructing a traditional office and can be relocated on the plant floor when necessary.
In addition to using it as an office, in-plant modular offices are an excellent choice to install for the enclosure of machinery or use as a shipping office. They can also be placed anywhere in your warehouse or plant to use as an employee break room. Add a few tables and chairs, refrigerator, microwave, and TV and your employees will not stray far from their work area.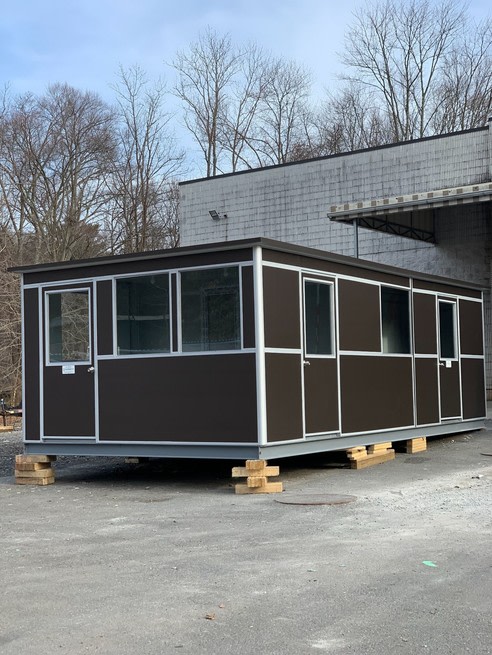 8. Cost-Effective
The savings by using a modular office over a traditional build is substantial. Permanent offices are more expensive to maintain with necessities, such as temperature and electricity.
Because construction of modular office buildings takes only about half the time of conventional construction, you will pay less for labor, machinery rental, and construction expenses. The cost of materials to build a modular office is less expensive than its traditional counterpart.
Modular units are manufactured in a factory setting, so there are no delays in build time due to inclement weather. Your unit will be built and ready for installation within the initial time frame given.
If your business is growing and expanding, with the possibility of needing more space in the future, the modular office building is an economical choice. Because the offices and buildings may be taken apart and reassembled at a new location, you save the cost of new construction each time you move.
9. Optional Add-Ons
When you purchase a prefabricated booth you not only receive a high-quality product, but also the ability to customize it for your business needs. This includes a wide variety of add-ons.
By adding a vinyl-protective wrap your booth will maintain its brand-new appearance in a glossy color that will not scratch or fade. Other options include:
Exterior

electrical disconnect

switch—rated for 30 amps with upgrades available allows you to shut off the unit's power from the outside

Baseboard heaters—built into the unit to keep the booth warm, pricing includes two baseboard heaters including wiring and installation and a built-in thermostat

Built-in air-conditioning unit—built into the unit, eliminating the need for fans and keeps the booth cool, price includes digital screen and remote

Tinted windows—increases privacy, reduces inside heat, blocks harmful UV rays

Outside LED spotlights—makes the booth noticeable while illuminating the surroundings with a 15 watt LED spotlight wired and installed on an exterior corner operating on a separate light switch.

Exterior color and design—provides all the benefits of a vinyl protective wrap, plus allows you to customize the exterior color and display your logo and other important business information

Ethernet port and phone line—installation of conduit and wiring allows your IT department to set up data and phone lines in the booth

Extra desk—provides additional workspace, quotes available for an additional desk with a drawer
In addition to the add-ons above, customization is available in a variety of ways. Guardian Booth has provided fixed glass rather than sliding windows, sliding door rather than swing door, an option of solid walls, an additional door, putting a restroom inside the booth, and more.
10. Faster Permits
Obtaining building permits is generally faster when using modular office building construction. While traditional zoning and building permits may take months to obtain, those installing modular units are able to navigate the process at a much faster pace.
When applying for your permit you will need to submit an application, fees, survey or plot plan, and your contractors' information. Having any work performed without a permit may result in fines or prosecution.
Decorating Your Modular Office
Depending on size, modular office walls and buildings may require a bit more consideration when laying out the office space. You want to think about how to best utilize the space you have to work with. Some things to think about include:
What type of furniture do you need?

Can you purchase items that have a dual purpose?

Think outside the box when selecting your furniture

Consider alternative options, such as estate sales, when purchasing necessary items

Think about add-on options for your modular office
One option is to consider modular furniture which is specifically designed for smaller offices and rooms. Modular furniture gives your office a modern, comfortable look that makes functional use of your space. Command hooks will make it easy to hang business awards or other art without damage to your walls.
A Smart Investment
If your company is looking for additional office space and grappling with the cost of remodeling, the financially efficient way to go is a modular office. These cost-effective, environmentally friendly, all-purpose units can be customized to fit your needs.
We invite you to visit the Guardian Booth warehouse at 527 Route 303 in Orangeburg, New York. You may also get in touch with us by telephone, email, or request an online quote.
Read More about Modular Offices:
As Construction Costs Rise, Modular Construction Soars
Enhance Your Business with The Best Portable Guard Booth Applications
5 Tips to Enhance Modular Factory Offices
Recent Blogs