image
Amazing Portable Applications for Mobile Guard Booths
>
Amazing Portable Applications for Mobile Guard Booths
Portability is a sign of the future, and portable applications from communications to safety is the name of today's game! Whether you are looking to buy a new booth or you own a booth mobile is the way to go, and this article will help you identify the portable booth applications and features you need most!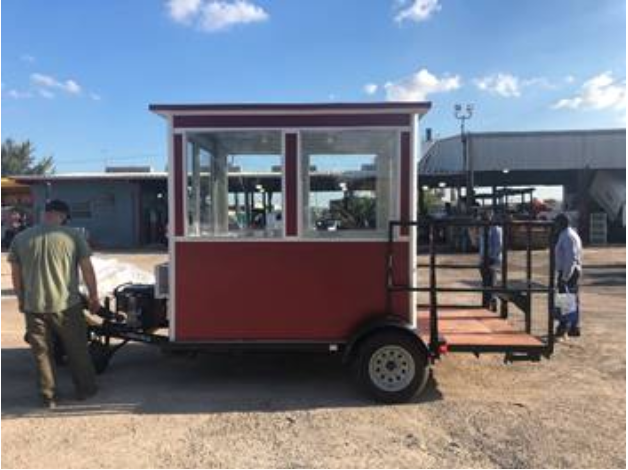 Portable Applications and the Right Features Change the Way We Live
Just as taking the classic telephone and making it portable has changed our world, so too are portable guard booth applications growing and changing every day. While mobile guard shacks may not be considered life-changing, new features that regularly become available could really help improve your business and make things function more effectively.
Wondering how a mobile guard shack can benefit you as opposed to a permanent structure? Let's explore some applications for mobile booths:
Consider the Top 5 Places to Utilize a Portable Guard Booth:
A large industrial facility. In extremely expansive and large facilities the security focus shifts on different buildings within the complex depending on where the work is taking place. It might be cost prohibitive to place a permanent guard booth at every building but with a mobile trailer booth you can simply hook it up to a pick-up truck or SUV and relocate it as needed.
A construction site. Quite often, the day-to-day operations of a construction site can have the workers operating in different areas. A mobile booth can be moved around the property to accommodate the work area, providing focused security for the section where tools and equipment are stored.

A large facility that has different entrances open at different times. Many factories use different production lines at various times of the day or week. While the morning shift may enter the property at the northeast entrance, the evening crew may begin their shift in the southwest quadrant. Why pay for multiple permanent guard booths that will only be used part of the time? A portable booth can be easily transported from one area to the next to provide maximum utilization.
A traveling show or event. Chances are, if you are in charge of a traveling show such as a circus or carnival, there will not be a guard booth at every stop on your tour. In fact, there may not be a permanent security feature at any of them. But the show must go on and so it will, in a safe, secure manner with a portable guard booth! A mobile mini guard shack may be a helpful way to maintain a security presence without taking away from spectator space.

In case of emergency, you can add security in a locale at which you don't normally have a guard stationed. Even if you weren't a Boy Scout, you can still take their motto, "be prepared" to heart! That is why many police departments purchase a portable trailer booth or trailer mounted guard booth for their fleet. Should the unexpected occur and you need to establish a security presence in a place that is normally unstaffed, you can do so quickly and easily with a portable guard booth.
Think outside the guard box! No matter what business you run, chances are you have multiple areas where a portable guard booth would be a useful addition to improve your operations.
Getting the Most out of Your Portable Guard Booth and Improving Portable Applications
The chances of becoming a participant on a reality show about extreme mobile guard booth makeovers may be slim to none, but that doesn't mean you can't take steps to upgrade your portable booth in a way that makes it effective for your business.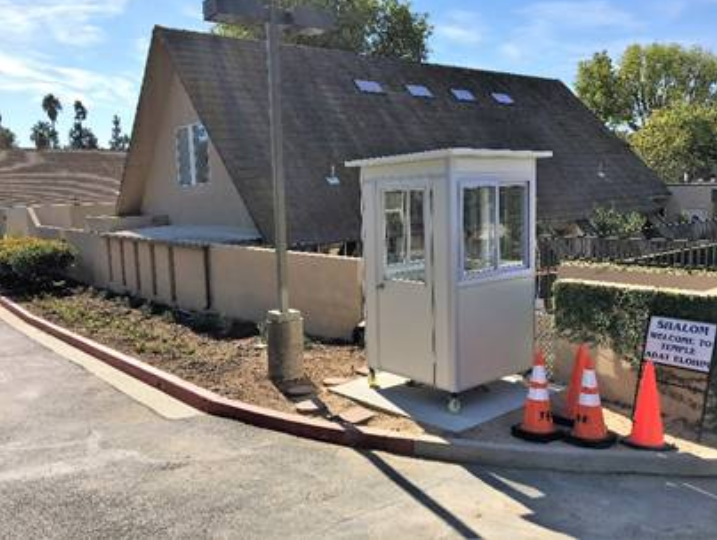 Following are 5 of the top ideas that you might want to consider for your portable guard booth to help get the job done:
Caster wheels. You know how difficult it is to pull a suitcase without swiveling wheels? Imagine that exertion times a thousand (or some other really big number) when it comes time to move your guard booth. The struggle is real; lessen it by adding caster wheels and make your booth portable! The locking feature on the wheels allows your portable changing booth to securely park itself in one location when that's what you need.
A trailer booth. For ultimate portability, your mobile guard booth can be built on a flatbed trailer. Just hitch the guard shack trailer up to your truck (or Mini Cooper) and get moving (although relatively slowly, since a trailer guard booth isn't designed for high-speed chases).

A Generator. Unless you prefer to work in the dark, you're probably going to want to supply electricity to your mobile guard shack trailer no matter where it is stationed. The addition of a portable generator can make all the difference in the world! Especially when considering a used mobile surveillance trailer for sale, the addition of a generator is important in order to power the surveillance tasks you'll be assigned. You can even add a portable heater/ac unit to get the most out of that power supply. In sunny locations, solar power can provide enough energy for many security booth applications!

A wireless Wi-Fi router. This invaluable tool will keep the devices in your booth connected to the company's central system (but it will only work with an external power source such as a battery or generator). It will also allow the installation of surveillance monitors for the guards to keep an eye on the entire property regardless of where the portable booth is stationed at a particular time.
Exterior LED lights. Keeping the surroundings well-lit no matter where the booth is stationed is essential. This feature ensures the guards will have a clear view of their environment and alert potential hooligans that there is a security presence on site. You can even add a stoplight to help control traffic!
A Booth to Fit Your Needs
Just because a booth has the capability to be portable doesn't mean it can't be used as a permanent fixture. By purchasing a mobile guard booth you are investing in the best of both worlds, giving you what you need, while keeping your options open into the future. On the other hand, all of our guard booths are built on a sturdy forkliftable base-frame that can easily be moved with a forklift, making any of our guard booths portable. But a booth built on a flatbed trailer will be the easiest to relocate, anytime you need to.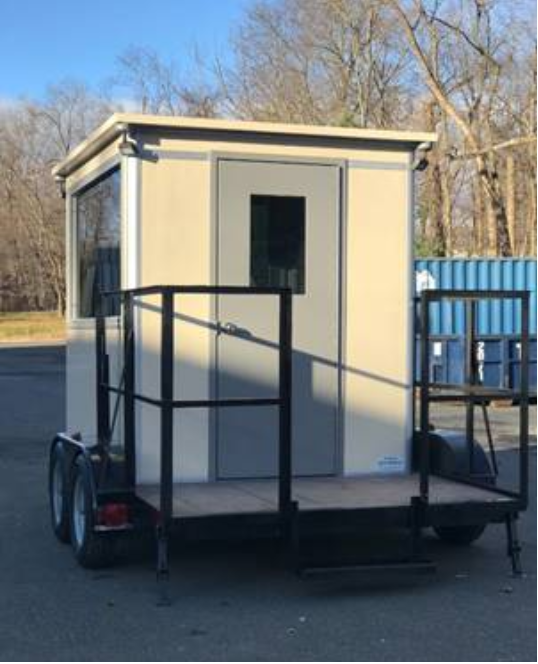 Looking to buy a new guard booth? Already have a booth and wondering what new features might be available to enhance your guard booth? Considering a guard shack on trailer? We can help!
Visit our website to build your own booth, or contact us for a custom quote. Contact us to find out if we have a used portable guard shack for sale that can suit your needs.
You can also view our Gallery to see some really cool mobile guard shacks and portable offices.
Resources for mobile and portable guard shacks:
Everything You Wanted to Know About Portable Guard Buildings
What Booth Size do I need for my Guard Booth and Security Team?
Recent Blogs