image
Design Your Guard house with Restroom Floor Plan
>
Design Your Guard house with Restroom Floor Plan
So you've settled on buying or renting a guard house with toilet. Now, it's time to think about the restroom options that you want to add, and how you can make more effective use of this new space. If you are saying to yourself, "Wait! I'm still not sure if I need a security guard booth with bathroom", then you may want to pause a moment and read this article first.
If you have decided that a lavatory is the right choice for your guardhouse, you will want to consider a variety of restroom accessories and design consideration that can significantly enhance guard booth security, so read on!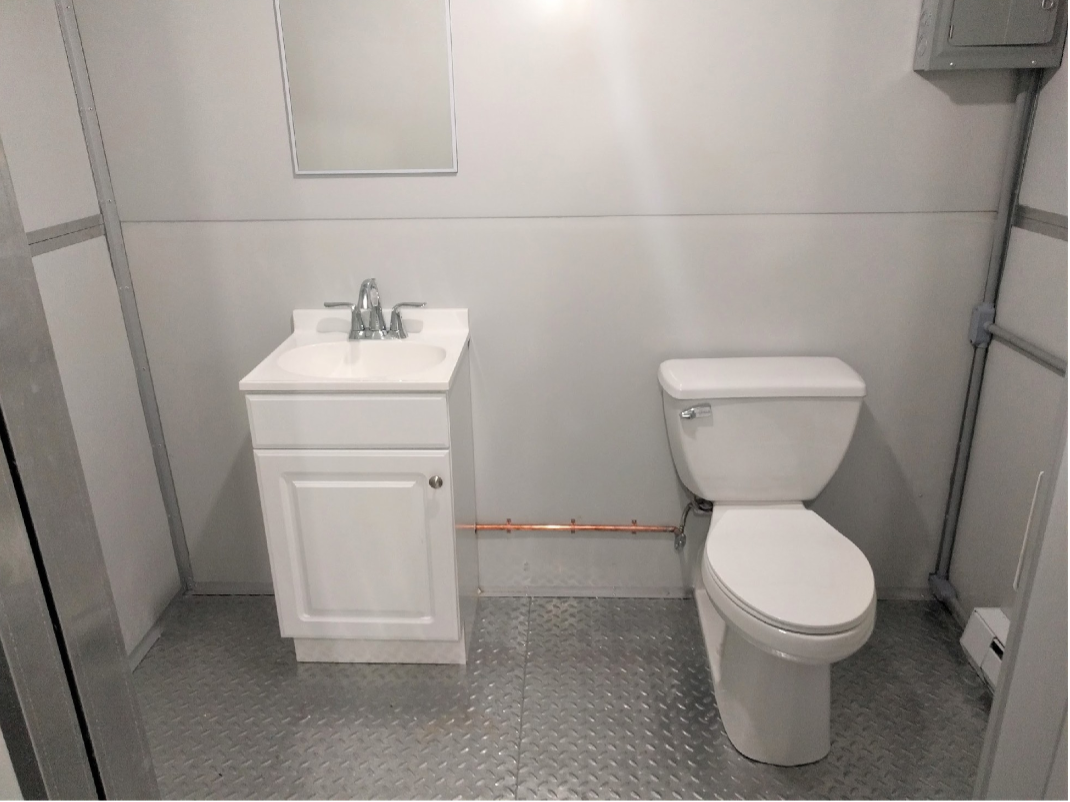 Security House Design: The Standard Features You'll Get
Assuming that you are ordering a guard house from a reputable dealer, the standard guard house features pre-installed in your guardhouse with a restroom will likely include the following in the guard house design layout:
Plumbing fixtures, such as a toilet with a seat and a sink. These fixtures are often factory assembled and installed, but some guard booth companies will make you hire a plumbing contractor to install the fixtures on site. Be sure you ask about guard house installation upfront so you know what to expect prior to the delivery of your guard house.
Restroom lights. While electricity and lights are optional on a guard booth, most booths that include a bathroom will have electricity and lighting pre-installed. Many times you get a guard booth that has a restroom because it is either in a relatively remote location or because it is used at night, so lighting can be very important.
GFCI outlets. These ground fault protection outlets are requirements – both for safety and legal reasons – any time there is the possibility of water penetration. Since your restroom will definitely have water, a GFCI outlet should come standard!
Waterproof and easy to clean flooring. Most restroom trailers will come with vinyl, rubber, or heavy-duty aluminum tread plate flooring. Ceramic or other tiles may be an option on the walls or floors, but keep in mind that such materials can crack under heavy use, big equipment, or if you choose to relocate the trailer. They may also not stand up as well to heavy traffic as a solid metal floor, with the grout getting dirty easily.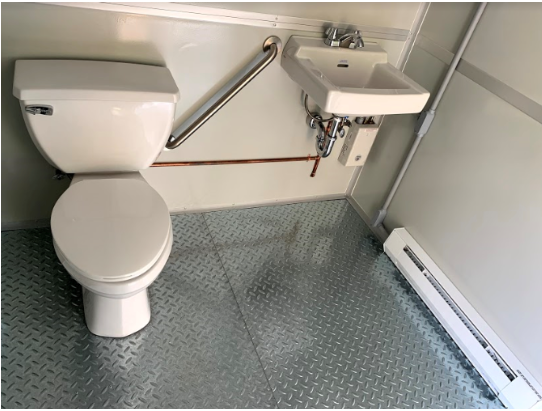 Overall Booth Features that You Might Want to Add to a Guard Shack with Restroom
When it comes to your guard booth overall, you might want to consider the following options in your security guard house plans, regardless of whether you have a bathroom installed:
Heat or air conditioning, depending upon the climate. Generally, electric heaters are used.
Sliding transaction windows, particularly if the booth will be used to monitor parking entry or otherwise engage with customers or other visitors regularly.
An exterior countertop if customers will be approaching the guard booth on foot.
A waiting area, either for customers or employees.
Bullet resistant glass if you feel that this is a requirement based on your application and location.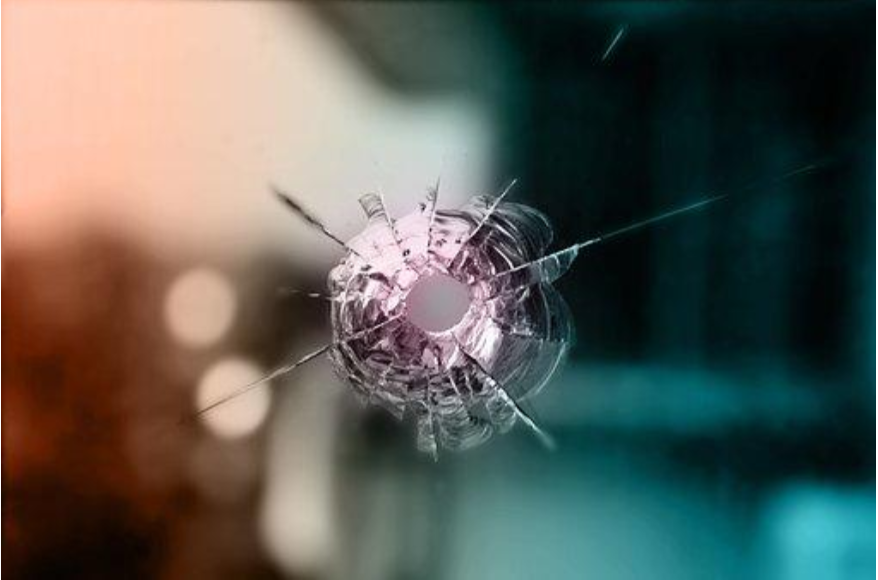 Countertop or desk inside the building to allow people to fill out paperwork, use a computer, etc.
Surveillance and monitoring equipment, such as video camera monitors or walk talkies are very common for maintaining guard booth security.
A wireless router or booster to ensure quality internet access in and around the booth.
Optional Features Specifically Related to the Bathroom
In addition to the basic add-ons to your booth, adding some extras can make your guard house with restroom that much more comfortable during their shift. You may want to consider some customizable options for the restroom portion of your small guard building:
Partitions to separate sink area from a toilet, or to separate off more than one toilet.
Restroom cabinets to provide storage for keeping extra restroom supplies.
Restroom supplies, such as toilet paper, hand soap, paper towels, broom, dustpan, feminine hygiene supplies, mop with a bucket, wet floor sign, first aid kit, hand sanitizer, and wastebasket.
Water heater. Usually, a small tank or tankless on-demand water heater is installed in a shack with a restroom.
Exhaust fan if a window is not enough to vent the guard house interior.
Tinting or frosting on any windows to ensure privacy of the guard room.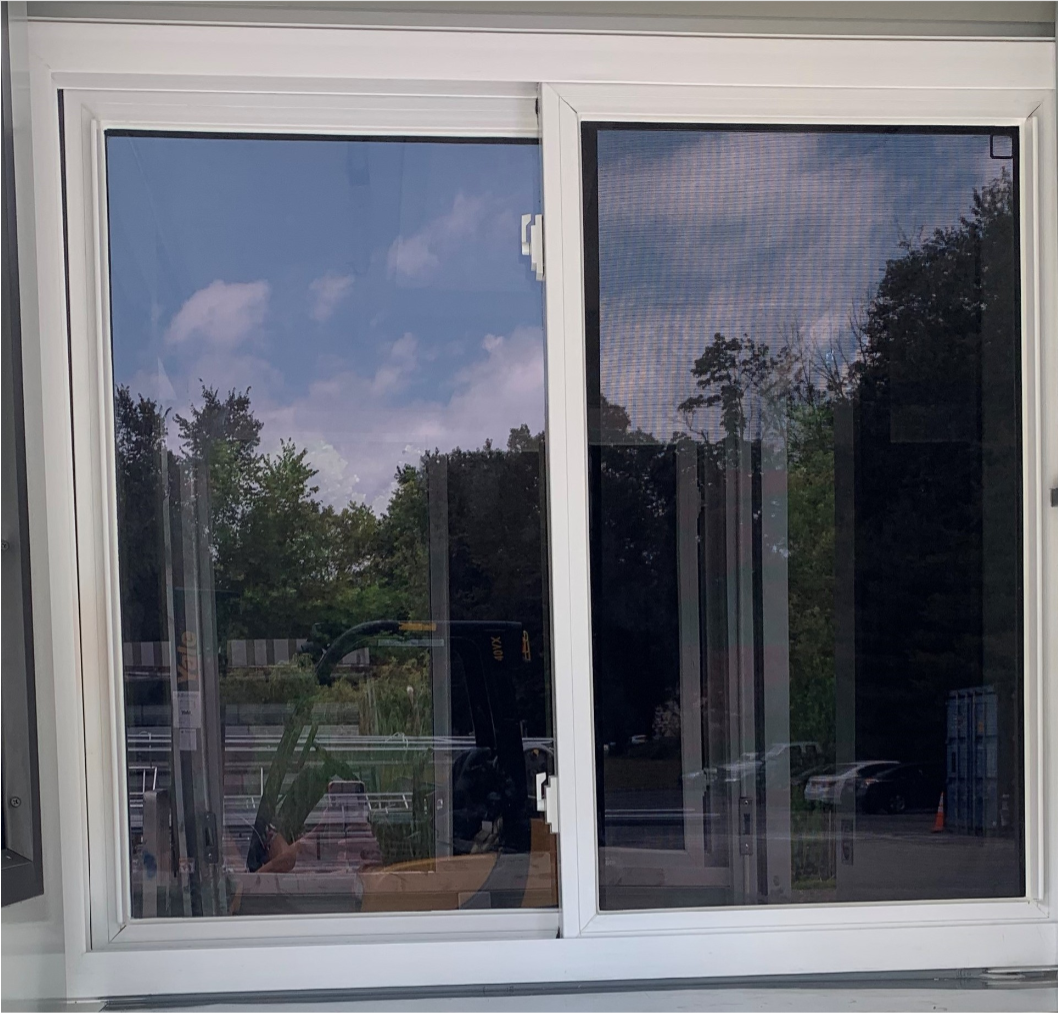 Paper towel holder or air hand dryer.
Soap dispenser. Note: Install this above the sink so that any dripping is caught on the sink rather than creating a mess and slip hazard on the floor.
Hand sanitizer dispenser on the wall, near the door, to minimize the spread of germs and thus sick days.
Urinal as an option, if desired. You may want to use a partition wall to separate urinal from the toilet.
Coat hook to provide a way for people to hang up their coat, bag, or equipment belt without setting it on the floor.
Grab bar near the toilet for those who need help getting up.
Signage inside the guard booth reminding employees to wash their hands, turn out the light and clean up after themselves.
Motion sensors can detect movement in the bathroom and shut off the light when the restroom is not occupied, saving you money.
Want to learn even more about custom designs and add-on features for your guard booth? Check out Guardian Booth online. We have a vast amount of experience with gate house floor plans and would be glad to use other guard house designs we've worked on to your advantage so that your guard house with toilet floor plan is a perfect plan for the most efficient use of your space.
A Few Last-Minute Design Tips
Here are some final things to keep in mind when considering a pre assembled guard shack with a restroom installed:
Keep it simple so it stays clean. The less "stuff" in your shack, the easier it is to keep it clean, germ-free, and safe from fall dangers. Especially with a small guard house, or even a guard house standard size booth, you'll need to use your space efficiently and keep clutter out. A simple guard house design may be your best option.
Remember that the outside is important too– use it to your advantage. Talk to your booth retailer about the color of your booth. Colors are customizable. You can choose bright, interesting colors that match your company logo, or dark, camouflage colors to blend in – whatever you need. Signage on your guard house can also be important if you need to communicate with your customers.
Keep your booth well lit, inside and out.
Add accessories as needed – towel bars, soap dishes, shelving, storage for overstock.
Keep it stocked – and overstocked.
Keep your guard house locked when not in use.
Still in the early stages of getting your booth and wondering about the layout of your guard booth? It may be helpful to review a guardhouse plan  for guard house design ideas from others for booths with similar guard house dimensions to see how they configured the space for a prefab guard booth with restroom. (When it comes to guardhouse rentals, you obviously do not have the luxury of configuring the guardhouse design according to your guard room design dreams.)
A guard house restroom can be put in a variety of areas, but here is one common guardhouse with toilet floor plan: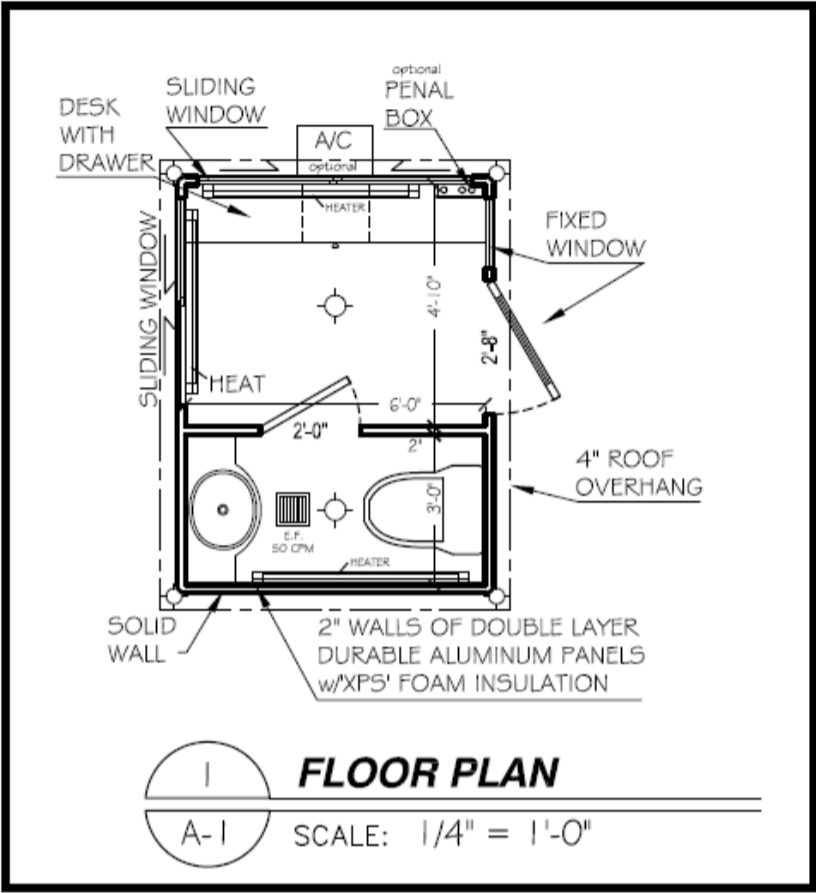 This guard shack floor plan with restroom is for a 6' x 8' guard booth, which is generally the smallest guard room size that you will want when including a restroom. Guard room dimensions can be an important consideration, both in ensuring that you have enough room inside the building for what you need it to do and to ensure that the entire building footprint will fit into the space that you have allotted.
ADA Compliant Restrooms
There are a few more points to be made when ordering a guardhouse with a restroom. When creating their restroom guard house plan, some people wonder if a restroom in a guard shack needs to be ADA compliant, that is, compliant with the American's With Disabilities Act, for all guardhouse sales and rentals? The answer is a resounding… probably. Chances are that a guard shack with bathroom does need to be ADA compliant. But sometimes it can be unclear.
According to the ADA (Americans with Disabilities Act), all buildings and restrooms must be compliant with ADA accessibility regulations. They should be a wheelchair friendly environment, and allow people with impairments easy navigation. That can often be accomplished by widening doorways, creating sufficient light, moving furniture out of the path, adding a larger stall with handlebars in the restroom, or ensuring that sink and towel dispenser are easy to reach. 
However, there are exceptions to this rule. For instance, temporary structures do not require ADA compliance, nor do small, non-dwelling structures such as toll booths. This means that it is possible that if your restroom is in a small, mobile structure that is not open to the public, such as a guard house, it may not have to be ADA compliant, but the law can be difficult to understand and open to interpretation. This can vary from state to state, so check the laws in your area to make sure your small guard house design will be in compliance. 
Guardian Booth has Pre Assembled Guard Booths
All Guardian Booth guard shacks with restrooms are ADA compliant and can be modified to accommodate ADA specification for wheelchair-bound individuals (i.e. raised toilet seat, grab bars, etc.) with restrooms in stock for you to rent or buy today. In fact, here are a few guard shack with restroom pictures so that you can see what they have available.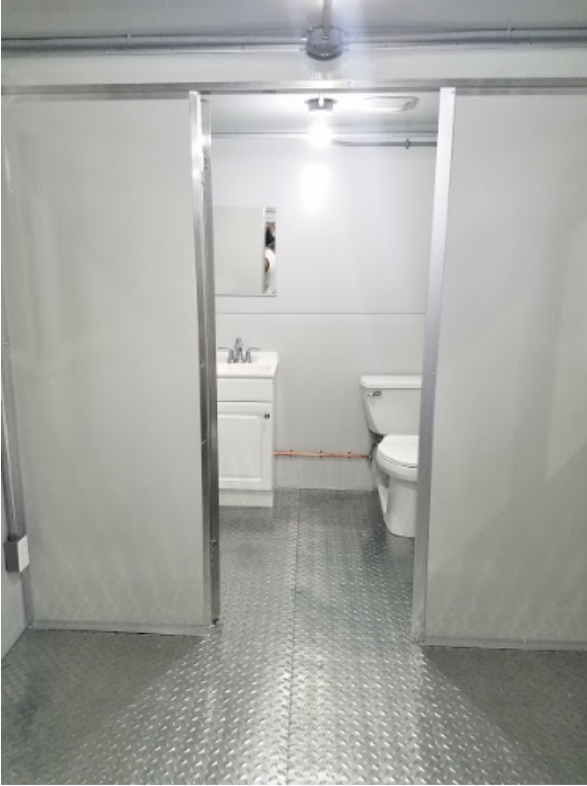 All Guardian Booth restroom trailers are pre assembled with solidly-constructed hardy materials, built with excellent craftsmanship to last, ADA compliant, delivered to your site ready to use, and easy to clean! We are confident that you'll be very pleased with the quality and construction of any guard house you'll order!
Learn more about ordering your guard booth today. For assistance with guard booth design for your specific guard house dimension, feel free to reach out to us to discuss customizing a gate house floor plan to meet your needs. Our vast experience is based on our involvement in many booth floor plan arrangements – from the standard security house floor plan to many unique guard house design requirements. We'll be glad to help with your security guard house floor plan!
View our Gallery Page to see Booths and Guard Sheds with Restrooms
Additional Resources
5 Reasons to Equip Your Guard Shack with a Restroom
Additional Resources
Recent Blogs