image
How to Apply for Security Grants: A Step by Step Guide for Nonprofits
>
How to Apply for Security Grants: A Step by Step Guide for Nonprofits
How to Apply for (and Win!) Security Grants: A step by step guide for nonprofits
Here's the good news: Millions of dollars in federal, state, and private grants are available for church and school security improvements. Are you a nonprofit institution looking to beef up your security measures, either by purchasing security shacks, hiring security staff, or otherwise?
And the bad news: Clear, easy to follow information about security grants is hard to find. 
Where and how can I get school safety grants funded? If the Nonprofit Security Grant Program (NSGP) is a federal program, why do I apply to my state? Which security equipment is an allowable cost? How will I know when the grant window opens? Are there grants for school security booths?
Each grant comes with rules, deadlines, and requirements. To get you started, here's a step-by-step guide for security grants and their application process.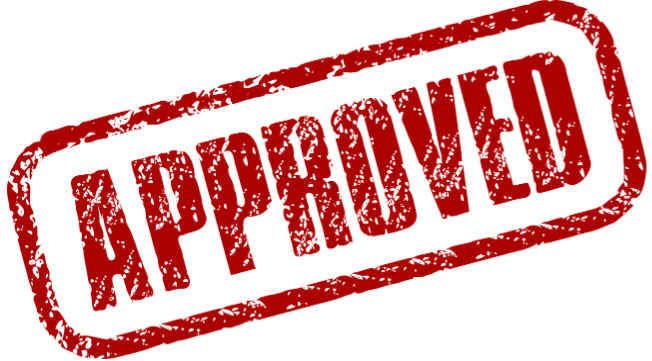 Type of Grants for Security
There are two types of security grants for nonprofits: private and government.
PRIVATE

– Many private foundations offer

grants for security equipment and upgrades

. The trick is finding them. Most foundations don't even have websites!
A great place to start is the Council of Foundations. It will have listings of local, community foundations
Or try the Foundation Directory Online. There, you can search by industry, location, grant size, and much more. It's a paid service, with different levels of subscription.
Do your research thoroughly BEFORE YOU APPLY to any grant to make sure your nonprofit fits ALL the grant requirements.
GOVERNMENT

– Government grants can be subdivided into two parts: state and federal.
On the state level, many states have recently increased their security grant funding:
And those are just a few examples.
On the federal level, the main security funding comes from the Nonprofit Security Grant Program (NSGP). On January 24 of this year, Trump signed the Securing Faith-Based and Nonprofit Organizations from Terrorism Act of 2019. The new law authorizes $75 million annually for each of the next five years to fund the NSGP. Houses of worship and other nonprofits can apply for grants of up to $100,000 each.
The Grant Lifecycle
Whether the security grant you're applying for is private or governmental, state or federal, every grant follows a process. It's critical to follow each step, read each rule, and meet each deadline. 
This slide from the Jewish Community Relations Council of New York (JCRCNY) says it all: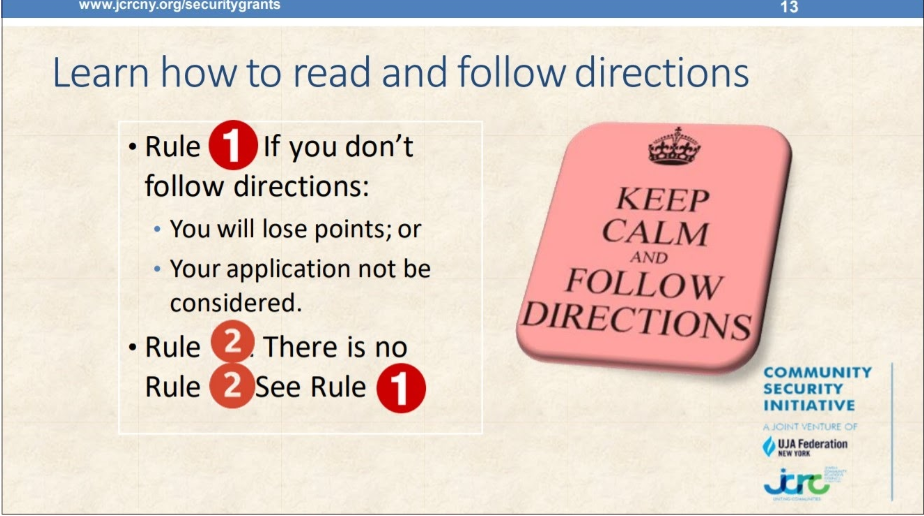 There are no second chances or bending the rules.
When applying for a security grant, read ALL the details to make sure your organization is the right fit for the grant. Applying for a grant is extremely time-consuming. Don't waste your time on applications that have no chance of success.
Grant applications are ALWAYS free.
Anyone charging you for a security grant application is running a scam.
The NSGP (Nonprofit Security Grant Program)
When an organization says it's receiving a grant for security, it's almost always referring to the NSGP.  It's the largest federal security grant for nonprofits at risk of a terrorist attack. You can use the grants for security systems, equipment, training, security personnel, and more.
The NSGP is a preparedness grant program of the US Department of Homeland Security/Federal Emergency Management Agency (DHS/FEMA). But DHS/FEMA doesn't accept NSGP applications directly. Every state has a state administrative agency (SAA) that solicits, reviews, and scores the federal applications. The SAA then submits its packet to FEMA for additional scoring, review, and, ultimately, awarding.
State Administrative Agencies (SAA) administer the applications for FEMA school and church security grants.
(Click here for a list of SAA websites and here for SAA contact information by state.)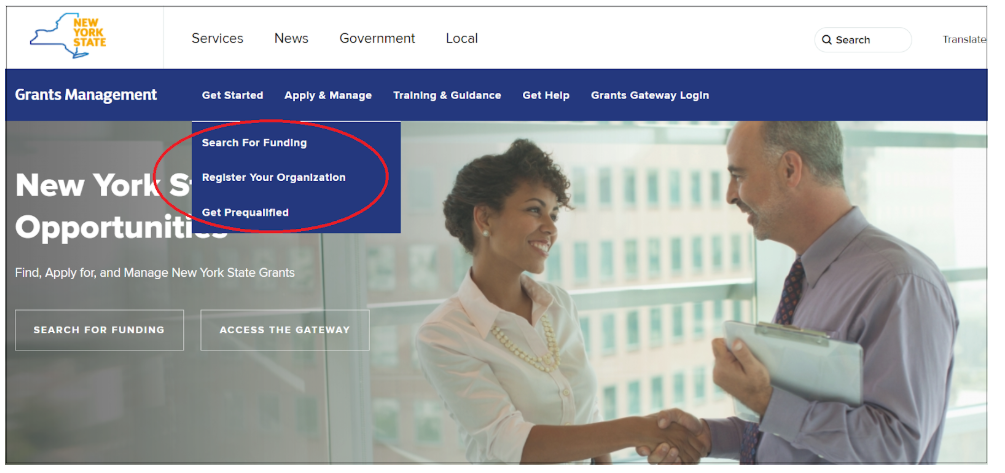 The 2020 NSGP has two categories of eligibility:
NSGP-U – An NPO  located in one of the urban areas receiving funding under the

Urban Area Security Initiative

.

NSGP-S – An NPO that is NOT located in one of the urban areas receiving funding under the

Urban Area Security Initiative

. 
Organizations in both categories can receive up to $100,000 in grant money.
The NSGP application 
Important: The information that follows is based on the NSGP of past years. Look out for updates on your SAA website regarding changes for NSGP 2021
The NSGP application has three parts:
Vulnerability/Risk assessment 
A risk/threat/vulnerability assessment is a document that identifies threats, vulnerabilities, and possible consequences of an attack. Based on those findings, the assessment recommends security upgrades. Your funding requests will tie back to this document.
You can contact the DHS or your local police department to conduct and write a free security assessment. For a fee, you can hire a security company. There are also free tools available online for self-assessment. However, for your security grant application, the recommendations of credentialed officials may help you secure funding.
Why a mission statement? A mission statement defines an organization's beliefs, ideologies, and purpose. The DHS assesses an organization's level of risk based on its type:
Ideology-based/Spiritual/Religious 

Educational or Medical 

Other  
Since terrorism experts think that religious facilities are at the highest risk of attack, homeland security grants for religious institutions are given top priority. They score higher on the NSGP.
The longest part of the application, the IJ includes seven sections:
This asks for basic info like your organization's legal name, address, Dun and Bradstreet Number (DUNS), etc.
Who do you serve? How many people? Is there any symbolic value to your site that might make it a target?
You'll describe threats, vulnerabilities, and consequences. This section ties back directly to your risk assessment.
This is your direct request to purchase security equipment or pay for upgrades, planning, or training. How will your proposed target hardening mitigate the risks you just described? How will it prevent and protect against a terrorist attack? 
Be specific as you present a clear sequence of events that will lead to the completion of your project. 
Describe the staff and board members who will manage the grant. You can include their management experience and relevant professional background.
How will your project further FEMA's National Preparedness Goals?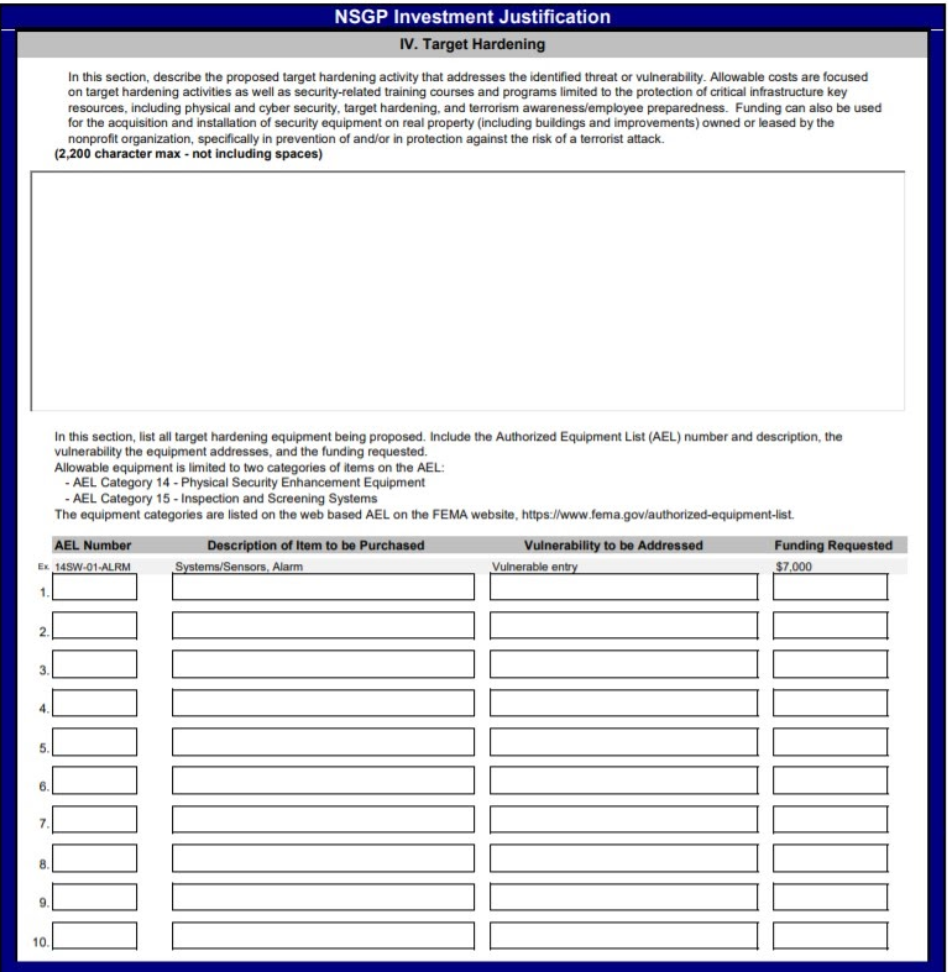 Scoring the NSGP
After you submit your application, the SAA will review and score it. They score the IJ out of a total of 40 points.
SCORING FOR INVESTMENT JUSTIFICATION SECTION OF NSGP APPLICATION

Section Name
Points
% of Total
PLAN DEVELOPMENT

Background

2

5%

Risk

12

30%

Target Hardening

14

35%

DEVELOPMENT TOTAL:
28
70%
PLAN IMPLEMENTATION:

Milestones

4

10%

Project Management

3

7%

Impact

5

13%

IMPLEMENTATION TOTAL:
12
30%
TOTAL POINTS:
40
The SAA sends its scored applications to FEMA, who reviews it twice. Then, the average of the two federal reviews is added to the SAA score and multiplied by:
a factor of three for nonprofit groups that are at a high risk of terrorist attacks due to their ideology, beliefs, or mission

a factor of two for medical and educational institutions

a factor of one for all other nonprofit organizations. 
Applicants are then ranked from highest to lowest score within their state. The state money gets allocated until it's done. 
It's a complicated process. Make sure you pay special attention to the parts of the IJ that count the most. 
Remember – your NSGP application needs to prove that your funding requests will help prepare for and prevent terrorist attacks.
What can I buy with NSPG grant money?
NSGP is very specific about its allowable costs. The 2019 list included:
Physical security enhancements (for example, alarm systems, CCTV systems, blast mitigation/security film for doors or windows) 

Inspection and screening systems (for example, walk-through magnetometers and conveyor-belt x-ray systems used to screen personnel and packages for hazardous materials/devices)

Security-related planning and training. 

New for 2019, hiring of contracted security personnel. The

security guard

grant requirements are specific, so research carefully.
Are you hiring more guards with money from an NSPG grant? 
Keep them safe and comfortable with a heated, air-conditioned, bulletproof guard booth from Guardian Booth.
FEMA's Authorized Equipment List (AEL) is a convenient way to check on grant eligibility for equipment.
When you go to the webpage, put "NSGP" in the search box and press "GO."
Preparing for the Nonprofit Security Grant Program 2021
The DHS usually publishes its Funding Opportunity Announcement (FOA) in early spring. Then, each  SAA opens up its application process. The application window is notoriously short – often just a few weeks.
How can your NPO prepare for the NSGP 2021? Here are several steps to take:
Pre-qualify with your SAA 
All states have some qualification process. Some lucky ones, like New York, have a two-step process. The pre-qualification itself can take weeks, so waiting until the DHS FOA is too late.
Connect with local and national resources
Security councils (like the JCRC of NY or the national Secure Community Network) stay on top of the latest state and federal grant news. They'll keep you informed and often offer webinars and other educational opportunities. 
Get a DUNS number if you don't have one
The toll-free DUNS number request line is (866) 705-5711. You can also apply on the web at the D&B Government Customer Response Center. 
Do a risk assessment
It's a good idea, even if you weren't applying for the NSGP.
Write your mission statement

Research equipment on last year's AEL
Some things will change, but most will stay the same.
Look at last year's NSGP
(see above)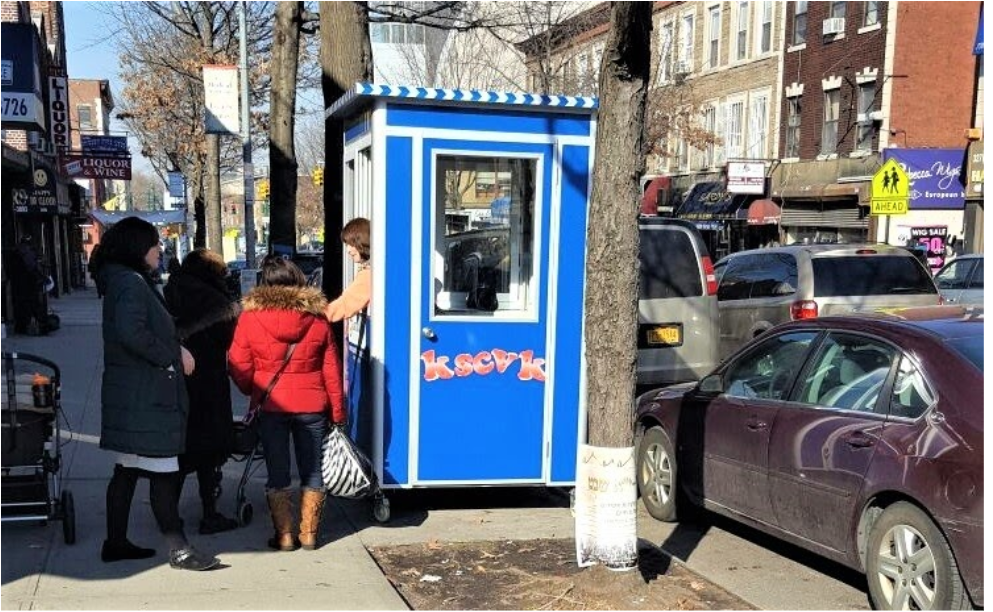 With so much at stake, you need to be prepared when the application window opens. Funding school and shul security is critical for the wellbeing of both children and adults. 
Are you interested in learning how Guardian Booth can be a part of your shul, house of worship, or school security plan?
Contact us to find out more. Our expertise far transcends the construction of the physical security shack!
Recent Blogs