image
Modern Guard Houses Can Be as Interesting as They Are Useful. Check out These Five!
>
Five Amazing Modern Guard Houses Across the USA
Art is everywhere! In fact, art can be found even in some modern guard houses. Have you ever heard the phrase "Normal is boring"? Well, the companies that commissioned these amazingly unique guard shacks certainly seem to abide by that sentiment. Incorporating their marketing message in all aspects of business, these companies have been able to utilize their security booths to put them on the map – or at least on the map of unique guard shacks with a modern booth design or two, in fact we'll show you five below!
As you read, keep your creative juices flowing and see whether these booths spark any ideas for a guard shack or mobile guard house you can custom design! You never know – maybe you'll be the one to take a simple guard house design and convert it to create a spectacular guardhouse design for a beautiful shack house that wows anyone who sees it!
Using Your Small Guard House as a Marketing Tool
Unlike 9-inch stiletto heels – which are aesthetically attention-grabbing but not the least bit practical – guard booth designs can be fashionable as well as functional. From the relatively simple addition of incorporating a particular color scheme in the décor to peculiar, attention-grabbing architecture, there are many ways to incorporate custom guard room design to use your guard booth or  trailer guard booth as a marketing tool.
Security guard house design ranges from simply adding eye-catching signage and exterior lighting on your security shack or mobile guard house and can go a long way towards making your prefabricated guardhouses stand out. For others, that is just not enough; some companies really go all out with their guard shacks to make the most of their marketing campaign with intriguing yet appropriate exterior designs, and it's just plain old fun!
As visual human beings, we tend to respond to creative guard house design ideas that turn everyday guard house cabin into shacks house designs that really draw the eye! Each guard hut design options far surpasses simply ordering a pre-existing amazon guard shack!
Let's explore some of the more unusual and eccentric and modern guard houses in the United States with this list of Five Amazing Modern Guard House Designs across the U.S.A. – basic security guard room design that has been taken to an entirely new level. By the time we're done this article, let's see if we've sparked your imagination with ideas for guard shack trailers and gate house designs.
#1 The Igloo Factory in Katy, TX
Can you imagine a cooler guard shack? No, I mean, literally, can you imagine a guard shack shaped like a giant Igloo cooler? Are you struggling to get a clear picture in your head? That's ok, fortunately, you don't have to! Check out this blog about off-the-wall roadside attractions featuring the Igloo Cooler plant in Katy, Texas. This guard shack is so punny it hurts! I wonder who dreamed up the guard shack plans for this one!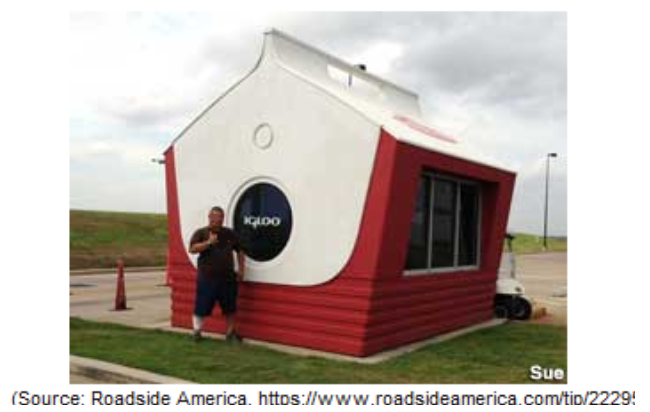 #2: Amazon Guard Booth in Jefferson, IN
Did you know that Amazon integrated a secret smile into their logo? Yeah, the dynamic arrow beneath their name is meant to emulate a grin. And they seem to take their humor seriously, because their guard shack in Jefferson, Indiana with custom designs is built to look like an open shipping box! This is sure to put a not-so-secret smile on anyone's face! Talk about thinking outside the box. 🙂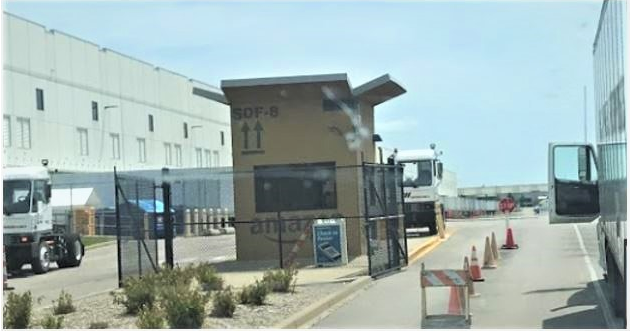 When it comes to modern guard house designs, Amazon certainly did an amazing job!
#3: Disney World Resorts in Orlando, FL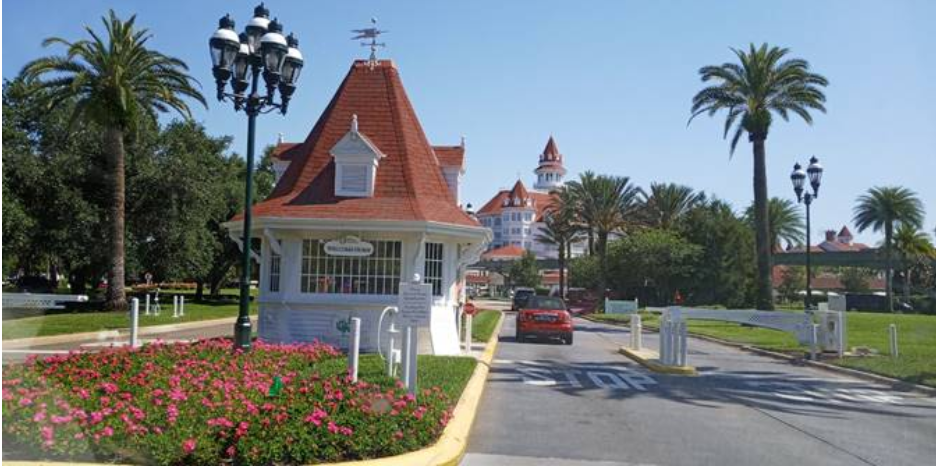 As with most things Disney does, they have proven themselves as leaders in a multitude of capacities, and their guard booths are no exception!
Even Disney security stands are among the most magical places on earth with gate house designs that add to the Disney experience!
Each of their hotel complexes hosts an entrance guard house, a guard shack specifically designed like amazing modern houses to fit in with the theme and décor of that particular resort. Pictured here is a beautiful, modern classic guard booth Disney created for one of their high-end resorts, the Grand Floridian. But Disney knows that good design is not enough and that people are what matters, so they have the guards welcome guests by saying, "Welcome home"!
For this magical company, guard house designs and requirements mean going big, beautiful, and modern, but also backing up their design with good customer service. You are more than welcome to explore this Pinterest board dedicated entirely to Disney guard booths!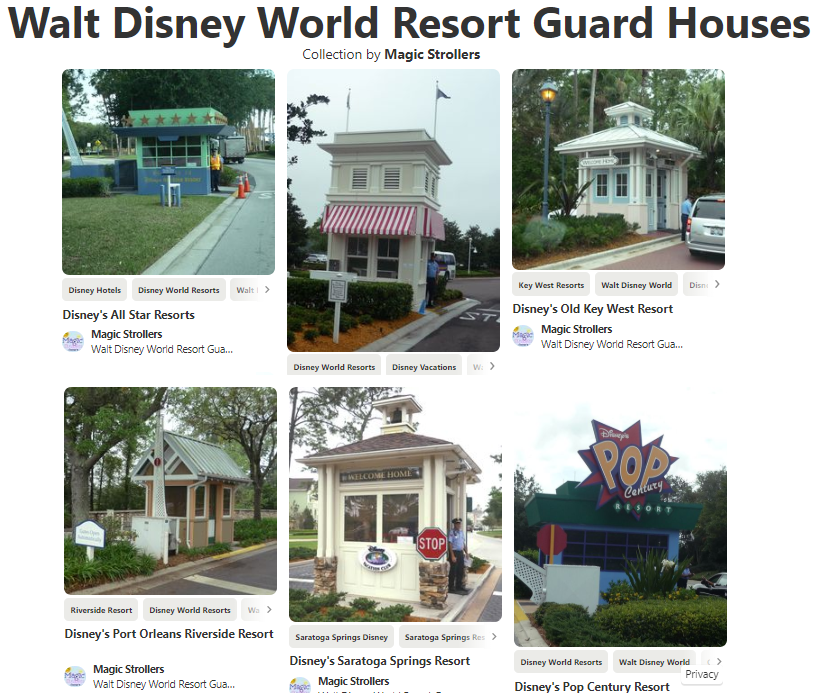 #4 Service Wire Corporate Headquarters in Culloden, WV
We're coming down to the wire with this list and although it is no longer standing, this extremely suitable guard shack deserves its time in the spotlight of awesome guard houses. During its tenure as a one-of-a-kind landmark, this shack most assuredly reeled in a lot of attention. A truly innovative design, this wire reel-shaped guard shack stood for many years at the corporate headquarters for Service Wire Co, in Culloden, WV until November 8, 1990, when a dedication was held for the structure with a plaque commemorating the event. This serves as a memorable example of a wooden guard shack that took a most creative spin on security guard booth design!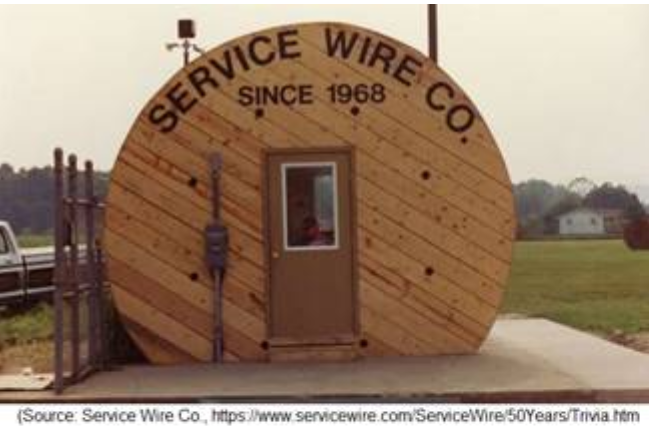 #5 Union County Sheriff in Elizabeth, NJ
While the structural shape of this pre assembled elevated booth may not be as outlandish as some of the others on our list, it incorporates the Sheriff's color and logo, and was designed on a mezzanine to provide a better view of the parking lot in front of the courthouse. This modern guard house design is the ultimate in understated, fashionable functionality, and proves that you don't have to go to extremes to garner attention with an elevated guard shack or raised guard houses!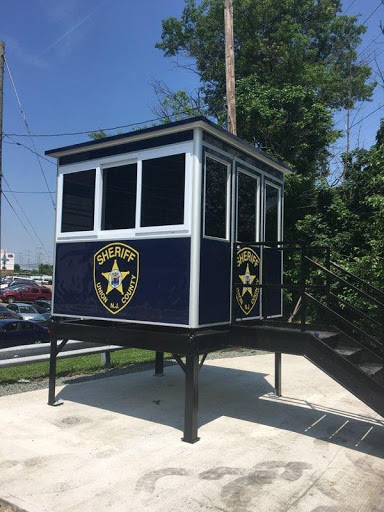 Security Houses Merge Practicality with Aesthetics
It's fun to explore unusual guard-house options but for most businesses, practicality is significantly more important than eccentricity. That's not to say you can't incorporate some subtle features to make your guard booth either stand out or blend in, whichever best suits your security guard houses purpose.
For instance, this bright yellow modern guard house design at the Grandview in Las Vegas, NV blends in with its surroundings perfectly but still draws the eye. It's the perfect marriage of practicality and aesthetics and a great example of how guard house designs and guard booth security requirements can accommodate custom designs that suit your specific needs.
In the end, your guard booth doesn't have to be "blinged out" to have a big impact. Whatever security guard room design you opt for, make sure you choose a guard booth that will fit your needs and provide the best combination of aesthetics and efficiency. Be sure to think through all practical aspects of your booth needs, so you can order features that will serve you well as part of the initial guard house construction. For example, if portability is a factor, consider our mobile guard house, which comes mounted on a trailer.
And if you do have an idea for a unique guard booth or security house design for your organization, please contact us to discuss it with one of our expert guard house designers. Remember – if you can imagine it, we can make your guard houses happen! So let your imagination soar – we can help transform your simple guard house into a unique modern guardhouse that your viewers won't forget! Also consider the guard house interior for a unique finishing that matches the look and feel of the outside.
On the other hand, as expert guard house manufacturers, we also believe there's something to be said for guard house plans that support a contemporary guard house design that looks simple and gets the job right without any fanfare! Contact us to find out more about our solid and sturdy guard houses for sale.
Learn more about our guard house prefab units and other guard room units at https://www.guardianbooth.com/prefab-booths/security-guard-booth/
Explore our gallery of guard house design images of booths we've built for our satisfied customers, ranging from guard houses on trailers to modern shacks and beyond!
Recent Blogs