image
Are Guard Shacks and Prefabricated Guard Booths A Solution for Your Needs?
>
Are Guard Shacks and Prefabricated Guard Booths A Solution for Your Needs?
What is a Guard Shack?
When it comes to site security, it all begins with prefabricated guard shacks, the entry point for outsiders visiting a property. A small guard shack, also known as a security guard house or security guard booth, is a compact building, often as small as 4×6 in size and pre-engineered, prefabricated, modular and sometimes portable. The purpose of the guard booth is to house security personnel and equipment on properties where a security presence is needed. As an important part of your overall security plan, a prefab guard house or mobile guard house ensures the protection of your people, property, and business assets.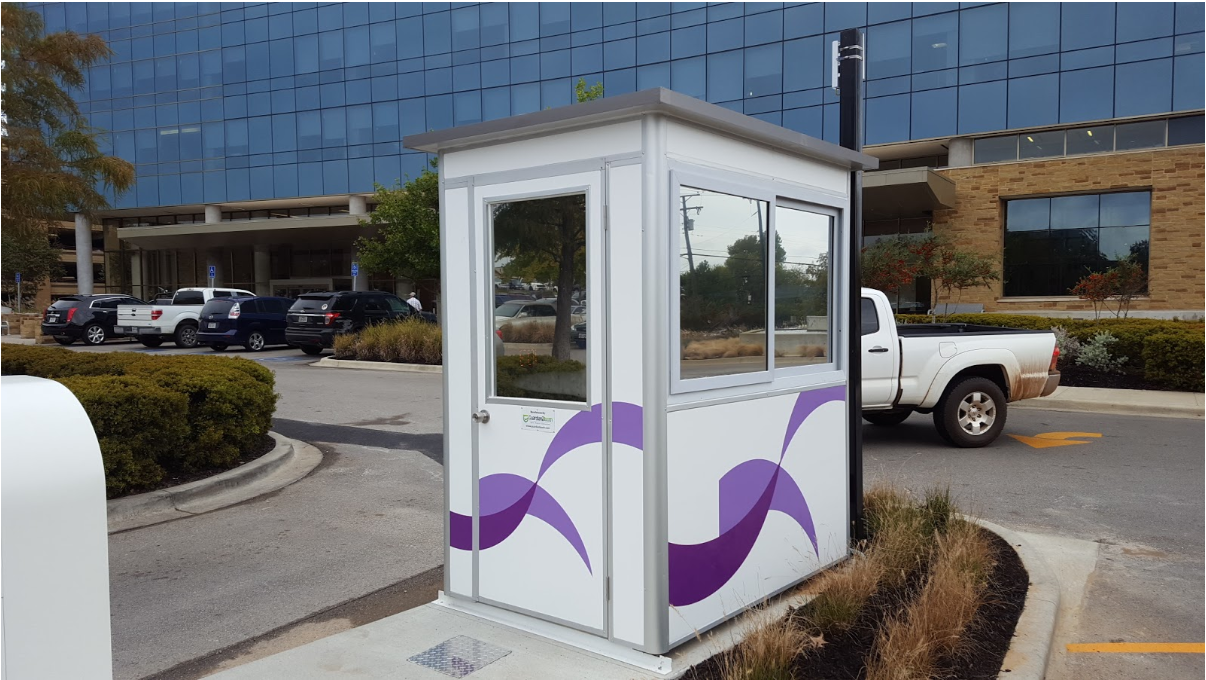 A prefabricated guard shack or mobile guard house can be a wise investment as part of your security strategy, but it also has some limitations. In this article, we've laid out the advantages and potential drawbacks when considering the purchase of a small portable guard shack or modular guard shacks.
Pros to Buying a Prefabricated Guard Booth or Security Shack:
1. Better Security
Duh! Although obvious, this is often overlooked in the initial construction phase of larger projects. When placed at the entrance to your facility, and with appropriate fencing, a prefabricated guard shack gives security staff greater control over who and what enters and exits the property. And don't think you need to go big – even a 4×6 guard shack or similarly sized small portable guard shack will likely address your security needs. And don't think you need to go expensive – a guard house for sale should be affordable, not a pocket breaker!
Guard booths or parking booths are great central hubs for security surveillance, and they've been proven to make a measurable difference in crime rates in facilities that use them. A study from the USC's School of Policy, Planning, and Development shows a 17.8% decrease in property crimes after installation of a video surveillance system. Guard shacks can be equipped with electrical power, internet supply, desk space, and monitors to be a video surveillance center and serve as the eyes and ears of your security staff. Security shacks keep you in control of knowing who is on your premises at any given time. And all it takes is identifying a mobile guard house or small guard shack for sale and ordering it!

Photo courtesy of
A small portable guard shack or security booth can also be outfitted with monitors for video surveillance so that guards can keep an eye on other areas of the facility while they are in the booth. At the same time, a guard booth can support visitors and deliveries because it serves as a check-in point for vehicles to be routed to their proper areas.
In warehouses and storage facilities where products, goods, or other valuable assets are stored, a small portable guard shack or guard booth on the property helps secure the facility by providing a central location for on-foot security personnel to keep equipment and documentation. In addition, government facilities and military bases can use guard shacks to boost traffic control and as a strategic location to monitor the ins and outs of the facility.
The presence of a booth, even just as a 4×6 small portable guard shack, deters criminal activity and can be made more effective with added features – especially with tinted windows. This increases security because potential criminals can't tell whether they're being monitored by someone in the booth.
2. A Small Guard Shack Provides a Central Point
Security booths will serve different purposes depending on your facilities. What most of them have in common, though, is the fact that these prefabricated guard shacks can serve as a central point for several uses.
For example:
In parks and outdoor recreational areas: A security booth or mobile guard house provides a central location where visitors can go to for information, such as maps, and to report emergencies or suspicious activity. Parking booths can also be an effective way to control access to locations where entry is otherwise prohibited, or to control the entrance to locations requiring an admission fee, such as parks. Visible security shacks visually direct visitors to come over for help if a problem arises.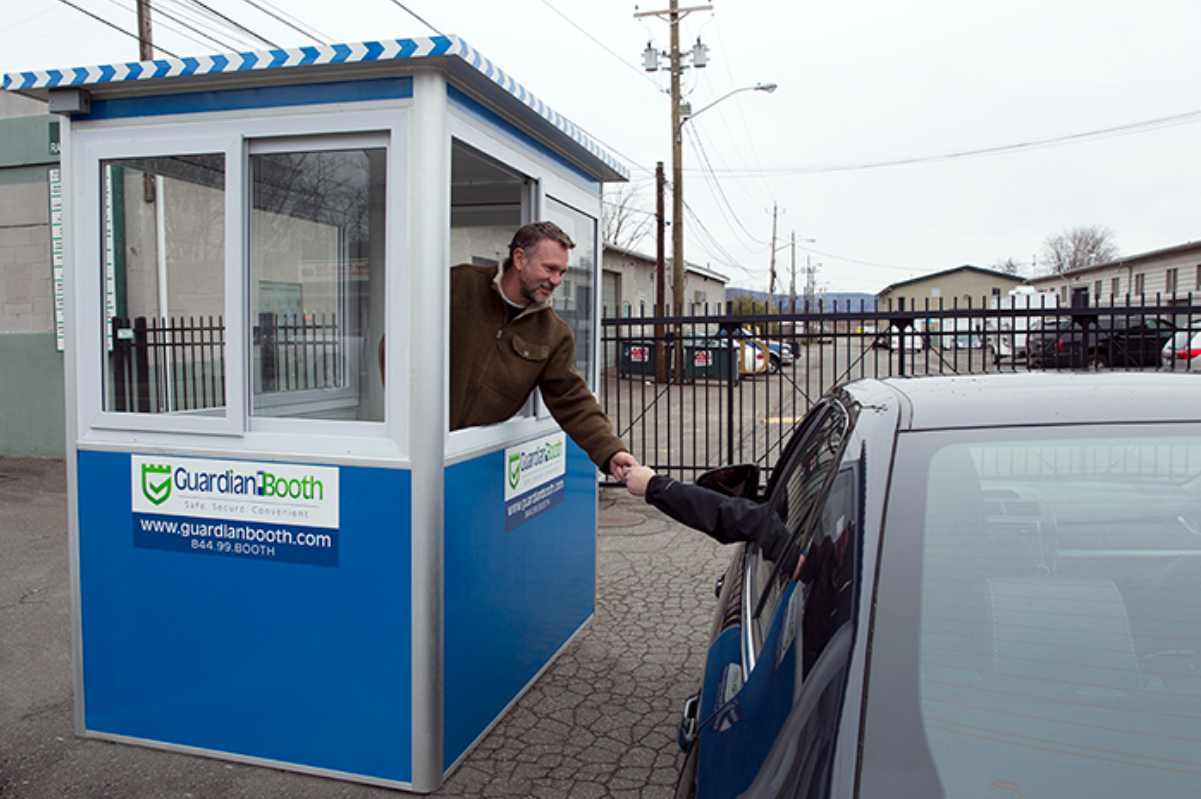 In commercial and residential parking lots: A mobile guard house or guard shack is a dedicated place for parking staff and security, and an accessible, central location for visitors and/or residents to report suspicious activity. Having a guard booth in your organization also sends a clear message to everyone who interacts with your facility – whether employees, customers, visitors and residents – that you care about their safety and the security of the premises.
3. A Small Guard Shack Saves Your Company Time, Materials and Hassle
Buying a prefabricated guard booth or mobile guard house saves time, materials, and hassle, because they're built in a factory with galvanized steel and then shipped to the site fully assembled and ready to use. When compared to building a guard booth on-site, prefabricated guard booths save companies hassle and wasted materials. And nowadays, a guard house for sale comes with many finishes and features, making it very adaptable to your needs.
Prefab guard shacks are also more cost-effective being built in a factory rather than on-site for another reason. For example, if you were to opt not to go with prefab guard shacks and to build your booth on-site, it would require a large section of company property to be closed off for construction. Plus, if you choose to build prefabricated guard shacks yourself, your staff would need to be allocated away from their regular work to plan for the construction of the enclosure, costing your business more valuable money and resources.
Guard booths can also be relocated to a high level on top of a mezzanine, freeing up space on the ground floor. Many companies offer custom mezzanines as an optional add-on feature to a portable prefabricated guard shack. When considering placement for your security shack, think creatively and be open to non-traditional options. With so much customization available, prefabricated guard shacks can be designed to fit virtually anywhere. You should be able to easily find a guard house for sale that suits your needs well.
4. A Small Guard Shack Can Be Customized to Suit Your Needs
Custom designs, standard orders, and special upgrades are all possible when purchasing a guard booth. You don't have to find a guard house for sale that's already perfectly designed. Many providers allow you to choose add-on features depending on your needs, and can be outfitted with HVAC to provide comfort for employees in all sorts of weather conditions. Security shacks can be adjusted for conversion to a mobile guard house if all you can accommodate is a small portable guard shack.
Other features include:
5. Portables Provide Space Efficiency and the Advantage of Easy Relocation
Although most guard booths are built to be permanently placed in position, portable prefabricated guard booths can be relocated quickly and easily. A mobile guard house can be relocated easily either by having caster wheels installed (this is more easily done on smaller models), purchasing a trailer booth, or using a forklift. Adaptability is a fantastic benefit of a mobile guard booth. For example, portable booths can be placed inside a factory or warehouse. As needs evolve, a mobile guard house can then be moved to where it's most needed. Our portable guard shacks for sale offer you the option of flexibility in placement. The few feet of space taken by a small portable guard house will surely go unnoticed as you reap the benefit of heightened security.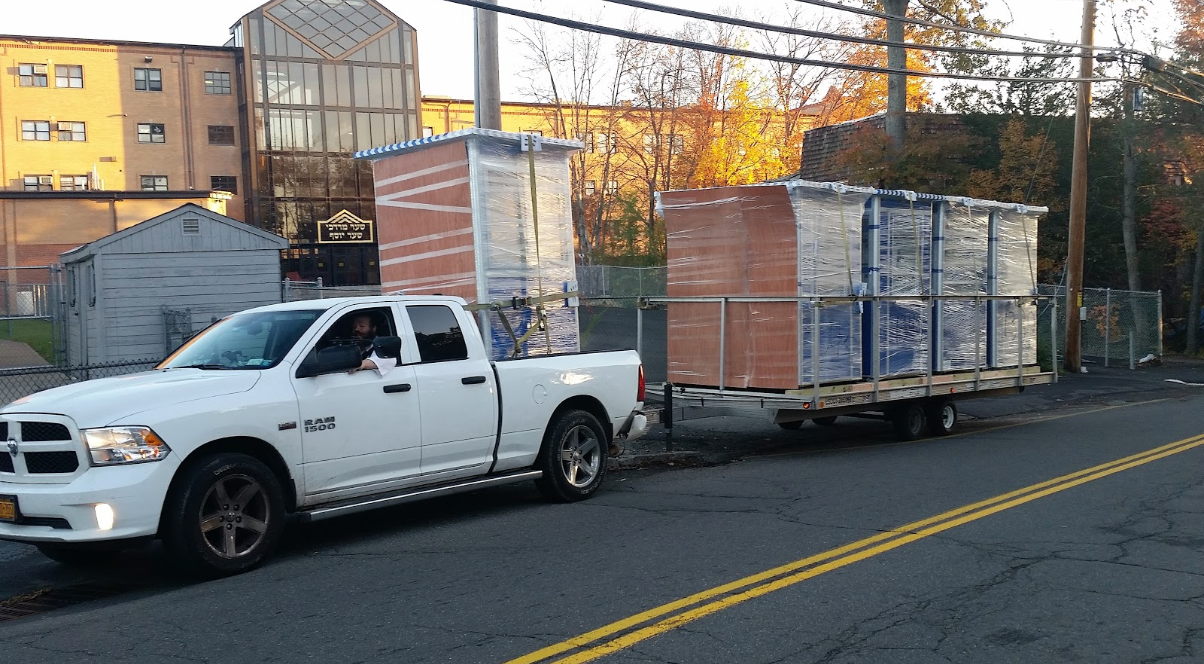 Cons to Buying a Prefabricated Guard Booth or Security Shack:
1. Dodging the "Con Artists"
Not all booths are made equal. This holds true for prefabricated guard shacks. If you opt to purchase a prefabricated guard booth, guard shack, or guardhouse for sale, then you will likely need to find a trustworthy company to do it right for you. As would be expected, this comes with some risk, especially when dealing with a start-up company, or a manufacturer with a poor reputation.
Carefully vetting potential guard booth suppliers before ordering any prefabricated guard shacks is worth the time and effort, because it'll pay off in the form of a longer-lasting modular guard house with less hassle. It's a good idea to check the company's website for examples of their prefabricated guard booths and security shacks. Look for both quality and quantity, as that's a sign they've built a reputation on consistent quality and a commitment to excellent customer service.
2. Limited Design Options for Small Guard Shacks from Some Providers
Some companies have limited design features for their guard shacks for sale, which leaves you with no options to incorporate branding, personality, or detailing into the finished product. This means that you may come away with features you're paying for and don't need, while you're missing features that you'd love to have. Additionally, you'll be losing a fantastic opportunity for branding your security shack or mobile guard house.
If you want to customize the look of your small guard shack, make sure your supplier offers a wide range of design options. Ideally, the company should offer unlimited design and color options, and should offer to customize the booth as much as requested. Although, you should know that there are so many guard house for sale options that it's not hard to get a customized look without paying for a custom order.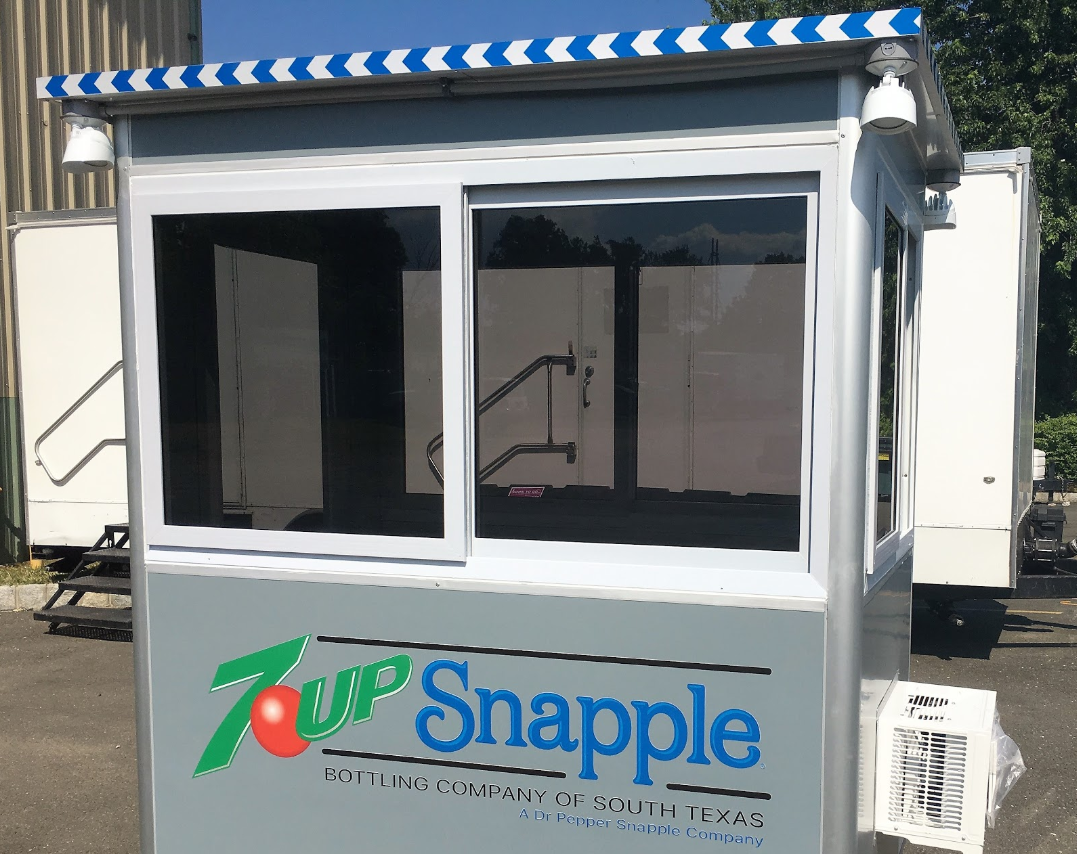 3. Guards Falling Asleep on the Job
Guard booths are designed to offer the utmost comfort for security staff – but too much comfort can backfire. If a security guard falls asleep on the job, this jeopardizes the safety of people and property that they were hired to protect. It is widely considered an inexcusable form of misconduct and is illegal in some states.
While there is no excuse for a security guard to ever sleep while at work, there are ways to mitigate guards falling asleep on duty. One is to make sure the booth has a bright light and modern design that will help to keep the guards awake. Another easy solution is purchasing an anti-sleep alarm. Otherwise, guards should eliminate the chance of falling asleep by improving their rest plan before post, drinking coffee and standing up to stay alert.
Guard Shack Ownership Conclusion:
While purchasing from a new or ill-reputed company can lead to problems down the road, investing in a guard shack from a reputable manufacturer such as Guardian Booth can be a huge asset for your company and your security personnel. Working with a company like Guardian Booth means you'll get a security guard booth that covers all the bases, and more. We offer a wide selection of guard house for sale sizes and features to suit your various needs, ranging in size from small portable guard shack to large oversized security station.
Our prefabricated guard shacks were designed by our research and design team. They know exactly what you need to secure, monitor, and maintain access control for your security booth. For example, we know that even 4×6 guard shack security guard booths that provide employees with a 360-degree vantage point, ultimate comfort, and superior protection on all sides are valued by security guards all over. Some other important prefabricated guard shack features include mirrored and tinted windows on all sides of the prefab guard booth; this allows guards to do their job without being monitored by potential threats. You can also upgrade to shatter-resistant; providing additional protection even in the worst case scenario. If a mobile guard house is important to you, we offer several small portable guard shack options that allow for easy relocation.
All of these features are recognized by Guardian Booth as important for your small guard shack or mobile guard house so that your security guards can do their jobs well.
Contact Us if you have property and employees you need to protect; we have a security guard shack for sale that'll get the job done. And we'll get those perfect prefab guard shacks built to your specifications within a short turnaround time!
To learn more about the selection and competitive prices on guardhouses for sale and our prefabricated guard booths, get started on our pricing page. If you're looking to mount a small guard shack on a trailer as a mobile guard house, look out for the portable trailer option on our website.
View Guardian Booth Gallery Page to see some guard booths and shacks we've designed. Our 4×6 guard shacks are always a popular choice for purchasers seeking a guard house for sale! We're sure you'll enjoy the simplicity and ease of ordering one of our prefabricated guard shacks.
Resources related to Small Guard Shack:
Read more about guardhouses, security guard shacks, and booths
5 Reasons to Equip Your Guard Shack With A Restroom
The Ultimate Guide to Buying a Prefabricated Guard Booth
Design Your Guard House With A Restroom Floor Plan
Mounting a Guard Booth Provides Versatile Security
5 Amazing Guard Houses Across the USA
Recent Blogs