image
Everything You Wanted to Know About Portable Guard Buildings
>
Everything You Wanted to Know About Portable Guard Buildings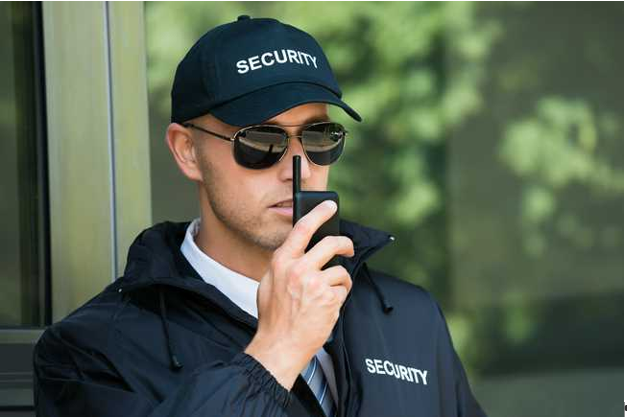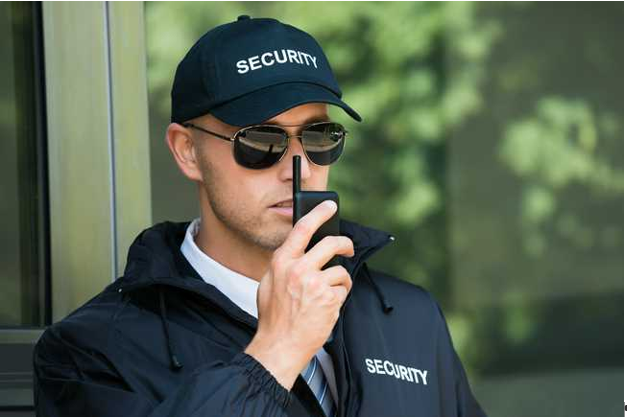 According to nationwide statistics, having onsite security guards can effectively reduce your crime rate.
Of course, you may not have the office space to house your beloved security guard—or guards. If this is the case, you may want to look into prefabricated guard buildings, more specifically, maybe even a small portable guard shack.
Having a guard building not only provides shelter for the employees that keep you, your employees, or loved ones safe, but it'll also deter any potential criminal activity.
In this article, we'll go over everything you need to know about prefabricated —or portable—guard buildings, including all the advantages and value they bring to the table.
Read on to learn more about the value they offer, even if your premises can handle just a small portable guard shack.
Prefabricated Guard Buildings Explained
The term "guard buildings" typically refers to a prefabricated (prefab) and fortified structure built primarily for security purposes.
Also referred to as guard booths, a guard shack building, guard office building, guardhouse, small steel buildings, little buildings, and guard posts; guard buildings serve as points of entry, parking control, perimeter stations, checkpoints, military structures, and so on. Overall, guard buildings provide a safe shelter for those working on the grounds of your establishment or community.
Prefabricated and portable structures like guard buildings have changed the construction industry for the better. A prefabricated guard building eliminates the need for onsite construction during essential business hours. It also minimizes the need for contractors, estimates, and uncertain deadlines as to when the structure will be finished.
Additionally, prefabricating guard buildings are much more cost-effective and easy to install. This is because they're designed and built in a factory rather than onsite. They're also completely customizable, which means you can choose from a basic structure to an entire mini-facility equipped with a restroom.
Ordering a small portable guard shack means your booth can be mounted on a portable trailer that is easily relocatable depending on your needs.
Guard Building Materials
Prefabricated guard buildings are typically made of welded steel and other low-maintenance but strong materials. Steel is incredibly durable and very easy to maintain, making it the most cost-effective material compared to other alloy metals, wood, PVC, and even a concrete guard building.
Another added benefit of steel is that it's lightweight, resistant to erosion, and recyclable, making it an eco-friendly and waste-free material.
Upon ordering your future guard building, you'll also have several customizable add-ons to choose from. Those add on features include (but are not limited to):
An exterior electrical disconnect switch
Breaker panel box
Ethernet port and phone line
Tinted windows
Bullet-proof windows
Baseboard heaters
Built-in AC unit
Custom exterior colors
Custome exterior design
LED spotlights
Desks
Flatbed trailer mounting (for temporary work sites)
Depending on which company you choose to build your new guard building, your options for add-on features may be limited.
Your best bet is to know exactly what you're looking for in a guard building before you shop around. Knowing which features are essential to your everyday operations will cut down on the time it takes to find a company that fits all your needs. So, have a guard building checklist ready.
Guard Building Applications
Guard buildings are typically on the smaller side and able to house one to two people. However, you will come across larger guard buildings that can hold up to six people at a time.
Guard office buildings are most commonly used for security measures, but they apply to a variety of activities, including:
Kiosks
Ticket booths
Parking attendant shelters
Apartment access points
Gated Community Access points
Observation units
Airport ticket booths, checkpoints, parking booths, etc.
Information booths
Construction site checkpoints and offices
Prison access points
Military base access points
Manufacturing plant access points and observatories
Private home security shelters
Private school security shelters and checkpoints
As you can see, there's quite a long list of guard building (large scale) uses. They're quite versatile structures, as they don't only serve as a security measure. For example, on construction sites where there's a lot of hazardous material, guard buildings can ensure that unauthorized people don't enter the wrong areas.
They're also used at high-profile events, such as concerts and festivals, to ensure the safety of the attendees and talent. In many cases, they'll be set up at various locations onsite to provide an information station, act as a security booth, and as a VIP access point.
Essentially, any property, building, or facility that requires regulated entry will have one or more guard buildings on site.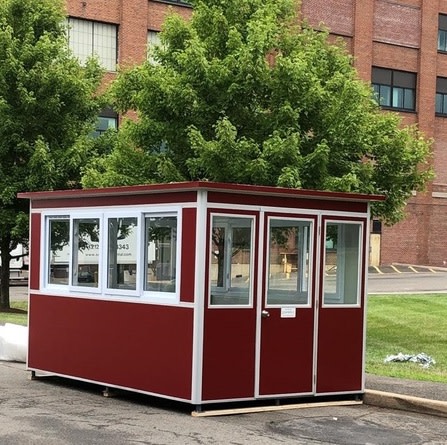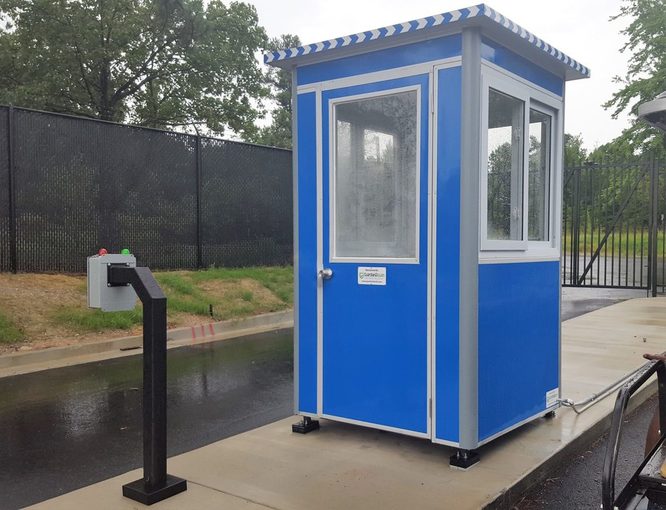 The Advantages of Guard Buildings
Prefabricated guard buildings offer a lot of value for your investment. Overall, they'll provide your security guard (or team) with ample shelter and comfort from the elements. Of course, just like with anything else, there are pros and cons to weigh before making a final design.
Here are some of the advantages:
Enhanced Security
We've already mentioned the fact that guard booths enhance your security measure  —but it bears repeating.
Smaller facilities and certain job sites often overlook security. A guard booth serves as a security hub that will greatly reduce the potential risk of property damage and theft. A small portable guard shack may be all you need to get the job done right.
You can even have surveillance equipment installed in your guard booth so your security guard can monitor the entire perimeter.
A Single Point of Entry
Having a single point of entry and exit serves a variety of purposes depending on the location. A guard booth can serve as an information station, an admittance point, a checkpoint for deliveries and parking, and more.
Having a single point of entry also adds to the enhanced security advantage, as it gives residents, employees, and guests a place to report suspicious activity. Whoever is working the guard booth gets to see everyone who enters and exits, and they can keep a sign-in sheet as a record.
They're Cost-Effective
As we mentioned earlier, a small portable guard shack and even larger prefabricated guard buildings are created in a facility. Your guard booth will come shipped whole and ready to use. This saves you time, money, materials, and the hassle of unreliable contractors.
They're Eco-Friendly
With the climate crisis we're facing, it feels wrong if you don't attempt to be as green as possible. Since guard buildings are prefabricated from welded steel, they'll hold up against the tests of time and require little maintenance. Plus, they're recyclable.
They're Customizable
There are plenty of upgrades and features you can add to your guard booth so it will fit the needs of your operation and employees. That means an HVAC system, sliding windows, desks, extra doors, restrooms, solar guard metal building insulation—all the makings of a small office can happen here (yes, we'll say it again…even in a small portable guard shack).
If you don't like the look of steel paneling, you can also opt for a concrete guard building for a better aesthetic.
They Relocate Easily
Portable guard buildings allow for easy installment as well as relocation. They can be moved using a forklift or trailer booth. You can even have caster wheels installed on smaller models.
This makes life easier should you need to relocate your facilities or the guard booth from indoors to outdoors.
The only real drawback to portable guard booths is when you make your purchase from a company that isn't reputable. There are plenty of companies out there that will sell you a poor-quality guard booth, which leaves you with many risks and liabilities.
Additionally, some companies are also design-limited, which means they won't be able to accommodate your unique needs.
Other Things to Consider
There's a bit more to guard buildings than customizing, making a purchase, and having them installed. Owning a guard building, in some cases, is similar to having a tiny house.
Here are a few things to consider before making your purchase:
Acquiring the Proper Permits
Permit laws for guard booths and little buildings vary from state to city. In most cases, you don't need a permit to have a guard booth installed if it's less than 120 square feet.
Anything above the 120 square-foot limit will likely require a special building permit.
Costs
The costs of your future guard building will vary depending on a few factors. Those factors include:
The company you purchase from
The size and materials
The add-ons and features
Transportation
Initially, you'll be charged by the square foot and additionally for your customization. Some guard booths come pre-designed, but you likely won't want to make an as-is purchase if you have specific needs.
Be sure to discuss the upfront costs and any additional fees before placing your order.
Maintenance
Guard buildings are fairly low maintenance. At a minimum, you want to make sure you rinse the exterior of your guard building every so often. Especially if you live in a coastal area, this will help offset the corrosive effects of saltwater and debris.
If you have an HVAC system, weather-stripping, sliding windows, etc., you'll have a little more work to do. Make sure to set up a maintenance schedule to ensure that everything is cleaned and working properly. Additionally, the exterior will need to be re-coated every few years, and the roof checked for any punctures caused by electrical work.
Find Your Booth
Prefabricated and portable guard buildings make for an excellent investment that will add value to the property and keep your employees comfortable and happy.
There are tons of prefabricated guard booths on the market, but only one is right for you  — and that's the one you customize to fit your needs.
We can help you with that. Contact us today so we can get started on building the perfect guard booth or small portable guard shack for you!
View our Gallery to see some really cool portable and mobile guard shacks.
Resources
How to Apply for Security Grants: A Step by Step Guide for Nonprofits
Recent Blogs