image
How Are Parking Booths Built to Withstand Bad Weather?
>
How Are Parking Booths Built to Withstand Bad Weather?
How Are Parking Booths Built to Withstand Bad Weather?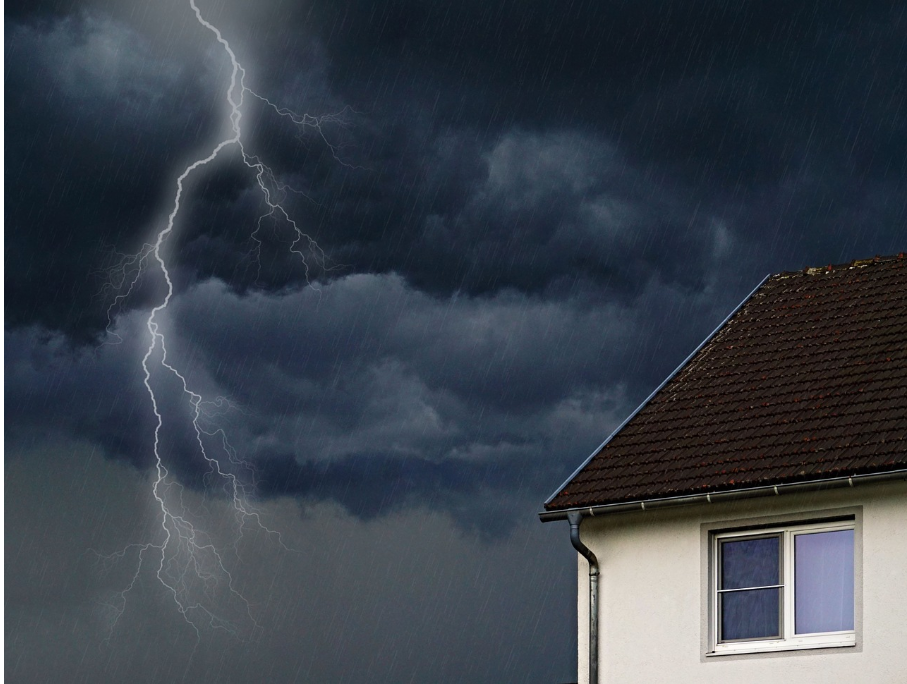 Weather is intensifying across the globe. According to the World Meteorologist Organization, global temperatures were 0.4°C warmer than the average January from 1981 to 2010. This means we in the northern hemisphere can expect more intense heat waves in the summer – and more frigid wind chill from an influx of Arctic air in winter. Long-term research also finds that wind speeds have been steadily increasing over the last few decades.
With routine weather becoming more intense, are our parking attendant booths up to the challenge?
Be Prepared for Any Routine Weather Scenario
When storms come, high winds can easily overturn most standard tents. The beauty of parking lot attendant booths is that you can customize the parking booth to suit the kind of weather protection you need. So, whether you require a wind- and rain water-resistant parking lot booth, or a structure with protection from outside heat and cold, you can get a booth with the appropriate features built in.
To keep any parking lot secure, parking attendants need to remain alert and prepared to respond to what's going on around them. This makes adequate weather protection an important consideration. If not securely and comfortably sheltered, attendants are exposed to the elements and cannot do their job the way they are meant to.
Conversely, a well-constructed valet parking booth equipped with the right weatherproof elements makes staff feel valued and can help improve their performance.
Our standard valet parking booths are designed to provide a completely weatherproof and temperature controlled workplace. They keep your attendants comfortable so they'll perform at their best.
Here are the ways that parking booths are built to withstand bad weather while keeping keep their occupants protected and comfortable.
1. Regulating Heat and Humidity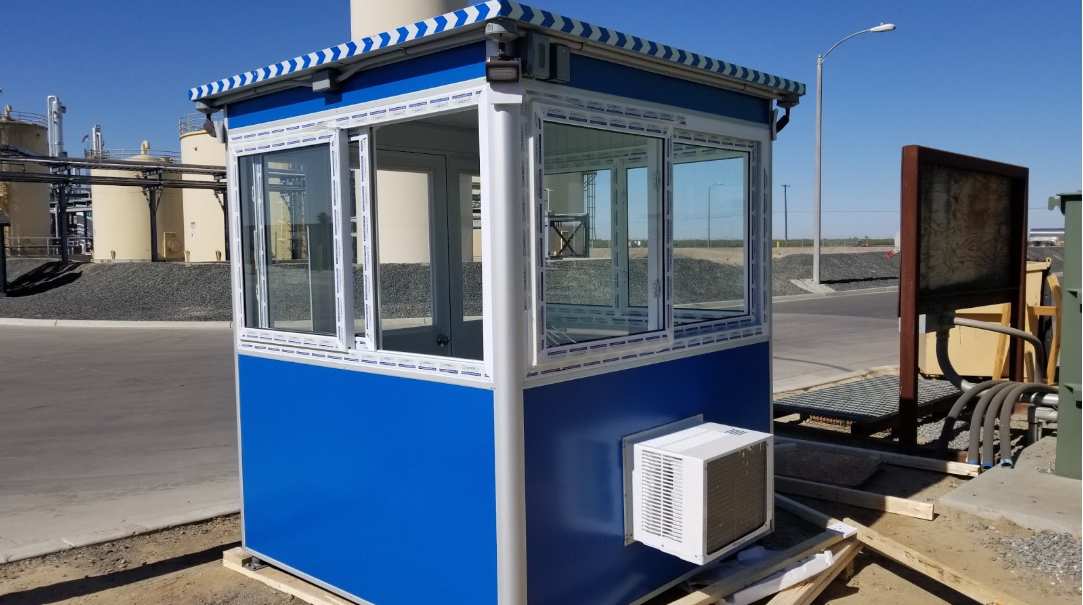 Parking booths need an appropriately-sized HVAC system in order to effectively regulate both humidity and temperature. Too big a system means it won't properly regulate humidity; too small means it won't properly regulate temperature. Vinyl windows reduce heat inside the booth while window shades block out sunlight.
Add-on features for heat protection:
HVAC installation options
Weather-proof roofing
Tinted windows that help prevent the unit from heating up
Window shades
2. Shelter from Water, Vapor Diffusion and Accumulation of Condensation
Parking attendant booths don't just keep parking staff dry. They also can include features that keep humidity and water at bay, protecting the booth from water damage and accumulated condensation.
Add-on features for water protection:
Custom roofing options
HVAC options to reduce humidity inside the unit
Rain guards can be placed over doors and along the tops of windows to keep your booth dry
Retractable awning
Vinyl wrap helps parking booths maintain their brand-new appearance
Protection from Sun Exposure and Radiation
Heat can cause temperatures to rise inside the enclosure, while sunlight can cause fading of the exterior over time. Luckily, there are several options to protect your booth and your employees from sun exposure and UV rays.
Add-on features for sun protection:
Window blinds
Tinted window screens
Vinyl wrap that retains the brand-new look of the booth by protecting the exterior from sun exposure
Retractable awning
4. Relief from Cold Temperatures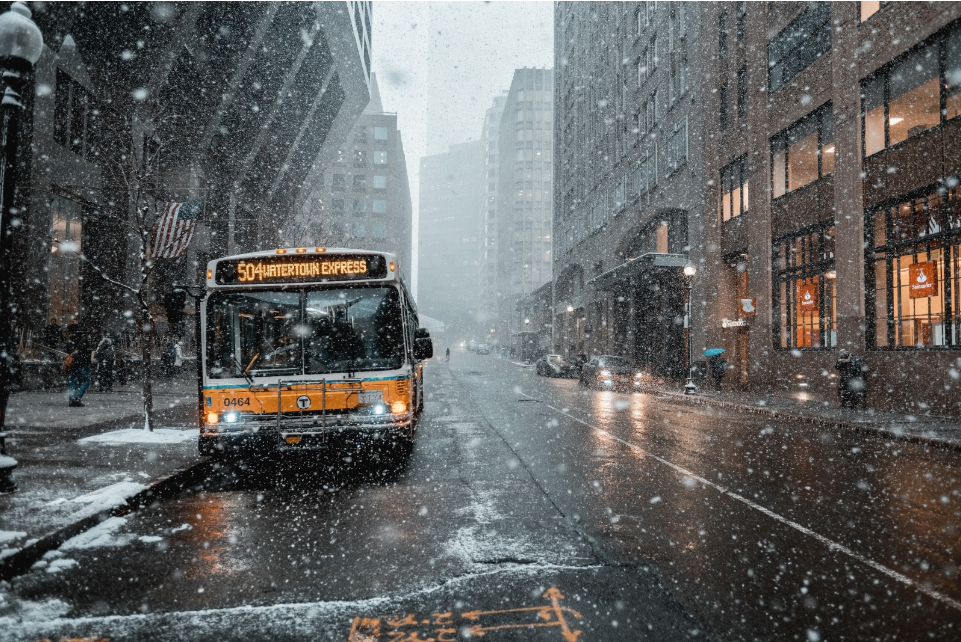 When the weather is frigid outdoors, it's important for your employees to have the comfort of handling valet keys, tickets, or surveillance from the comfort of an indoor office.
Add-on features for cold protection:
Built-in baseboard heaters
Built-in restrooms so attendants won't have to leave the booth and let warm air escape the unit
Fixed windows instead of sliding windows
5. Endurance of High Winds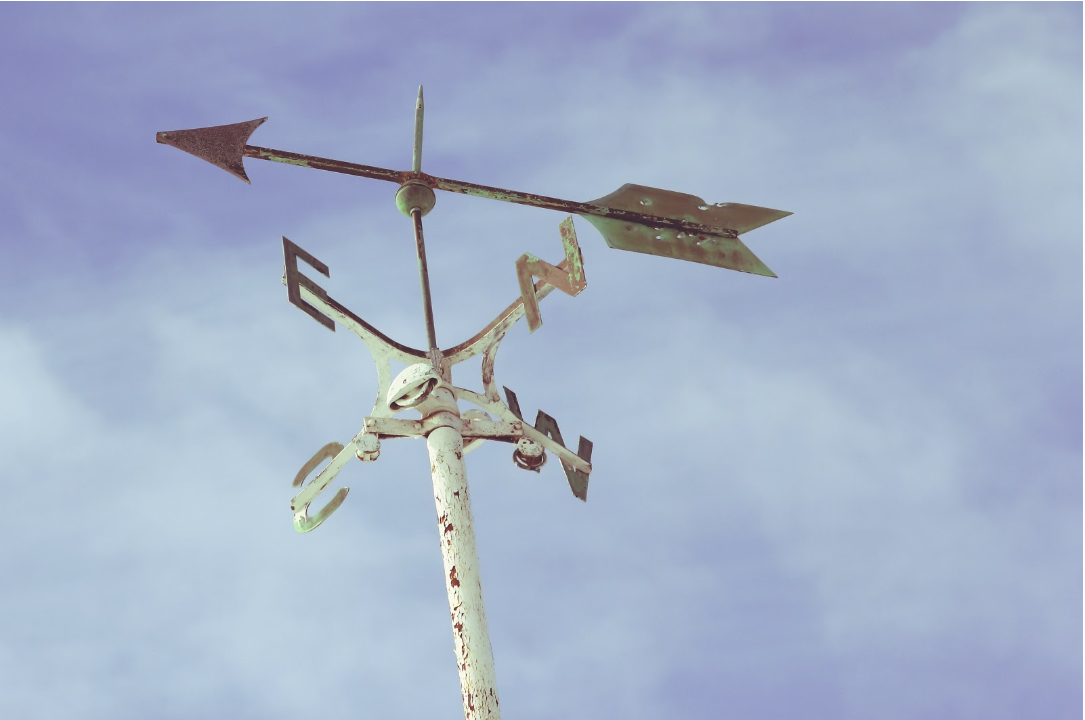 Your booth can be customized with extra support to withstand strong winds. While Guardian Booths are not guaranteed to withstand tornadoes and hurricanes, they include a warranty in the event of extreme weather. We recommend taking the booth indoors before a storm, if possible.
To prevent damage from more extreme conditions, Guardian Booth offers caster wheels on 4′ x 4′ and 4′ x 6′ units. We also offer trailer booths if you need to move your booth over a longer distance.
Add-on features for wind protection:
Various sizing: units are heavy enough for stability, yet light enough to relocate as needed
Option of solid walls
Concrete base for extra support
Caster wheels or trailer booths for easy relocation
Conclusion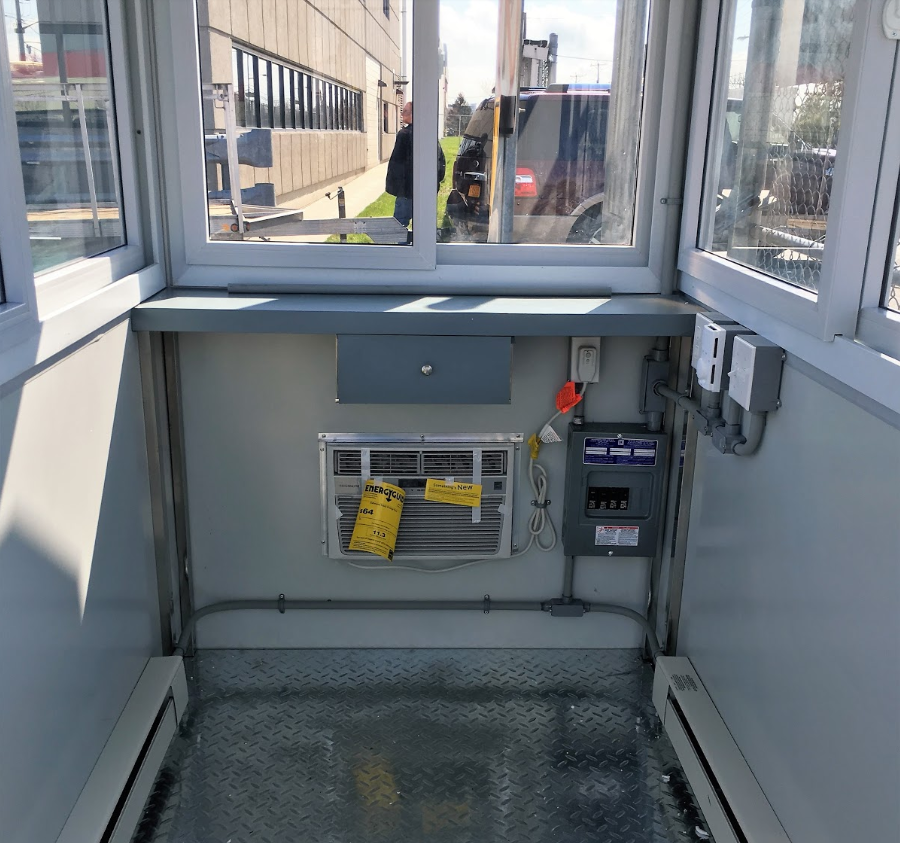 Over the last few years, we have started to see more intense and unpredictable weather patterns. Guardian Booth's standard parking booth is designed to withstand routine harsh weather such as strong rain, high winds, and extreme temperatures.
Of course, no booth is impervious to extreme weather. Parking booths and structures like it cannot withstand intense unpredictable weather events such as tornadoes and hurricanes. In dangerous weather, especially when evacuations are ordered, it's best to use caution and common sense.
Knowing the kinds of weather hazards that will affect a parking booth will help you choose the right features and materials so that your customized parking booth will serve your needs for years to come.
Read More about Parking Attendant Booths:
Five Reasons Why You Need Aluminum Shelters
About Parking Booth Manufacturing
Should I Rent or Own My Parking Booth Rental?
How to Manage Parking Lot Payments
How a Dispatch Office Booth Can Provide the Best Solutions for Your Business
Recent Blogs