image
The Ultimate Guide to Buying a Prefabricated Guard Booth
>
The Ultimate Guide to Buying a Prefabricated Security Booth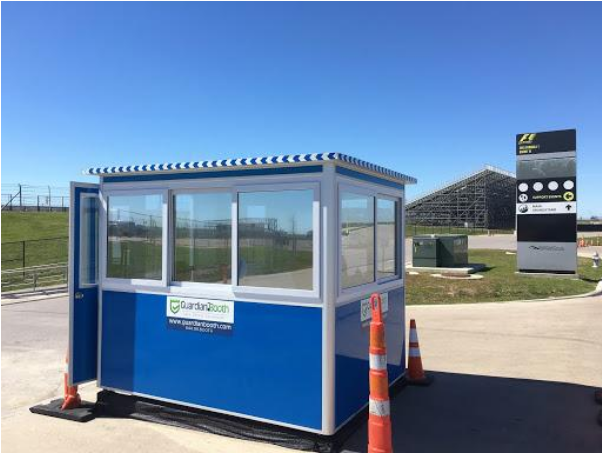 Guardian Booth security guard booth at Circuit of the Americas sports center in Austin, TX
For many companies, prefabricated and portable security booths are key to an effective security system. The advantage of being able to move a security booth to any location at any time, quickly and easily, can be invaluable for large organizations and high-traffic facilities. In fact, thousands of organizations – including private companies, government agencies, military branches, schools, and airports – invest in portable booths as part of their on-site security. Many prefer to start with the purchase of a small portable guard shack that allows you to increase your security without going all out and investing in a big booth prematurely. The flexibility and affordability of a small portable guard shack give you the opportunity to explore your needs and determine what best suits your specific needs.
A guard shack ensures that traffic will be closely monitored, and puts you in control of potential threats. But, how can you know which prefab guard shack features are right for you? To help you decide what features you need, here are the five most important things to consider when opting to buy, rent, or build a portable security booth.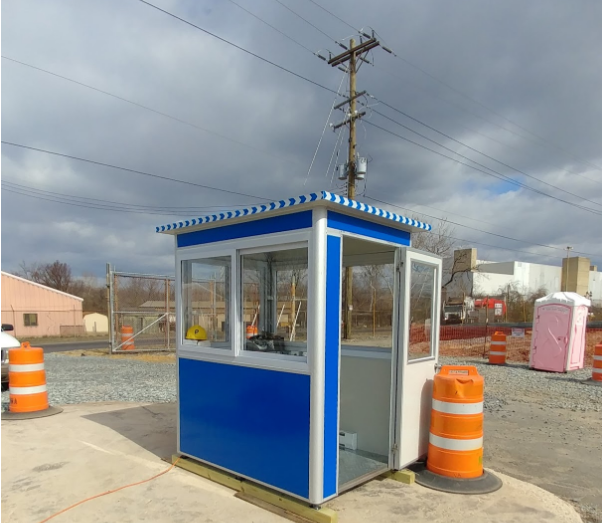 Guardian Booth portable guard shack at the entrance to a construction site in Washington, DC
1. What is the Purpose of Your Guard Shack?
Every industry comes with its own unique set of potential threats, and this will determine what features you'll need in your guard booth or small portable guard shack.
Will the primary purpose be for surveillance? If you require a surveillance hub, then you'll need added ports in your security booth for internet so you can set up data and phone lines in the unit. Adding LED lights will make your guard shack a noticeable point at nighttime for easy accessibility. And if you want your guards to be able to observe bypassers without being seen, then you'll need tinted windows.
Will the primary purpose be for traffic control? If your guard shack will be used to control and monitor people and/or vehicles coming in and going out of your facilities, then you'll need to add an AC unit for hot weather conditions and heated baseboards for cold temperatures. You should also consider installing a traffic arm controlled from the booth, and LED lights if the booth needs to be manned at night or to be used in conjunction with security cameras.
2. Where Will You Place Your Guard Shack?
Guard shacks can be strategically placed just about anywhere, from facility entrances to surveillance towers, to parking lots and construction sites. Here are some considerations to keep in mind when planning to invest in a small portable guard shack or larger prefabricated guard shacks:
Will your guard shack be placed on a jobsite? In work environments where equipment or inventory is regularly relocated, you'll want your portable guard shack to be as easy to move around as possible. Adding caster wheels with lockable brakes to a small portable guard shack will make it easy to quickly move your booth around a job site or industrial complex. This is usually an option on smaller units such as 4′ x 4′ or 4′ x 6′ booths. For larger portable guard shacks that require mobility, it is typically more practical to go with a trailer booth.

Interior of a guard booth manufactured by Guardian Booth

Will your guard shack be placed at the entrance gate? For outdoor facilities that require nighttime surveillance, such as construction sites and parking lots, you'll need LED spotlights for safety and visibility at night. A duplex ethernet port and phone line will also make it easier for your staff to communicate remotely, such as with security personnel in the building or with police.
If you buy a guard booth or even a small portable guard shack that will be used in hot weather, consider adding tinted windows to block harmful UV rays in addition to a built-in A/C unit to keep the shack cool. In colder weather, baseboard heaters are a space-efficient solution to keep your booth warm. You can also upgrade the booth to include an insulated floor or more dense insulation in the roof for extreme temperatures. The many customizable features of our prefabricated guard shacks allow you to design the guard booth to match your specific needs.
3. What Potential Threats Will Your Guards Face?
You might be in an industry or location with a high risk of major crime or even concern for terrorist attacks. In the event of a potential threat, your security guards are your first line of defense and will need protection against a strong force. Portable guard buildings should provide this.
Do your guards need protection from major potential threats, such as aggravated assault involving weapons or potential terrorist attacks? If your prefabricated guard booth needs to be bulletproof or blast proof, then ballistic resistant booths will do the job. This feature is often used on military bases and can be added without inhibiting the mobility of your booth. Bulletproof or tempered windows are also an optional add-on feature to standard booths.
Do your guards need to protect you against theft, robbery, and vandalism? If so, then you'll need external LED spotlights, 360-degree windows that are tinted for security purposes, and video surveillance cameras to discourage potential mischief and give your security staff an extra set of eyes on the job. You'll also want to have a small metal locker or steel security safe installed inside the booth to keep belongings and smaller business assets safe.
4. How Will You Ensure a Comfortable Workstation?
Prefabricated guard shacks aren't just for protection. They're also built to be comfortable workstations for your staff.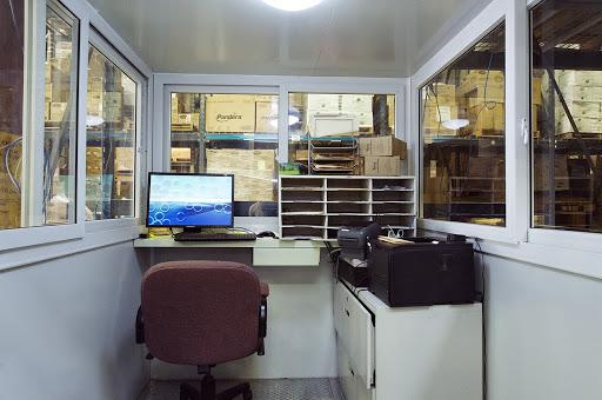 Prefab guard shack turned into a comfortable working station.
Consider including these feature accessories to enhance the comfort of your prefabricated guard shacks:
Will your staff be working for long hours or far away from the main facilities? If you add a built-in restroom to your booth, your staff won't need to leave the area as frequently.
Will space be an issue? To accommodate high-traffic or otherwise tight spaces such as building interiors, theme park entrances, and construction sites, you can opt for a sliding door instead of a swinging door. Large windows not only provide a 360-degree view but also prevent claustrophobia in smaller units. You can also add a second door to larger booths to improve the flow of people coming into and out of the unit.
Will your staff require a lot of office supplies? If so, then you'll need to include an extra desk with a drawer to give your staff more workspace while keeping the interior of the booth organized.
5. How Will You Brand Your Booth?
If you're upgrading your company's security, the outside of your booth makes a convenient surface to market your brand or to post any helpful information for your customers.
Will you need to display your logo or important information on your booth? If so, then you can customize the exterior color and design of your prefabricated guard shacks accordingly. You also have the option to include a vinyl protective wrap to ensure your booth retains that brand-new appearance for years.
Conclusion
A small portable guard shack or prefabricated security guard booth helps you operate securely, efficiently, and professionally. By knowing the features you need to match the needs of your business, you'll make the most of your investment and ensure the safety and well-being of your employees.
Prefabricated security guard booths have many other advantages. They're:
Affordable. Prefabricated security booths are less expensive than permanent structures. For one-time or seasonal use, a portable security booth rental can also be an option.
Versatile. Designed to provide security both indoors and outdoors, portable guard shacks include features like weather protection, 360-degree windows, and workstation desks equipped with phone and data connections.
Sturdy. Prefabricated and portable guard booths are designed with supplementary support to provide a stable and structurally sound working environment. In fact, once in place, prefabricated booths are typically more structurally sound than most buildings.
Space efficient. Prefabricated guard shacks are advantageous for parking lots, industrial facilities, theme parks, airports, and to supplement on other existing structures because they come pre-assembled. You can position them with minimal equipment and without excess construction that would disturb the environment.
Durable. Guard booths are made of durable material and will often retail their newly-made look for years after purchase.
Conserve resources. Because portable guard booths can be moved around on your property as needed instead of building a new structure on each location, they'll reduce waste at your company and leave a smaller carbon footprint on the environment.
Please keep in mind that our manufacturing specialty carries over to other booth types, so if you're looking for parking booth manufacturers, we can service your needs as well. We can help you choose the booth of your needs with just a few clicks – it really is that easy!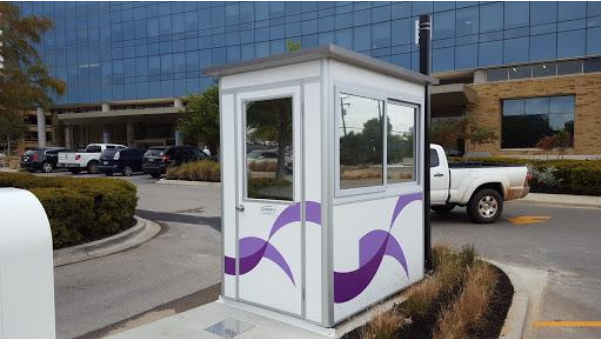 Custom designed portable guard booth.
All of the prefabricated security booths and portable guard shacks at Guardian Booth are designed to meet the unique needs of our customers, and we provide a range of add-on features to ensure your booth is comfortable, secure, and aesthetically suited to your environment. Our goal is to make the utility of your prefabricated guard shacks to the maximum!
Not Ready to Buy Yet? Guard Booth Rentals May Be For You
Guard booth rentals are also a great option if you're not ready to buy a guard shack immediately. There are few maintenance and repair issues inherent to a guard booth rental, so renting a booth ensures that you know exactly what your monthly costs will be. When you own a booth you are responsible for repairs, storage, and moving it when you need to, whereas a rental does not have these issues. Contact us to find out what small portable guard shack or prefab security booths we have available for rent.
We hope this article helps you get a clear idea of what kind of prefabricated guard shacks you need. Learn more about our affordable prefabricated security booths on our website. Let us know what you envision, and we will design a portable guard shack tailored to the needs of your organization.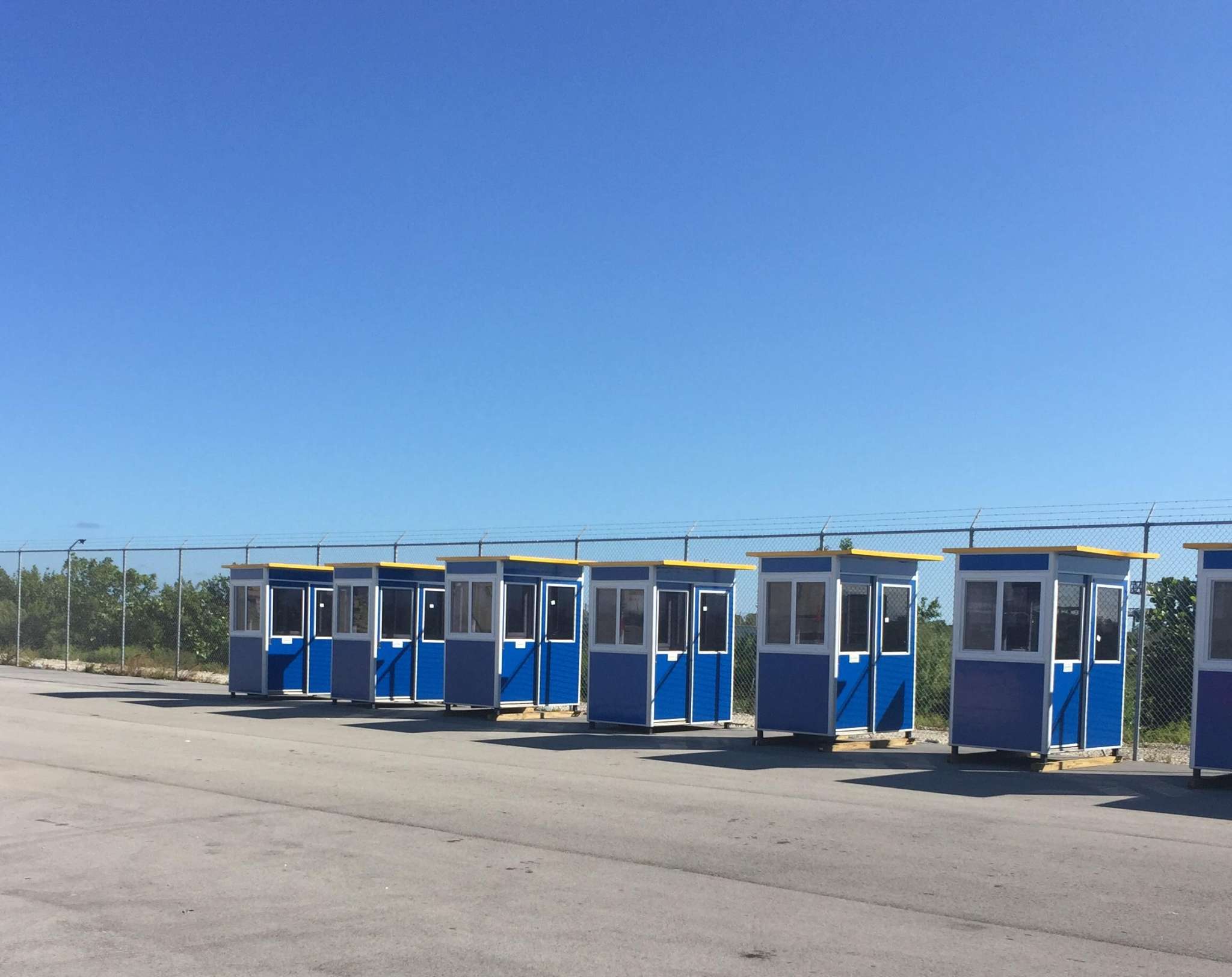 View our Gallery Page to see some really cool guard booths we've created. We're also expert parking booth manufacturers and we'd be pleased to serve your needs!
Resources:
Are Guard Shacks and Prefabricated Guard Booths A Solution for Your Needs?
Everything You Wanted to Know About Portable Guard Buildings
Recent Blogs