image
Security Guard Equipment for Guard Shack
>
Security Guard Equipment for Guard Shack
Businesses cannot take the chance of being without proper security protection and well-lit areas at entry points to prevent unauthorized intruders. Security guard booths are essential for mitigating risk and keeping your business safe.
Purchasing a Guardian Booth security shack is one of the best investments you can make for your business. Securing the perimeter is an important part of workplace security.  Meeting the needs of your facility, our security booths can be customized for your specific needs. Guardian Booth offers pre-fabricated sturdy weather resistant guard booth and security shack customizations for security needs, available with heating and air conditioning.
Be Well Informed. Protect Your Business & Manage Risk
Guardian Booth is a manufacturer of superior quality security guard booths at affordable pricing. Our security booths offer custom designs that fit in with your architectural needs. We customize your booth shape and finishing, whether you're looking for a standard security guardhouse, a wooden guard shack, a portable guard tower, or a branded vinyl wrap for your safety shack. We can install any type of guard shack or security shack in any type of corporate facility, parking structure, gas station, theme park, concert venue, constructions site, and municipalities.
Got one of these? Yes, you do! That's why you need Guardian Booth.
Give Your Business a Secure Presence with a Fabricated Guard Booth
Meeting the needs of your facility, our security guard shacks, information, and ticket booths can be customized for your specific needs. Guardian Booth knows how to build a guard shack that's pre-fabricated, bullet resistant, sturdy weather resistant, and available with heating and air conditioning. This self contained security guard house is a central spot for security on your premises. If you are not prepared to have the guard house installation at one specific location, we also offer a mobile guard house option, where you booth is outfitted with caster wheels that allow your booth to be relocated easily as needed.
Better Mental and Physical Health with Guard House Security In Place
Advantages of the Guardian Security Guard Booth
Manufactured with a 360- degree view vantage point allows your employees the ability to monitor the entire premise around them even when they are positioned in the guard house interior. Mirrored and tinted windows allow security guards to be shielded from the sun's blinding rays, offering clear visibility no matter where the sun is in the daytime. Shatter- resistant booths provide the highest protection in case of a threat.

Durability of Guardian Booth's Fabricated Guard Booth
Guardian Booths are built with two layers of durable aluminum and filled with weather-resistant insulation. Air conditioning and baseboard heaters offer comfort and safety among extreme weather conditions. We offer a fabricated guard booth with a built in restroom, letting employees feel comfortable reducing breaks away from the guard shack.

Illuminate
Guardian Booth can mount high tech add-on features. We can install illuminated LED swiveling spotlights on our guard booths to increase visibility past the guard gate, and bring increased visibility to the guard house location after dusk, and before dawn.

Where to Buy Security Guard Equipment and Security Guard Supplies
Security Guard Booth:
Your security booth will need security guard equipment. When your booth is equipped with the right supplies and security guard accessories your employees will be able to do their job more efficiently. Every security booth should be equipped with the following items:
Ticket Booth-Your Guardian ticket booth is the first thing your customers see upon entering your facility. You can purchase a portable booth if you move from venue to venue. Guardian Booths have multiple windows, making it easy for more than one employee to hand out tickets, reducing wait times for customers. Ticket booth supplies are needed for operational efficiency.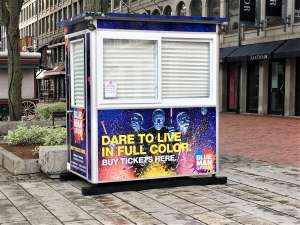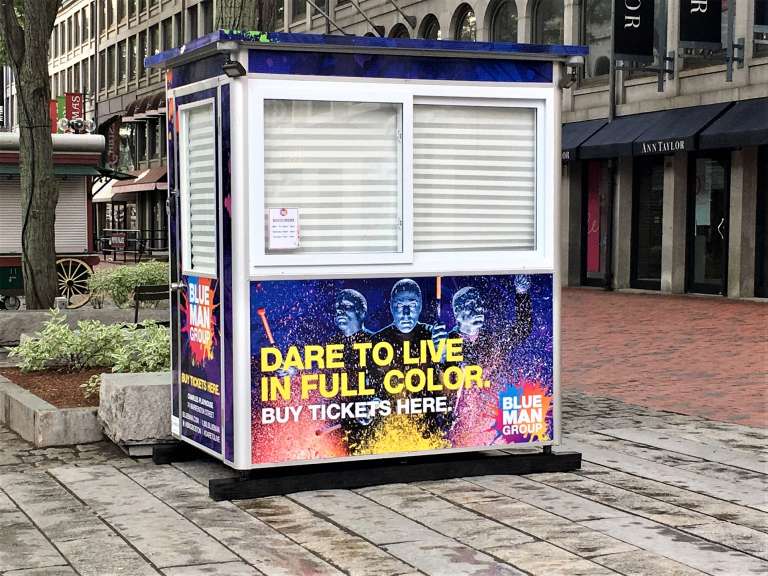 Information Booth:
Information booths provide a marketing aspect for visitors. They can house a security guard or customer service employee who is trained about all the information about your venue or event. Information booths will have brochures, maps, and information about your business that is handed out. Staying neat and organized lets you hand out information to your customers quickly.
Gas Station Attendant Booth:
Many gas stations do not have convenience stores, therefore a gas station attendant booth is a requirement for receiving and dispensing cash. The booth will also serve as a safety area for employees working near pumps, and customizable security equipment can be installed.
Portable Workstations:
Portable workstations for your office offer convenience and flexibility because they are moveable to different locations within your worksite or fabricated guard booth. They are weather guard sheds that are built with full electric hookup for computers, phone lines, and printers, and have a built-in desk and drawer. You can purchase supplies at the reputable websites below.
Cashier Station:
Portable cashier stations are your first point of collecting revenue. Guardian Booth offers secure stations that have the ability to house all the accessories for your business to operate efficiently. Additional supplies we recommended that you purchase for this kind of booth:
We know what is a guard shack, and we know that choosing that choosing security guard gated booths are one of the most important decisions to make your location secure and safe. You've made the right choice by choosing a company that cares about its customers.
Whether it is anti- ram fencing, industrial fencing supplies, security camera system, or any other type of supplies, we will guide you all the way through from start to finish.
Let's Get Started!
We Offer: Free Shipping – One Year Warranty – Financing – Full Customization – 100's of Design Options – Built to Last
Give us a call at 844-99-BOOTH today to get a free quote for your Pre-Fab Guardian Booth customized just for your business. Or email us here to get a reply today on any question, big or small, related to your fabricated guard booth.
Recent Blogs