image
Making Your Ticket Booth Stand Out Above the Rest and How to Attract Customers with Style
>
7 Ticket Booth Designs To Enhance Your Venue and Make Happier Customers
Sometimes, it really is the littlest things that can make the biggest difference. That reality definitely holds true when it comes to ticket booth plans! The possible aesthetics of your ticket booth designs are limited only by your imagination (and let's be honest, your budget as well). Let's look at seven ticket booth design ideas that you can help you prepare a unique ticket booth plan so that you build a ticket booth that will draw customers to your event or get them more excited about your attractions. Designing a booth for a festival or when working on any specific venue ticket booth lends itself to incorporating an added amount of creativity and festivity into the stand booth design.
Idea #1: Add Color and Graphics to your Ticket Stand.
Something as simple as choosing an appropriate color scheme, incorporating your company logo or some artwork on the exterior of your ticket booth can have a dramatic impact on the ability of your ticket stall to attract customers. Signage above the tickets booth can also improve visibility and help direct people to the appropriate location. This is especially the case with outdoor ticket booths, where the exterior of the ticketing booth design will be seen by crowds of visitors looking for information or to gain an entry ticket. Even a customized booth counter design can be very worthwhile in creating a branded polished impression for visitors.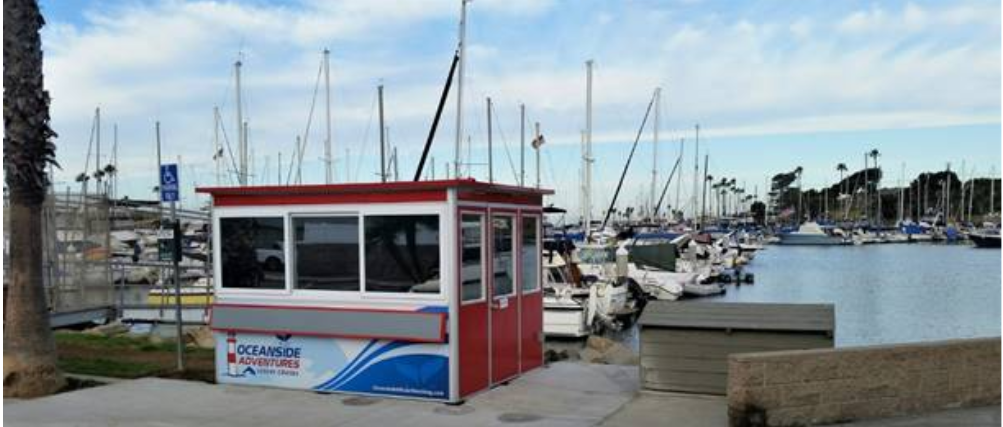 Keep in mind that when choosing the font for your signage it needs to be clearly legible. A poor font choice and improper letter spacing can detract from the ticket office design. Let's not forget that for an outdoor ticket kiosks you'll also need exterior lighting to increase visibility both to and from your ticketsbooth at night. Place the ticket booth logo in a prominent place, possibly even in a raised position above the booth. Use all resources at your disposal to create a booth stand design that stands out and draws attention.
As the first step of the booth designing process, it may be helpful to start off with a ticket booth drawing of your booth designs ideas and then check in with a booth manufacturer to ensure the feasibility of the layout booth design you envision. With a ticket booth floor plan in place, your dreams can more quickly turn into reality! A uniquely-designed booth counter design will leave a memorable impression that will help visitors recall their experience at your booth.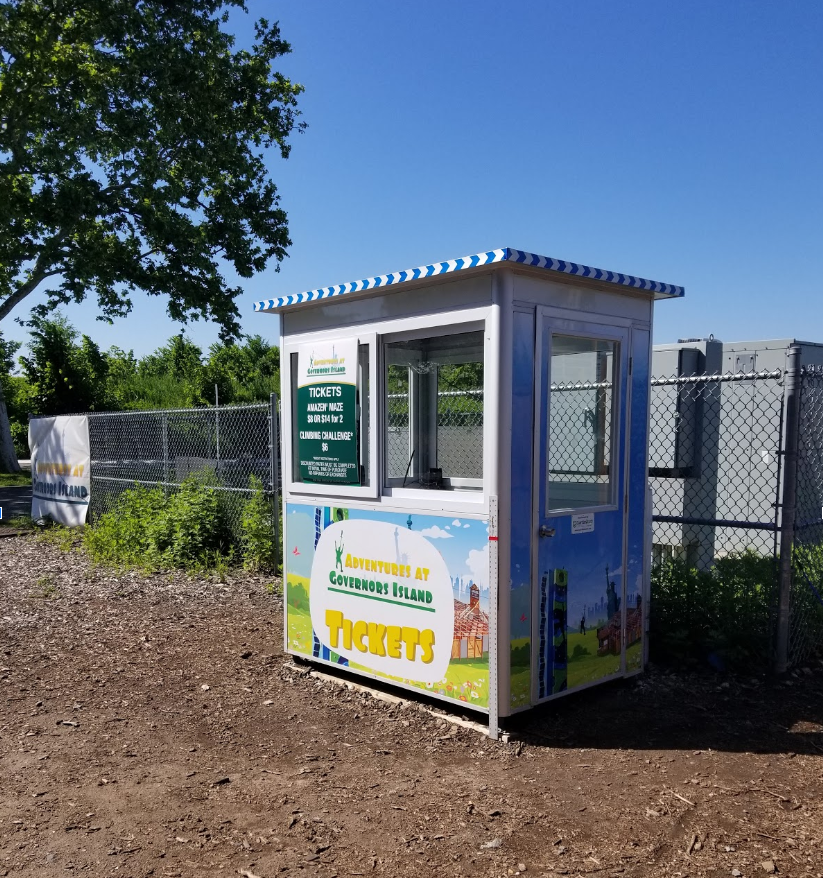 Idea #2: Keep Ticketing Booth Functionality in Mind.
It's not purely aesthetics that you need to focus on when designing the optimal ticket booth. Functionality also plays a pivotal role in successful ticket booth design architecture. For instance, ticket windows come in a wide variety of options to best suit your needs.
Some popular ticket window options include:
full height sliding windows
small sliding windows at the bottom with a fixed glass on top
a complete fixed glass with a microphone or speak hole and a transaction slot
Keeping in mind your intended purpose and locale when designing your perfect tickets booth will help you determine the most appropriate window setup for your tickets booth. Its nice to design booths with an open full window, but that's not so secure when dealing with a lot of cash in a bad neighborhood.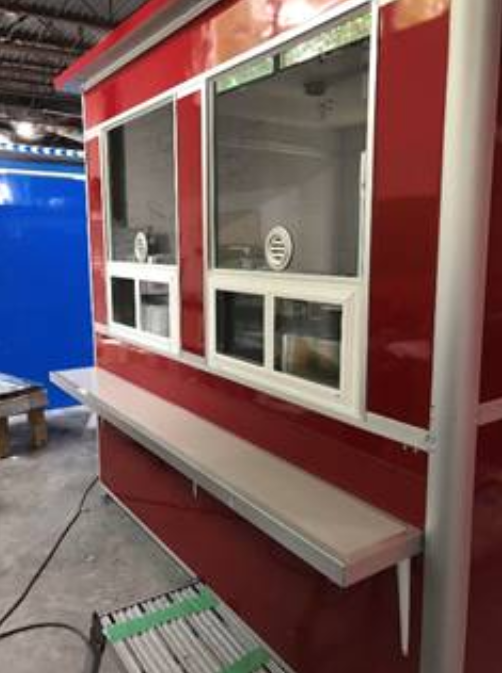 If you are dealing with a significant amount of cash, the safest design booth option is a complete fixed glass window that cannot be opened, with a microphone or speak hole in the center, and a small transaction slot at the bottom to process payments and receipts. If you feel that more protection is needed you can upgrade to tempered glass or check out our article on bullet resistant booths. The fixed glass and transaction slot window layout strikes an important balance, offering the ultimate in security but without the intimidating façade of metal tiket booth that is reminiscent of an armored Brinks truck.
You may also want to consider installing a retractable awning to help draw attention, keep customers coming in the rain, and to make sure your ticket sales aren't all washed up.
We can help with other small booth design ideas, such as customized ticket counter design for a customer service booth that maximizes functionality with a space-efficient layout ticket counter plan for a small sales booth design.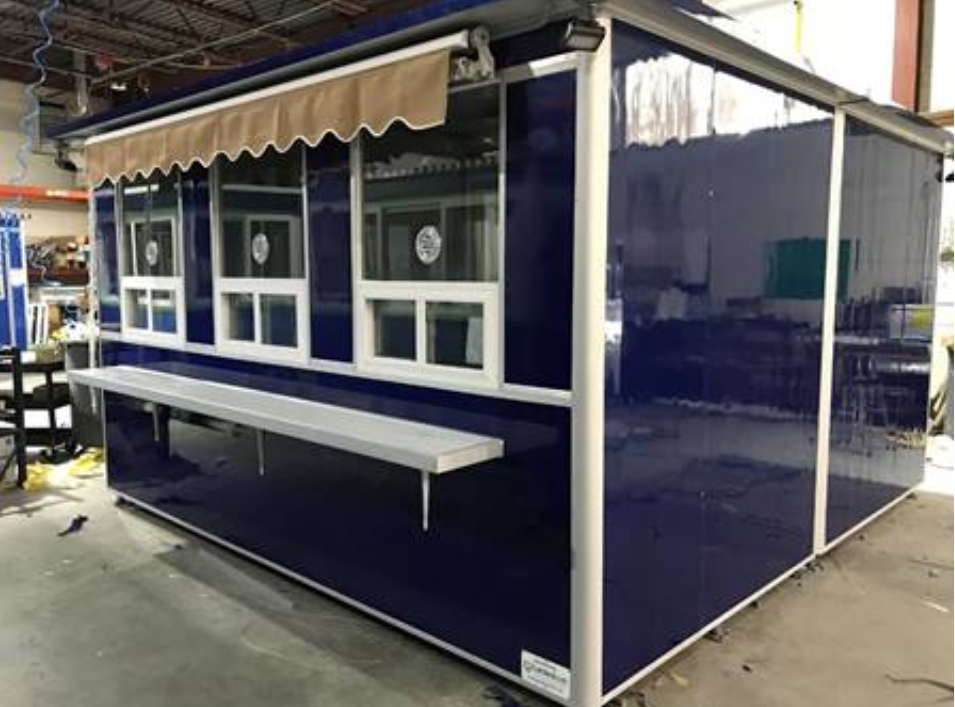 Idea #3: Big Plans for Small Spaces
While ticket booths come in all shapes and sizes, they are usually relatively small and thus space is often at a premium. When you have a small ticket booth and a lot to store in your booth, it is important to ensure easy access to necessities, and sometimes you need to get creative and maximize the space to hold even more. This is where clever design storage can come into play.
Especially with a mini booth design, as an add-on feature, consider some of our small booth ideas- installing additional shelving inside the booth and foldable shelves outside the booth for customers to sign receipts or put down their items while paying. This ticket counter design keeps your space well-organized and clutter-free to increase productivity. With these easy to install under shelf baskets, you can quickly and effortlessly provide some much needed additional storage space for your booths design even within a small booth design.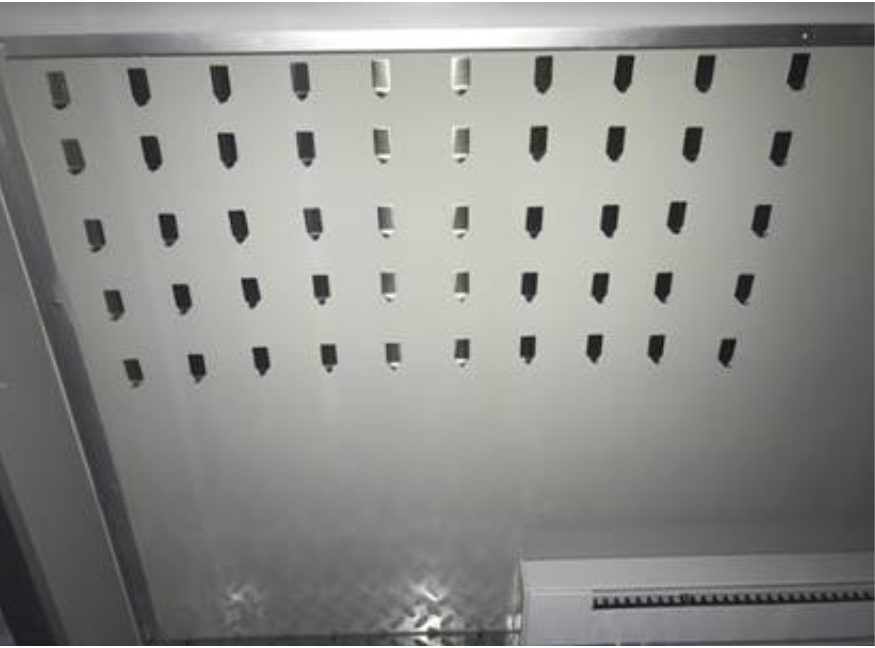 Idea #4: Ticket Booth Ideas You Can Use for Uncommon Solutions to Common Problems
Sometimes your are working within limited ticket office dimensions, and organization needs to go beyond simple shelves, and you have to get truly creative in designing a ticket office plan with multi-purpose items to keep everything in its place. An inexpensive over-the-door organizer or booth counter design with shelving can free up valuable counter space while keeping office supplies and other items easily accessible.
By simply elevating some equipment such as a computer screen with a monitor stand or using something unconventional like a cupcake stand you free up space underneath for additional items! And don't underestimate the value of a few wall-mounted hooks or peg boards! Or you can go all out with add on features like the key hooks seen in the picture below. If you've been pegged as a bit of a handyperson, you can get creative and follow this tutorial to make your chairs multitask – just as well as you do, by giving them a hidden storage compartment! Or have your ticket booth custom designed with an exterior booth counter and all the storage accessories that you can possibly need so it's ready to work as hard as you need it from the instant that tickets booth is delivered.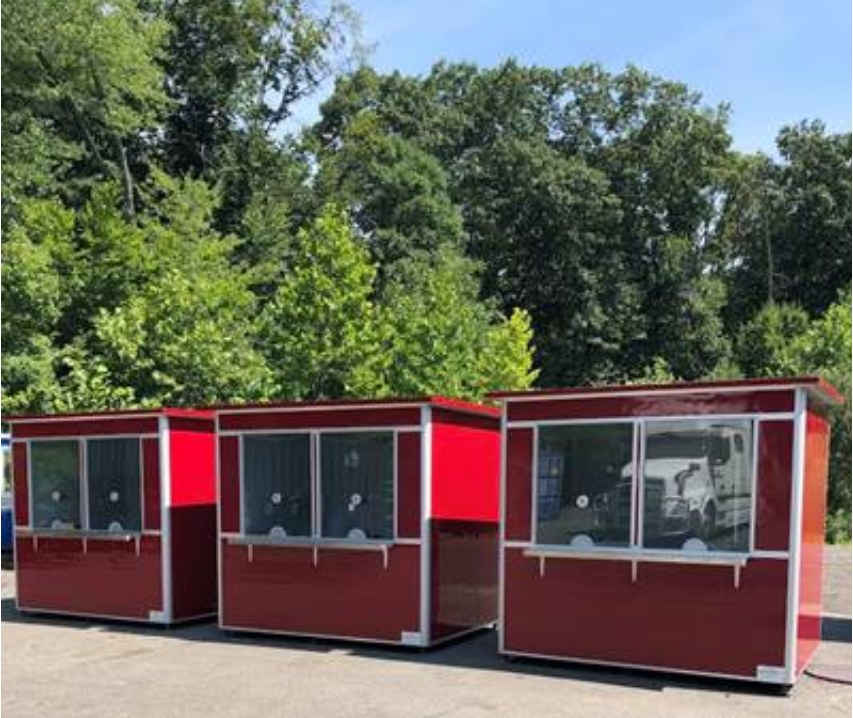 Idea #5: Maximum Comfort with Minimum Space
Functionality is very important, especially when you have a small booth to sell tickets, but keeping your ticket booth person happy is even more important because it will help them work more effectively and offer better customer service, which translates to more money in the long run. By incorporating some inexpensive and minor interior design features into your booth layout, such as air conditioning/heating, comfortable chairs/stools/desks, user-friendly booth counter design, a mini refrigerator, a safe place for employees to stow their personal belongings, and a lot of natural lighting, your staff will be much happier, and happy employees are good for ticket booth sales! Learn more about the benefits of natural light here.
Idea #6: Keep Everyone Safe and Sound in Your Tickets Booth
Keeping employees contented is great, but keeping them safe is essential! As far as ticket booth ideas go, Idea #6 brings safety features into play. Your ticket booth design can be customized to include ticket booth can be designed with a variety of additional safety features, such as exterior lighting (it's not just for aesthetics), closed-circuit monitors, fixed windows, locking doors, and safe boxes for storing cash. By incorporating multiple safety features into your ticket booth design, you can have peace of mind by making the most of the security options available.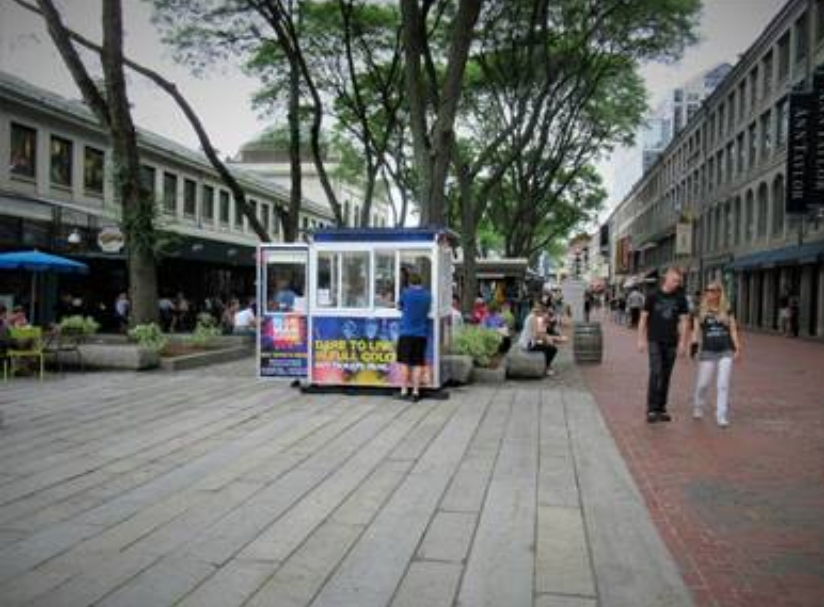 Idea #7: Incorporate Sustainable Design Features
As the world becomes more environmentally conscious, incorporating sustainable features into your ticket booth design can be a great way to stand out and appeal to eco-friendly customers. Consider using recycled materials for the construction of your booth, or installing solar panels to power lights and electrical equipment. You can also incorporate greenery into the design, such as a living roof or hanging plants, to improve air quality and add visual interest. Not only will these sustainable design features set your ticket booth apart, they can also help reduce your environmental impact and appeal to customers who prioritize sustainability. By choosing sustainable design options, you can create a booth that not only looks great, but also contributes to a more sustainable future.
Ticket Booths Design Matters. Comfort Matters. Employees Matter.
We hope these booth stand ideas have started your creative juices flowing with some out-of-the-box booth layout ideas! For further inspiration on creative ticket booth ideas, network with colleagues or check out online resources like pinterest. A booth set up design that you produce with an amazing booth design and unique features will help give visitors a positive experience on your premises, whether it's for a ticket booth design, a computer booth design, cashier booth designs, or any other booth space design you create.
The bottom line for every business is turning a profit, and the same holds true for your ticket kiosk for sale. The more contented employees and satisfied customers you have, the better your chances of success. Choosing the right ticket booth design architecture and features can help you reach your goal! Explore all your booth layout design options today and let us help you design the right tickets booth for your business! We're glad to assist with the booth building and design process, every step of the way! We'll take your booth blueprint and turn it into reality, with simple ticketbooth design ideas that maximize functionality and stand out in a grand way! We've worked with many clients on various ticket booth ideas, and we'd love to help actualize your ticketbooth contact us today to discuss your ticket layout design!
We've Done A Lot Of Great Ticket Booth Projects Over The Years
As a company that designs and builds high-quality, prefabricated ticket booths, we've helped many organizations and events turn their creative booth designs into reality.
Here are just a few ticket booth designs we can share with you:
Blue Man Group ticket booth design with a custom exterior wrap, integrated air conditioning and heating, and window shades for privacy and security.

Here's a ticket booth designed for the New York Botanical Gardens as a simple but elegant portable booth with an exterior wrap in a deep earthy tone, an exterior counter, and outside LED spotlights.

For the Evergreen State Fairgrounds, we provided the state fair organizers with three 6′ x 8′ ticket booths wrapped in a rich custom red with large ticket windows, speaker holes, and money slots.

We built a beautiful wooden ticket booth for the Old North Foundation of Boston, a non-profit organization that runs the Old North Historic Site. This booth has a gently sloping roof, a sliding door, rain screening, and A/C and heat.

We built a ticket booth for Slack Attack Communications, a media and marketing company that needed a safe money drop embedded within their booth.
Recent Blogs