image
Mezzanine Office Setup: Benefits of Choosing a Prefabricated Building for Your Business
>
Mezzanine Office Setup: Benefits of Choosing a Prefabricated Building for Your Business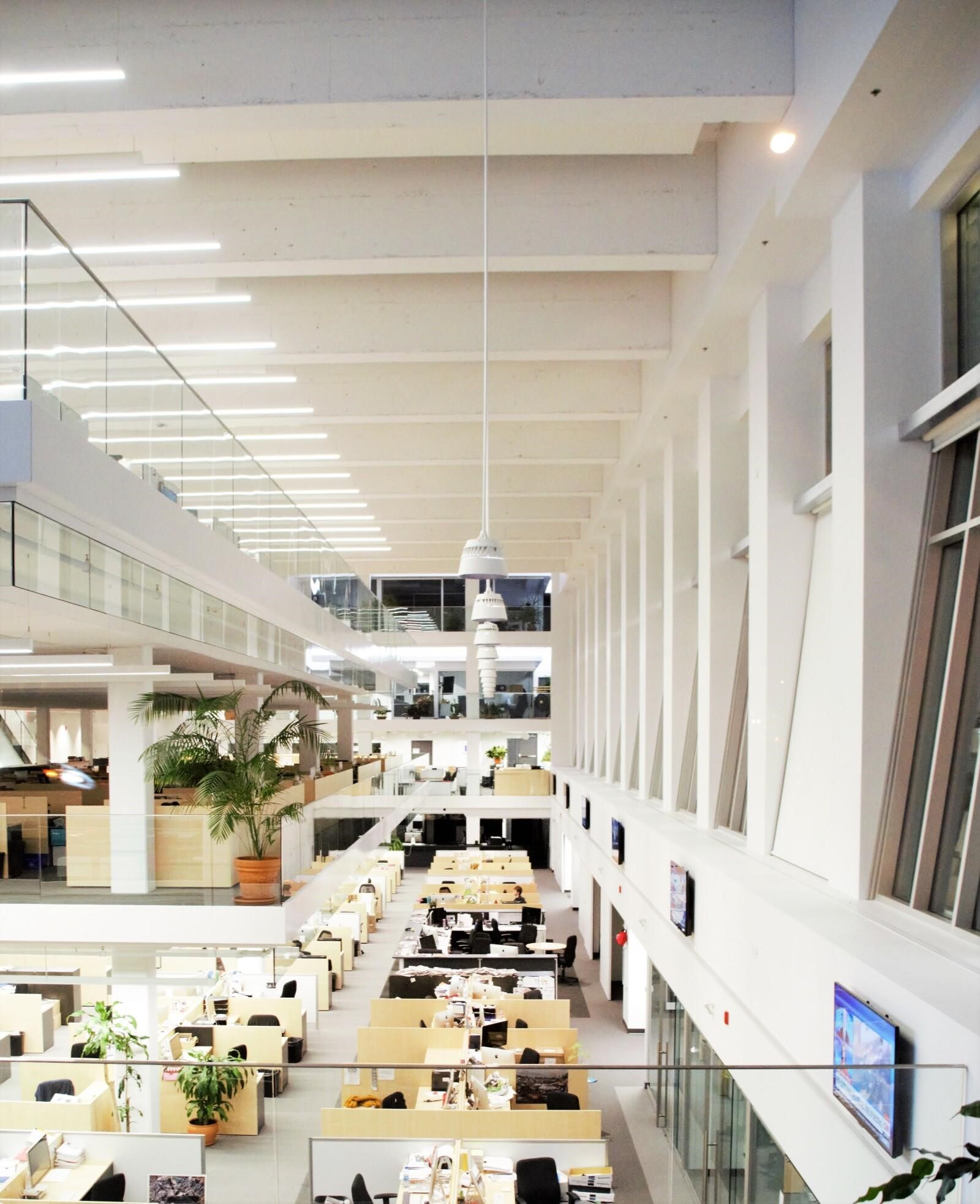 Is doing paperwork in the noisy environment of your warehouse floor slowing your personal productivity? Are you tired of dust accumulation on your important files and computer system? It may be time for a new office. Before making any decisions you should consider all of the possibilities out there.
What is the best option for creating space that is quiet and peaceful to get your paperwork done while keeping an eye on what is happening in the warehouse?
Traditional construction is expensive and it interferes with the daily running of your business. Modular construction is becoming increasingly popular in the construction industry. Our prefabricated buildings are efficient, affordable, and customizable to whatever may match your specific needs.
Continue reading to learn everything that you need to know about choosing the right prefabricated, modular mezzanine offices for your warehouse. You will also learn how prefab mezzanines can be customized and how it will benefit you and your business.
What Is a Mezzanine?
Mezzanines are free-standing, elevated platforms that sit between the ground floor and first floor of a building. A mezzanine is independent of a building's structure, but it has the same structural state and national building regulations to uphold. 
This is an ideal location for a new office space. In a warehouse, mezzanine office structures are usually created from steel to create the structure. A steel mezzanine can carry a modular office. It is not a permanent structure. This means that it is portable. Prefab mezzanine structures can be easily disassembled and moved with a minimum effort for relocation.
What Are Module Offices? 
Modular construction is when a building gets created off-site in a controlled environment to then get assembled or transported to another area for use. The off-site creation of modular buildings helps to eliminate waste by using less raw materials and less energy. A modular office setup also takes 2/3 less time than traditional construction. It eliminates the need for renovations and disruptions within a warehouse that it would take to install a traditional office space.
The modular office is created with high-quality, industrial-strength materials that compete with those used in traditional construction methods. The wall panels are made from two layers of pre-painted galvanized iron (PPGI) panels encased in an aluminum frame with weather-resistant insulation. They come pre-wired and pre-plumbed to your specifications.
The idea of a modular factory office on the steel mezzanine of your warehouse is an innovative solution for all of your administration issues. A mezzanine office can house administration staff and other employees. It can serve as a conference room for potential clients. Prefab mezzanine offices can protect important items, such as files and computers, from less-than-ideal warehouse conditions. 
Our modules get delivered as a fully-assembled unit that is ready-to-use albeit with a few installation needs. All you have to do is move it with a forklift, set up the electricity, and, in some cases, anchor it with brackets. 
The module factory offices can be customized based on the size of the unit and the power options that you select. This makes for the perfect warehouse with mezzanine office setup.
Why Should Your Prefabricated Office Be On the Mezzanine?
The benefits of having a mezzanine office space are pretty much endless. Not only does it help to save floor space within the warehouse, but it is also up off the ground giving you a bird's eye view of the production floor. This allows you to operate more efficiently while assigning tasks and overseeing the day-to-day management of the warehouse from an office with mezzanine.
When you purchase an implant office for your factory mezzanine, you save on the cost of construction and the interruption that it will cause your warehouse if you have to halt business during the renovations. Plus, renovations cost a ton of money.
There are tons of building and safety regulations that construction workers and building inspectors must follow. You can't just start building and hope for the best.
Guardian Booth is fully aware of the OSHA building and safety regulations required to transform your warehouse mezzanine into budget-friendly office space. We're trained to comply with all regulations in place at the time of your installation. These modular offices are assembled off-site from environmentally friendly, prefabricated components. They're assembled to your specific requests.
We only use high-quality materials that are durable in the construction of these modules. They're built to last, saving you money in the long run. And when the time comes that you need to move the office or mezzanine, it is easily disassembled for transportation. 
What Else Can a Prefabricated Booth Be Used For?
While our prefabricated booths may be ideal for a mezzanine warehouse office structure, they can also be used for some alternative commodities. They can be used for quality control, archive storage, and security. Our booths can be used for other types of work-related spaces like breakrooms and lunchrooms. They can be fitted for conference rooms and guard booths. You can even install a booth as a machine enclosure.
How Much Does a Mezzanine Office Cost?
The industrial mezzanine office price completely depends on the specifications of the modular space and how you customize your module layout. Your estimated free quote for our office mezzanine structures will rely entirely on the variety of dimensions and design options available. In most cases, you will receive your quote within the hour for a mezzanine office for sale.
Specifications
The office units are custom-designed based on the size and power options that you need to run within the module. The units available for a small mezzanine office are 4′ x 4′. In the 4′ x 4′ with a built-in desk, there is enough of a work area for one person to work comfortably. 
Other standard booth sizes are 4′ x 6′, 6′ x 6′, 6′ x 8′, 8′ x 8′, with the largest being 8′ x 10′. The largest module that we have in stock is the 8′ by 10′, however, they are fully customizable to your needs. The larger the dimensions, the more costly the module will be. 
The standard booth comes with pre-painted galvanized iron wall panels with galvanized diamond floor plates on a fork-lift base frame. 
The units that are 6′ x 8′ and larger can have a restroom added to them so that administration doesn't have to venture into the plant to use the facilities.
A dual phone and ethernet port will help to boost productivity by making it into a legitimate office space. 
There are a number of power options available in our module offices. They can be powered by being plugged in, hardwired into the warehouse power source, or by a generator. Solar power is an option for running the lights, however, it won't run the HVAC units. Our standard booth provides 40 amps of electricity, but that can also be customized.
Customizations
Each modular office is fully customizable to your mezzanine for office space needs. The module office cost is also affected by the number of add-on features that you might choose in addition to the standard booth specifications. You can also determine the number of windows, doors, and electrical outlets that get installed in your implant office.
The standard unit comes with a light, a light switch, and two 110v outlets. More outlets can be added based on your specific needs and the energy output that you decide on. Air conditioning units and baseboard heaters can be added depending on the climate of your warehouse, creating a comfortable environment to work in.
The ceiling of your warehouse mezzanine office can be load-bearing to be able to hold another office or another modular building on top of it if you have enough overhead space available. These spaces can then be two-story.
Another helpful add-on is the exterior electrical disconnect switch. It is placed on the outside of the module to simplify cutting the power to the office in a pinch.
The modular buildings can have 36″ tall sliding windows on three sides of the office giving it a 360° view. These windows can be tinted for UV protection, heat, or security purposes. Your module office doesn't even have to have windows at all if that's what you'd prefer. The doors can have a sliding feature as well. We can also add a second door to your module office at your request. 
While the modular office comes with one built-in desk and drawer, you can add-on an additional desk for more than one manager or supervisor to be doing paperwork at a time. 
The exterior of the unit can be customized to a specific color and design. There is also an option for a vinyl protective wrap on the exterior to protect it from outside forces.
And where relocation may be necessary, we offer mezzanines office portable base.
Why Choose Guardian Booth For Your Modular Factory Office?
Our modular factory mezzanine offices are expertly designed to comply with state and national building codes. We can create an office that works specifically for your business's needs. We deliver our module units for free nationwide. For a fee, we can also deliver prefab mezzanine structures to Canada and Mexico.
Contact Guardian Booth today to discuss options for a prefabricated mezzanine office in warehouse.
Recent Blogs